Eat Ice Cream For Breakfast For An Important Cause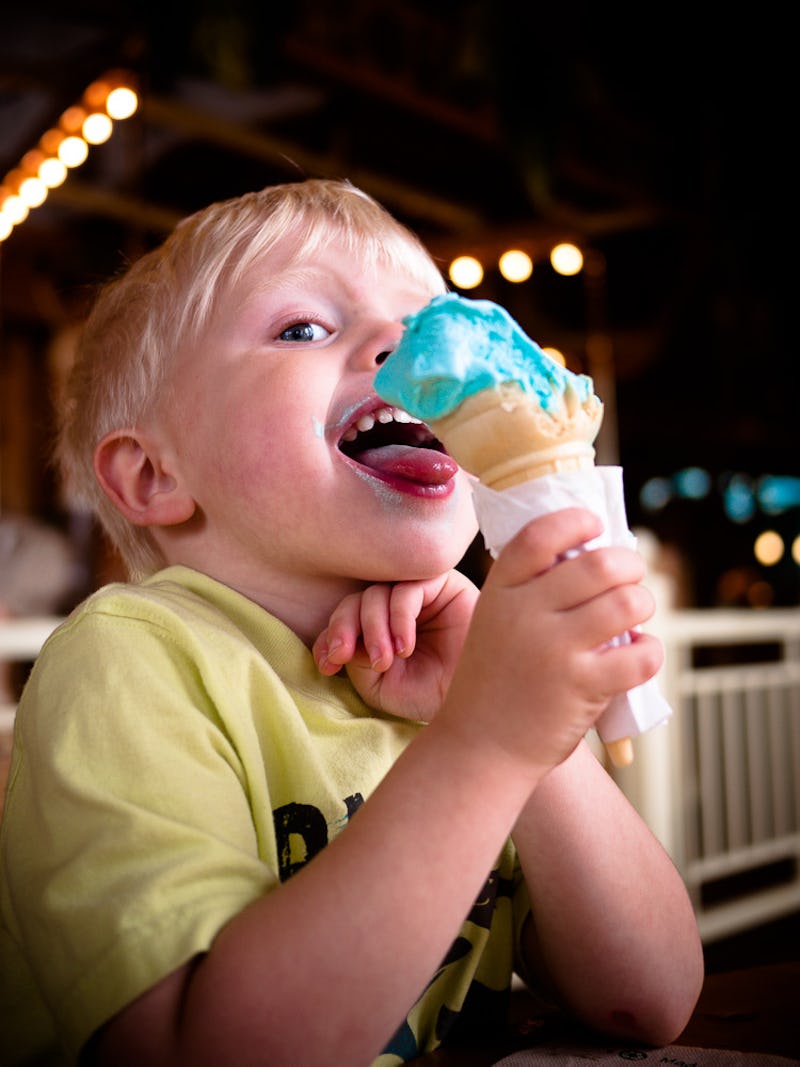 If you've ever wanted to reach for the Ben & Jerry's after waking up, this is the day to do it. A family from Forest Lake, Minnesota, has officially made February 18 National Eat Ice Cream For Breakfast Day in honor of their 9-year-old daughter, Malia Grace Peterson, who sadly lost her battle to cancer in 2010. Malia loved having the cold treat for breakfast, so that's how her family remembers her on her birthday every year. The idea quickly spread, and now Malia's favorite activity has grown into a way for people all over the world to honor and support kids who have had to battle cancer.
The idea first began catching on in 2013 when 50 of the Petersons' friends and family joined a virtual birthday party and ate ice cream in honor of Malia. Malia's mom, Annette, told My Fox Detroit about being moved to tears by their support.
In the creative style of her spirit, people sent silly, crazy and smiling pictures from Malls, drive-thru's, kitchen tables, couches and cars. They were silly and crazy and smiling and laughing in every single picture, and as I sat in front of our computer screen at home the tears fell.
Last year, a friend suggested that the annual celebration should be turned into a national holiday to remember, support, and celebrate the kids who've lost their lives, the kids who are still fighting, and the kids who have beaten cancer. The Petersons decided to create a graphic and share it on social media, where it quickly caught on. Thousands of people from 12 countries around the world shared photos of themselves eating ice cream in honor of Malia and other victims of childhood cancer.
Now Eat Ice Cream For Breakfast Day officially listed on the website Days of the Year, which states that the holiday serves to "increase awareness about childhood cancer."
For children for whom every day is a blessing, it only makes sense to indulge in life's little pleasures, and Eat Ice Cream for Breakfast day brings that opportunity to everyone.
This year, the holiday is a bona fide worldwide movement; people from 83 countries indulge in Malia's favorite snack. It's heartwarming to see how many people Malia has touched and how one of life's smallest pleasures can have such a huge impact.
Malia's mom, Annette, told My Fox Detroit:
For those close to us it's still about celebrating Malia's birthday, but in grand Malia style it's become so much bigger than our little family. There are now people literally around the world who are going to join us in eating ice cream to honor, cheer on and remember all the childhood cancer warriors they know.
If you want to join the thousands to honor and support children who have fought and are fighting cancer, it's easy. Just take a picture of yourself eating ice cream and post it along with a caption stating what you're eating and who you're supporting to the holiday's Facebook page or website. You can use the hashtags #IceCreamForBreakfast and #KidsGetCancerToo to join in the conversation. Here are some of the many, many people who are eating ice cream for breakfast today to support kids with cancer.
Images: Rauckhaus/Flickr