NYFW Go-ers Give Their Best Tips For Wearing Heels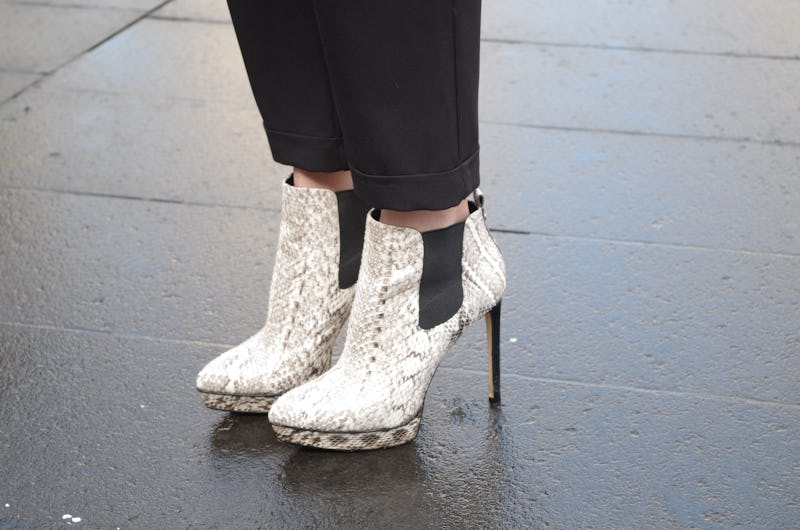 Thanks to the rise of normcore, comfortable shoes such as loafers and sneakers have once again become a popular choice to wear with any outfit, whether jeans or a dress. Sometimes, however, an occasion demands that one wears heels. And sometimes there's simply a really cute pair of heels that demand to be worn. Either way, most women can attest to the five not-so-pleasant stages of wearing high heels. First, there's excitement. You've been dying to wear your new shoes out and about since you bought them, so you just can't wait one more day for the slushy streets to clear. The second stage is confidence. You put your shoes on, admire yourself in the mirror and walk out the door. Looking good, feeling good... So far. It goes downhill from there, as the next three stages are pain, more pain, and finally resolve: to never wear heels again.
Luckily it doesn't have to be that way. It is possible to rock high heels without wanting to cut your feet off at the end of the day. And who better to know the secrets to power-walking around a city in heels than the models, bloggers, and fashionistas at NYFW? I spotted so many women wearing sky-high heels at Lincoln Center this past week, all while barely breaking a sweat, that I had to ask how they do it. Read on for the top five tips these heel experts cared to share.
1. Switch Out The Pumps For Booties
"Boots, believe it or not, are so much more comfortable than pumps, stilettos, or open-toe heels. I just love my boots. I wore open-toe last year and I'm not going to make that mistake again." —Jackie Miranne
2. Come Prepared
"Bring little flats that you can shove in your purse and throw on immediately after." —Cara Loren of caraloren.com
3. Look For Heels With A Platform
"Platforms make everything easier." —Brooke Burnett of onesmallblonde.com
4. Get Some Cushioning Help From The Drugstore
"I use Dr. Scholl's pads. A classic. Honestly, they really do help." —Alexandra Dieck of alexandradieck.com
5. When All Else Fails, Try Tape
"Bring a bag with flats in it. Also tape your third and fourth toes together; it prevents the nerve under your foot from getting agitated." —Amber Lucas of amusedblog.com
Now you can take all of these tips and execute them simultaneously for your most painless day of wearing heels ever. Just don't slip on the snow and ice!
Images: Joshua Kirby