Kim Jong-Un Has A New 'Do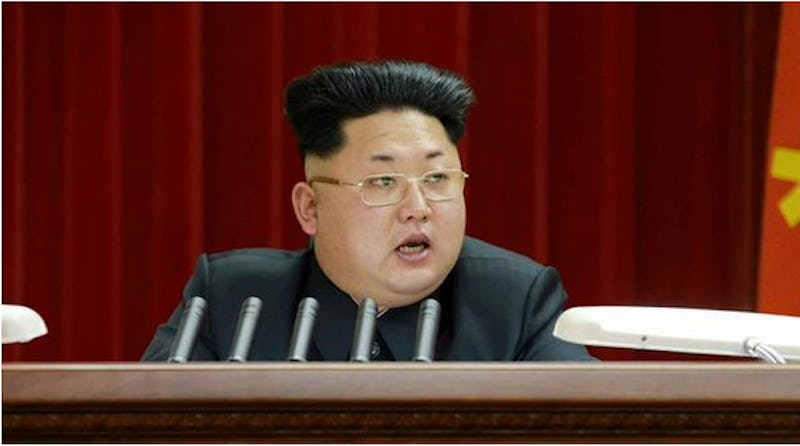 Despite the country's alleged strict adherence to socialist ideals of equality, the Kim line of North Korean dictators have always displayed a penchant for the finer things in life. As possibly the sole North Korean citizen with access to current American affairs, New York Fashion Week seems to have inspired Kim Jong-un, who debuted a new haircut on Wednesday at a politburo meeting to much international fanfare.
The autocrat's new 'do is a departure from his previous center-parted, side-shaved haircut. Though his sides remained bare, Kim went top-heavy, with his hair combed back and upwards in the shape of a trapezoid — reminiscent, in fact, of the hi-top fade popularized by Big Daddy Kane in the mid-1980s and spotted on last year's Christopher Raeburn AW14 runway.
But it doesn't stop at the haircut — the greatest part of his bold new look, or the "pop piece," to borrow a fashion term, are his partilly-shaven eyebrows that are now a mere two-thirds of what I assume would be its natural length. The effect is a somewhat cartoonish, decidedly ridiculous overall look, one that has propelled Kim into instant fashion infamy — New York Daily News called it "barbarous," New York Magazine thought it was rather "ambitious," and Vox posed a whole bunch of questions about the new haircut.
Kim's haircut sparked a flurry of comparisons. Some pointed out that it looked suspiciously similar to UK nightclub DJ and TV personality Joey Essex's 'do.
Others noted that it was also looked like the hairstyle of Pauly D (of Jersey Shore fame), which the reality TV star-cum-DJ immediately jumped on on social media.
Then there were comparisons to inanimate objects and fictional characters.
The communist despot has changed his haircut a good number of times over the years. In his younger days, Kim assumed the hairstyle of his grandfather, Kim Il-sung, the founder of North Korea. When he came into power, though, a more floppy, '90s dreamboy-esque cut emerged.
Kim later slowly transitioned to his a tighter, non-floopy up-do, perhaps a precursor to his current trapezoidal pompadour.
The North Korean leader had also made international headlines last year for another hair-related incident, after the state allegedly ordered male university students to get the "Kim Jong-un haircut," or the "Chinese smuggler haircut" as it was also unfortunately known as.
Image: KCNA Watch/Twitter; Getty Images (4)