'Sesame Street'/'Birdman' Crossover Is A Must-See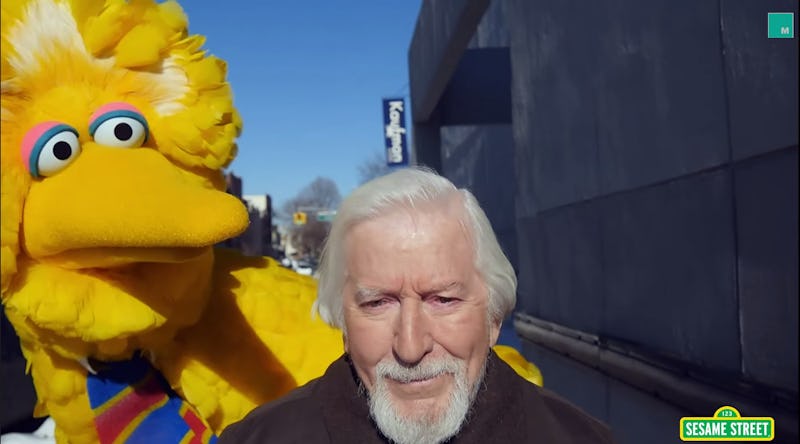 Yes: this mashup of Big Bird and Birdman looks like it was created by some Youtuber hoping to go viral. But, no, it's actually just another instance of Sesame Street parodied with grown-up media, which makes it so much better. Watching Big Bird serve as the inner monologue of Big Bird/Oscar the Grouch actor Caroll Spinney, I have to wonder, what are children getting out of this?
Big birdman (Or The Unexpected Virtue of Orange Pants) pays direct homage to the Oscar nominee, from its soundtrack to the single-shot style to its meditative inner monologue.
Though this video is clearly meant for adults who have actually seen Birdman, perhaps the kids watching the parody — presumably not having watched the R-rated art film starring Michael Keaton — will get a kick out of the wacky stuff Big Bird is saying, or they'll appreciate that it's supposed to be funny, even if they don't know why. I bet the main appeal is seeing their parents laugh, because it is a great parody. How many different ways can you learn the alphabet? muses Big Bird. How did we get here? How do we get to Sesame Street? The last line is fantastic, and I would love it if I hadn't had recurring childhood nightmares of being chased by Big Bird.
I guess these sketches mostly allow parents to get a chuckle out of the shows their kids are watching — sure, this one may not have been produced specifically by Sesame Street (it was instead posted by The Watercooler), but there have been tons of instances of the kids show parodying grown-up media. And really, it makes sense for PBS to want to appeal to those who have the final say of what goes on the television. For instance:
Mad Men
In this parody, the Mad Men are actually mad, and then they get sad, and then happy, all as a result of their ad pitches. Brilliant.
Twin Beaks
Yes, it's simultaneously a parody of Twin Peaks and Masterpiece Theater.
Birdwalk Empire
It's mostly about birds walking along a board walk, but the mob lingo perfectly parodies Boardwalk Empire.
The Taming Of The Shoe
Much of the Monsterpiece Theater series parodied famous classics, like Shakespeare's The Taming Of The Shrew.
Law And Order: Special Letters Unit
In which they search for the letter M.
Game Of Chairs
This Game of Thrones parody is actually coming soon in the 2014-2015 season, but it looks great already.
30 Rocks
The whole premise of this show is that Lemon (who is a lemon) needs 30 rocks for a sketch, which is perfect.
Image: PBS