'That '70s Show' Gang Hangs In Real Life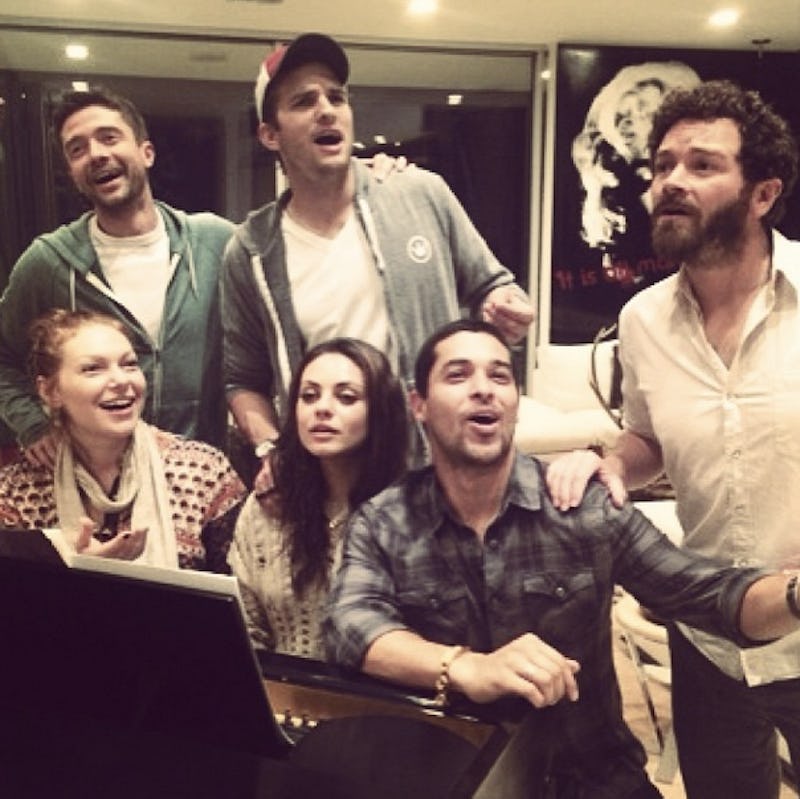 It's been seven years since That '70s Show ended, but it doesn't look like the "circle" has been broken yet. Danny Masterson, who played bad-boy-with-the-heart-of-gold, Hyde, on the show, just posted this Instagram picture of That '70s Show cast, proving that their friendship hasn't gone the way of bellbottoms and disco. In fact, the cast seems as close as ever. Here's some fun facts about the cast that you may not have known about...
In an interview with Broadway.com, Topher Grace (Eric) talks about hitting Disneyland with his buddy, Wilmer Valderrama (Fez). Naturally, they rode Space Mountain.
Ashton Kutcher, Wilmer Valderrama, Chris Masterson, Danny Masterson, and Laura Prepon are among the alumni of That '70s Show who invested in restaurants by The Dolce Group. The restaurants include Ketchup, which boasts fancy burgers, fries, and other twists on American classic diner food... perfect for when the cast gets the, uh, munchies.
Mila Kunis admits that Ashton Kutcher was her first kiss — on-screen and off! Though the pair made out a million times onscreen, they didn't get together until years after the show (and Ashton Kutcher's marriage to Demi Moore) ended.
Wilmer Valderrama guest starred earlier this year on Danny Masterson's TBS sitcom Men at Work. Ironically, Valderrama plays a guy who ends up with Masterson's date... just as his character, Fez, ended up with Hyde's serious girlfriend, Jackie, at the end of the series.
Laura Prepon said she "wasn't surprised" by the fact that Ashton Kutcher and Mila Kunis were dating. When asked if she'd go to their wedding, she responded: "If Mila wanted us there, which she would because we're family. We support each other." Aww! How very Donna and Jackie... minus all the snark.