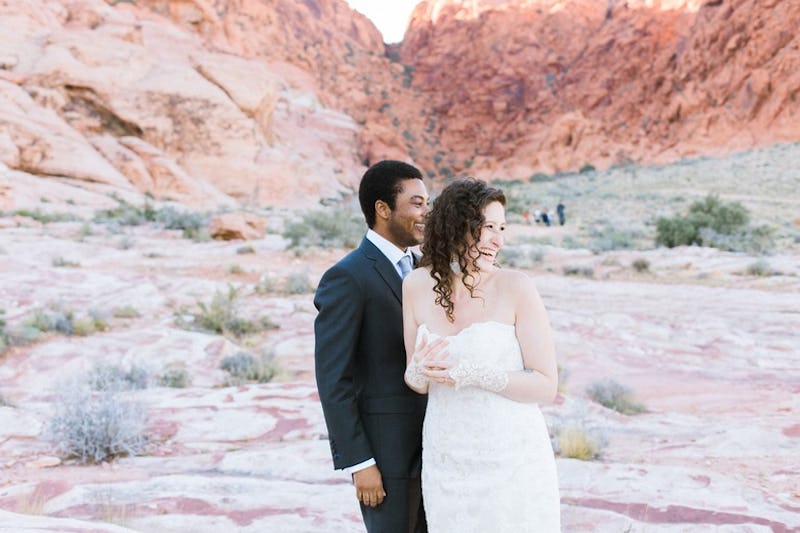 My mother once made me promise that, no matter what, I would never elope. At the time, I wasn't yet engaged to my husband, but I'd just brought him to a family wedding where he met my relatives for the first time, so my mother knew things were serious between us. "I won't," I replied without really thinking about what I was saying.
Four months later, I was standing on a ridged expanse of gray, white, and coral-tinged rock in a strapless wedding gown. My husband and I had joined the swelling ranks of Americans who were opting to skip the stress of planning a wedding in favor of a private ceremony. We were married in the Nevada desert with a pristine blue sky overhead, rock climbers clinging to terracotta-colored precipices above us and passing hikers calling out "Congratulations!" We read the vows we'd each written, my husband's on hotel stationary, mine on notebook paper I'd tucked into the bodice of my gown. The officiate teared up. So did I.
My mother wasn't there. None of my family was. It was just my husband in his impeccable three piece suit, our photographer, the officiate, and me.
Before planning our wedding, my husband and I talked about marriage. A lot. We fantasized about what it would be like to achieve that level of trust and commitment. But when it came time to address how we'd actually get married, the picture was less rosy.
By bucking convention and doing what made me happy, I was trampling the feelings of others.
For starters, we had relatives all over the country and a few living abroad who would have had to make long, expensive journeys to be present on our big day. We didn't believe in spending a lot of money on weddings, and the idea of searching for a location, then arranging for activities and accommodations for visiting relatives, made me break out in a cold sweat. I could understand why some brides needed Xanax to get through their wedding planning. I also couldn't get behind the idea of saying my vows in front of an audience. For me, it seemed like far too intimate a thing for others to observe, like reading aloud from your diary.
Finding a wedding dress was the clincher. At first, I tried to avoid the whole thing by going shopping with a friend, but no off-the-rack dress that we found fit me quite right. Then I made appointments at a couple of bridal boutiques where the dresses were so expensive that choosing one, especially with my "small" budget, quickly became this impossibly huge decision. The dress selection process gave me what I call "Bride Brain": a distorted perspective on the actual real life importance of things related to a wedding. After much agonizing, I bought a proper gown, but it was clear then that I couldn't handle all the other wedding responsibilities, even if I'd wanted to.
In the short lead-up to the ceremony, I sometimes had moments of doubt. I combed the Internet for elopement and non-traditional wedding stories and felt both heartened and dismayed by the narratives of other peoples' familial joy and acceptance that I found. It seemed many parents were just glad not to have to pay for a wedding.
Though I didn't technically elope in the traditional sense — we didn't keep our wedding a secret from our families — my mother was still hurt that we chose not to invite guests. She never said so, but I wondered if she thought I was selfish. By bucking convention and doing what made me happy, I was trampling the feelings of others.
On the big day, Sean laced up my gown and I helped him attach his suspenders. I did my own make-up and hair, pulling my dark curls up on one side with a feather fascinator.
After I made the decision to have a non-wedding, friends would try to bolster my confidence by saying things like, "It's about you, no one else." That wasn't quite true, though the sentiment was right: it was about my relationship becoming a marriage. It was about a lifetime together, not a single day.
For the ceremony, we traveled to Vegas and stayed at The Venetian. On the big day, Sean laced up my gown and I helped him attach his suspenders. I did my own make-up and hair, pulling my dark curls up on one side with a feather fascinator. I'd had my bouquet of succulents delivered to the hotel. (I've held onto those flowers, coaxing roots from them, and several are still alive and growing).
When it was time to go, we made our way through the hotel casino to the limo waiting outside. I'd thought it would be embarrassing to pass by all those people, but something about being in a gown and champagne slippers let me own that moment. Strangers smiled at my approach and cried, "Congratulations!" A little girl pointed at me excitedly, trying to get her distracted mother to look. Though my friends and family weren't there with me, it felt like these strangers were our guests, along with those we encountered at the park. When they wished us well, it was because they truly meant it.
We rode thirty minutes to the parking lot where the hikers and rock climbers left their cars, the other visitors startled by the sudden appearance of a limo. The photographer and officiate were waiting for us and together, we walked for ten minutes till we reached a flat, semi-secluded spot. We hadn't picked it out in advance, it just seemed right. The officiate read something she had composed just for us and her words resonated. As we left the park, sharing champagne in the limo, the sun was setting, putting on a spectacular show. That night, we went out for a lavish dinner. We were in Vegas, after all.
I've been married for a year and a half now and during that time, my husband and I have often noted that there is no way we could've pulled off such a beautiful, stress-free day if we'd had a wedding. I've realized that sometimes you have to do the "selfish" thing because, when it comes to the moments that count, it's worth it to put yourself first.
Images: Gaby J Photography