Charlamagne Tha God Could Bring Drama To 'Catfish'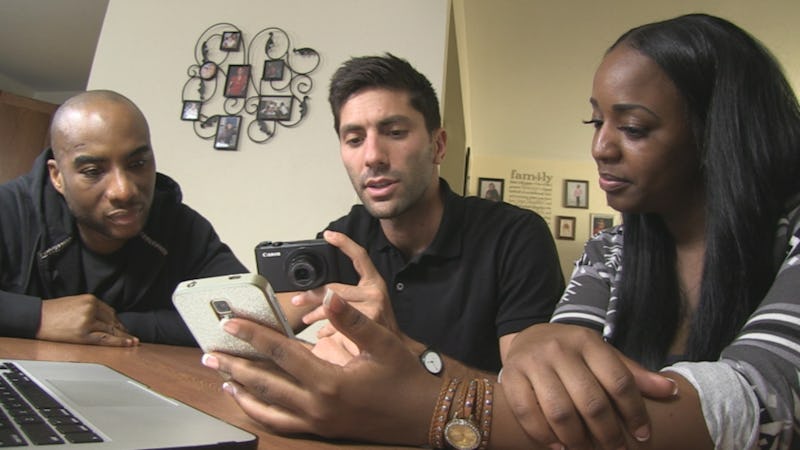 Just when you thought it was safe to go online, Catfish had to return for Season 4 to make you question everything you know about the Internet and humanity again. Oh joy. But when you tune into the Season 4 premiere on Wednesday, Feb. 25, you'll notice something very different about Catfish . Charlamagne Tha God will be working alongside Nev Schulman to help a single mom named Miracle figure out who exactly is on the receiving end of her virtual affection.
Don't worry, folks. Nev's usual trusty sidekick Max Joseph hasn't left the show or had a falling out with Nev or anything like that. Max took a five-episode hiatus from Catfish at the end of last summer to go film his first feature-length film We Are Your Friends starring Zac Efron.
But that means MTV has to bring in some reinforcements to lend Nev a hand with all the cyber-sleuthing. Nev always seems to be more of the brains behind the operation, so I don't know how much help he really needs, but it doesn't hurt to have someone to bounce ideas off of, I suppose.
That's where Charlamagne comes in. He'll be helping Nev out in Max's absence during the Catfish Season 4 premiere. But who is this guy with this rather self-indulgent-sounding name? Read on to find out why he's actually right at home on MTV.
He's A Radio Star
Though the first music video to ever air on MTV was The Buggles' "Video Killed the Radio Star," being a radio star is actually pretty sweet these days. Just ask Charlamagne. After interning at South Carolina's Z93 Jamz hip-hop and R&B station and co-hosting The Wendy Williams Experience , Charlamagne got his big break on the syndicated morning talk show from Power 105.1, The Breakfast Club . You can still hear his voice every morning from 6 a.m. to 10 a.m. EST along with co-hosts DJ Envy and Angela Yee. Charlamagne also co-hosts the popular podcast The Brilliant Idiots with Andrew Schulz, which Nev just appeared on. Way to pay it forward, Schulman.
His Hustle Inspired His Name
Charlamagne had a bit of a rough past, finding himself in and out of jail in his late teens and 20s. However, one good thing that came out of it was his name. He was born Lenard McKelvey, but that doesn't stand out quite as well Charlamagne.
Part of the Carolingian dynasty, the original Charlemagne was, of course, a king that ruled much of Western Europe in the late 700s and early 800s. Here's what the present-day Charlamagne told The New York Times about the origins of his name:
"When I used to hustle," he said, "I called myself Charles because I didn't want the people who bought crack from me to know my real name. And then when I was in night school, I was reading in the history book about Charlemagne, which is French for Charles the Great."
He added on "Tha God," because it sounded cool.
There wasn't any grand plan for why he goes by Charlamagne rather than Charlemagne, though. "I think I just spelled it wrong," he said with a shrug.
Maybe he'll inspire Nev to take on a new name. The Fisherman, anyone?
He's On MTV
Charlamagne's guest stint on Catfish isn't his first time on MTV. He's actually made the rounds on the network in pretty much all the places a media personality would find himself. Charlamagne has been one of those talking heads on MTV2's Guy Code and its courtroom spinoff Guy Court. He also had his own late-night talk show called Charlamagne & Friends, where he basically just riffed on pop culture with celebrity guests. It also looks like Charlamagne will be on the new season of Wild 'N Out . If all goes well on Catfish, who knows? Maybe we'll be seeing more of Charlamagne on MTV.
He's Outspoken
In the tradition of the shock jocks before him, Charlamagne says whatever he wants about anything he wants. He famously took down Justin Bieber in 2012 for the company he was keeping, had a feud with Nicki Minaj, and last year asked Jennifer Hudson when her nude photos would be leaking. Just know that if you look at any of his social media feeds, you will probably find something offensive. But Rolling Stone didn't call him "Hip-Hop's Howard Stern" for nothing.
He Had A Run-in With Kanye West
OK, who hasn't, really? But West's appearance on The Breakfast Club in November 2013 is Charlamagne's most well-known skirmish to date. During the interview, Charlamagne told West "Yeezus is a terrible album" and called him a hypocrite for working with the same companies he criticizes in his music. As one might expect, the conversation got a little heated as West tried to defend himself and his career choices. Accordingly, the video of the interview grabbed a lot of attention online. West later went on a little rant about Charlamagne and his fellow radio and MTV personality Sway during a concert on his Yeezus tour in February 2014.
However, it looks like West doesn't hold grudges for too long... against Charlamagne, anyway. He recently returned to The Breakfast Club for another interview, but this time instead of attacking Charlamagne, he came for his ex Amber Rose, criticizing her Twitter feud with Khloe Kardashian and saying that after the couple broke up, "I had to take 30 showers before I got with Kim," which Rose had a NSFW response to on Twitter.
Does all of this mean we can expect as much or even more drama on the Season 4 premiere of Catfish? We can only hope.
Images: MTV; MTV/Tumblr (2)