Where To Buy 'Shark Tank's' LuminAid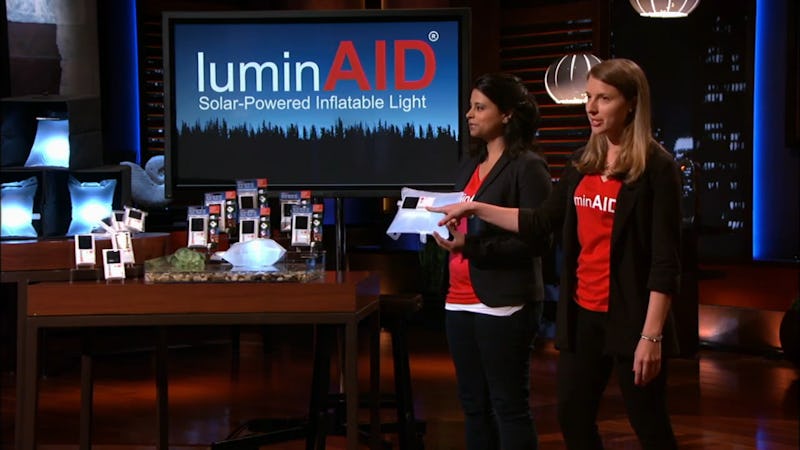 On Friday's episode of Shark Tank, Cuban and the gang heard pitches from businesses that started in college. First up in the Shark Tank: LuminAid, the solar powered light that is both practical and portable. Though the prospect of doe-eyed, recently-graduated college students stepping into the tank might seem like the perfect opportunity for a feeding frenzy, LuminAid's Anna Stork and Andrea Shreshta wowed the Sharks with both their product and their business-savvy company, receiving an offer from every shark (a rare occasion in the bloodbath that is the tank).
LuminAid is small and simple but packs a big punch. The LuminAid lamp starts out small and inflates to create a light, waterproof lantern that utilizes its small solar panel to provide 10-16 hours of LED illumination. The beauty of LuminAid isn't just the product itself, though: As Shreshta and Stork explained to the Sharks, the 'aid' in LuminAid points to the inspiring story behind the product's design
LuminAID PackLite 16 Inflatable Solar Light, $20, Amazon
Stork and Shreshta were inspired to create a portable lighting solution for humanitarian aid relief after seeing that aftermath of the Haiti earthquake in 2010. The duo noted how the post-earthquake relief efforts were attempting to provide food, water, and shelter to the victims of the earthquake but no one had a way to offer them a source of light. Stork and Shreshta decided to be that source of light, creating prototypes in their college apartment and filing for patents for the LuminAid, all while being graduate students at Columbia (you know, just your usual grad school multitasking).
LuminAid's lamps are available for purchase here on their website, and it'll only cost you $20 — a small price to pay for the epic bubble baths you will undoubtedly have with the LuminAid floating by your side.
For those of you of the craftier variety, the LuminAid website also sells these epic markers which allow you to doodle on your LuminAid and illuminate your drawing (and ultimately wash off your drawing when you inevitably mess it up).
LuminAid also has an awesome program called "Give Light, Get Light," which partners with NGOs and non-profits to distribute LuminAid lights to those in need. The LuminAid website gives you the option to purchase a lamp for yourself and sponsor a lamp for someone in need with the Give Light, Get Light package option.
Give Light, Get Light Package, $30, LuminAid
The LuminAid is a win/win/win product. You get to back a female-owned company which aids people in need while also providing you with a literal floating cushion of light. Now, is that the best light solution ever, or what?