The 'Parks & Rec' Cast In 'Indiana Jones' = GENIUS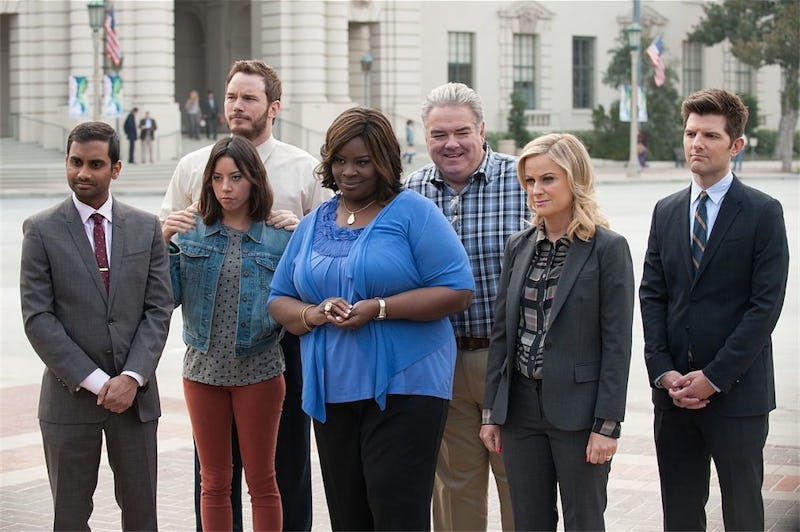 Apparently, Steven Spielberg wants to direct the new Indiana Jones movie, which will almost certainly star Chris Pratt. It's exciting that Spielberg wants to return, which would of course keep the continuity going with the loss of Harrison Ford. (I guess he's just hoping we've all forgotten Kingdom Of The Crystal Skull?) Pratt and Spielberg have already worked together on Jurassic World, a role that Spielberg specifically chose Pratt for.
Now, very little is currently known about the fifth Indiana Jones movie. There isn't a script at this point, so it's impossible to know what characters are coming back. While characters and love interests cycle through, Indy has remained the only constant.
That said, the characters that do appear often seem pretty similar. There's always a love interest, a sidekick, a nice old guy, and an educated villain. And, though Steven Spielberg didn't listen to me when I wondered whether Jurassic World was really a good idea (to be fair, that trailer does look intriguing now that it's been released), I do have an idea of who should play the rest of the roles: the very talented cast of a show that will very soon be out of their jobs. It's also a cast that just so happens to have proven chemistry with Chris Pratt.
Amy Poehler as...
Indy's valued partner
Hear me out. Amy/Leslie is usually super eager and in charge, but she's at her best when she's helping out her friends. This would be the cutest adventure duo since Burt Macklin and Janet Snakehole. Also, Indy's never had a female partner before, so this would be a nice change.
Nick Offerman as...
The Wise Mentor
Because it's Chris Pratt, and not Harrison Ford, as Indiana Jones, he'll need some guidance. And that's what Offerman/Ron is best at.
Rashida Jones as...
The Love Interest
The women in Indiana Jones movies often have a damsel in distress quality that Rashida Jones could pull off. Though this isn't the April and Andy reunion fans would hope for, Aubrey Plaza has other plans.
Aubrey Plaza as...
The Villain
Plaza is so good at playing dark with a sweet side that I would love to see her go full villain. She would obviously seduce Indy before betraying him.
Retta as...
A Queen
I mean, duh?
Aziz Ansari as...
The Evil Henchman
We know he's great as scheming, and Plaza and Ansari make a good team.
Jim O'Heir as...
Jerry Gergich
And he'd ruin everything somehow. Damnit Jerry!