'Imitation Game's Win Comes With A Major Message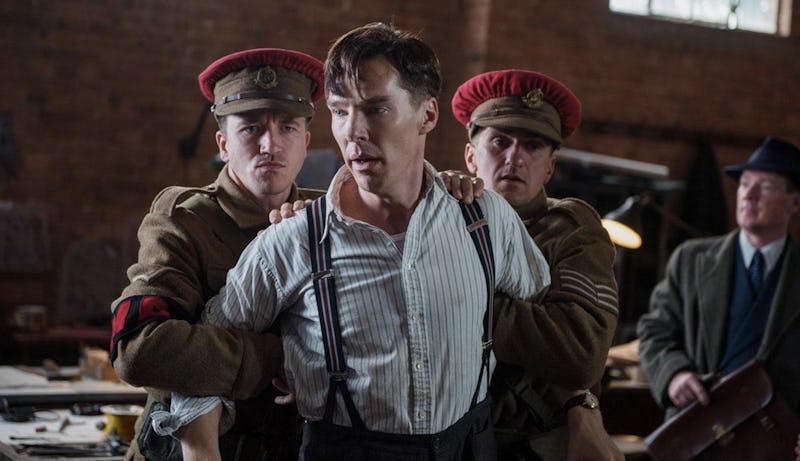 It seems to have been predicted across the board that Whiplash would take home the Best Adapted Screenplay Oscar, and with Birdman and Boyhood (the two films most likely to duke it out in the Best Picture game) out of its way, the JK Simmons-starrer could easily find its moment in the sun. When it came time for the envelope to be opened, The Imitation Game took the Oscar and when screenwriter Graham Moore's speech was through, there wasn't a dry eye in the house or a single person who could object to the win.
Moore's speech came with a huge, personal confession: Like Benedict Cumberbatch's homosexual character Alan Turing, Moore himself has struggled with his own identity. Moore even admitted that at one point, he contemplated suicide. His speech was emotional and moving, highlighting the importance of telling Turing's story. When he ended his speech with saying that "That kid that feels like she's weird or she's different or she doesn't fit in anywhere, yes you do." With that, the entire auditorium stood up.
And to put The Imitation Game's win in perspective, this category is incredibly tough: Whiplash was all but a shoo-in, supposedly. The Stephen Hawking biopic The Theory of Everything was incredible, while American Sniper certainly has controversy on its side. (Paul Thomas Anderson's Inherent Vice is SOL as far as I'm concerned, considering how readily it left much of its audience behind — an element that doesn't make me any less upset over Gillian Flynn and Gone Girl being shut out of this male-heavy category.)
Still, no matter how deserving the nominees are (and most of them truly are), The Imitation Game absolutely deserves every ounce of praise and even if you disagree, you can't deny the fact that the award gave a platform for Moore to make his incredibly important speech. And at the end of the day, that's what really matters.
Image: The Weinstein Company