You'll Want To Attend The Kimmel School Of Acting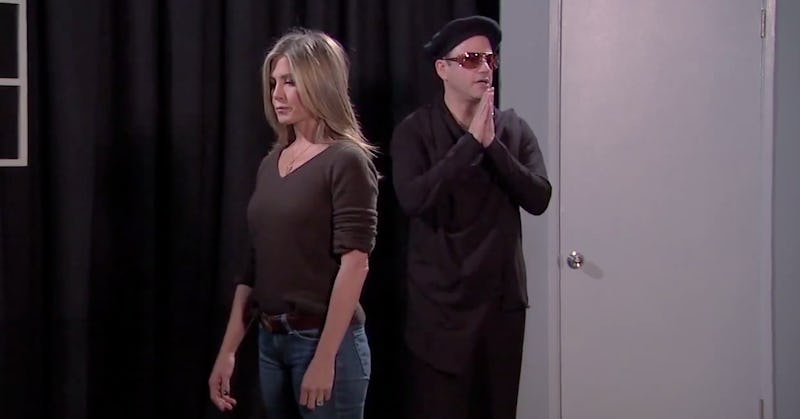 If you felt like the Oscars were incredibly long on Sunday night, you definitely weren't alone in that. Although they didn't even come close to being the longest Oscars ever, the show still went almost an hour over its expected run time, so if you headed straight to bed as soon as Birdman won Best Picture, I definitely don't blame you. However, while you were snoozing, you were missing out on some big time entertainment... some of it more entertaining than the actual award show itself. Not only was there an after-party on E!, but Jimmy Kimmel Live had a post-Oscars show of its own, including my new favorite Jimmy Kimmel segment: The Kimmel School of Perfect Acting.
In the video, a ridiculous amount of superstars join together to talk about their experiences with The Kimmel School of Perfect Acting, where a bespectacled Kimmel (wearing a beret, of course) instructs them on how to act in various hilarious and absurd ways. As Benedict Cumberbatch explains it, it's "the best school there ever was or ever will be," and with all of the celebs who "attended," I'm inclined to agree with him. Basically everyone is in this video: Eddie Redmayne, Mila Kunis, Kristen Bell, Lupita Nyong'o... the list is endless. Even Jennifer Aniston is there, doing a trust fall and hitting the ground with a thud.
And although that was my favorite segment, the rest of the show was pretty flawless, too. If you missed it, don't stress — Kimmel's team uploaded practically the entire show to YouTube with some seriously impressive speed, and these are the highlights.
The Kimmel School of Perfect Acting Part 2
This time around, a whole new set of actors and actresses join Kimmel and his beret. Sean Penn and Matt Damon monopolize most of the video, but it's totally worth it when Kimmel instructs Damon he must first act like a lamp before he can graduate to playing people. There's also an adorable appearance by John Krasinski and Emily Blunt, including a really awkward kissing scene.
Neil Patrick Harris After The Oscars
In this video, Kimmel pulls out a handmade coupon book Harris gave him during a game of white elephant 12 years ago and decides to start redeeming them, one at a time. Also, there's a baby who is apparently named Abalonia in this video, and she is absolutely precious.
Lie Witness News: Oscars Edition
This is a segment Kimmel does pretty often, but it gets better and better every time. This time, the host sent his people to the streets asking if they'd seen totally made up, completely outrageous movies that never happened. And of course, every single person was totally duped — including the guy who talked about Albert Einstein being in attendance. Who comes up with these fake movies, and how do I get their job?
Image: Jimmy Kimmel Live/YouTube