This Artist Illustrated Oscar Gowns With Q-Tips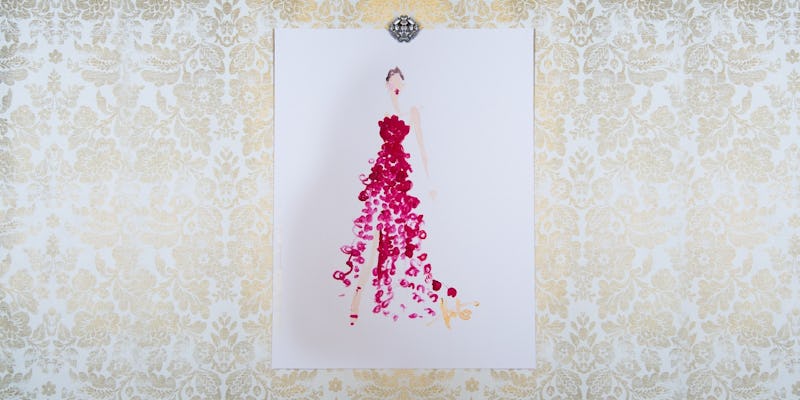 I'm all for using basic, drugstore products to create a more expensive look. Vaseline for chapped lips and cracked heels? I'm a fan. Baby powder between mascara coats for bigger lashes? Cool with me. But using drug store products to create totally amazing art? I'm not as familiar with that. Q-tips are my go-to product for tricky nail polish removal (great for cleaning up nails after you've painted them yourself, by the way) or tricky makeup application, but I've never exactly considered painting with them. Artist Katie Rodgers teamed up with Unilever Q-tips to create paintings of the 2015 Oscar gowns that made the biggest statements on the red carpet. No paint brushes, just Q-tips. And the illustrations are gorgeous.
Are you feeling bad about how uncreative you are yet? Yes, me too. Rodgers used the Q-tips to illustrate the gowns of Lady Gaga (can't really forget those red gloves yet, now can you?), Felicity Jones, Rosamund Pike, Anna Kendrick, and other A-list stars that graced the Academy Awards' red carpet on Sunday evening. It's hard to believe the illustrations were made with a product that usually gets stacked up with your other beauty products at the back of a cabinet, but it is clear that Rodgers is insanely talented.
How dreamy are these illustrations, right? Rodgers painting them while the Oscars were going on and Unilever displayed the images via Twitter (naturally), making for an amazing collaboration between a creative talent and a household beauty product — the juxtaposition of the two things is kind of great. And I don't know about you guys, but these illustrations seriously inspire me to start thinking about beauty products differently going forward. Also, can I have one of these illustrations to hang in my apartment, please? Anyone? Help a girl out.
Images: Courtesy Q-Tips