Leslie Should Become President Before 'Parks' Ends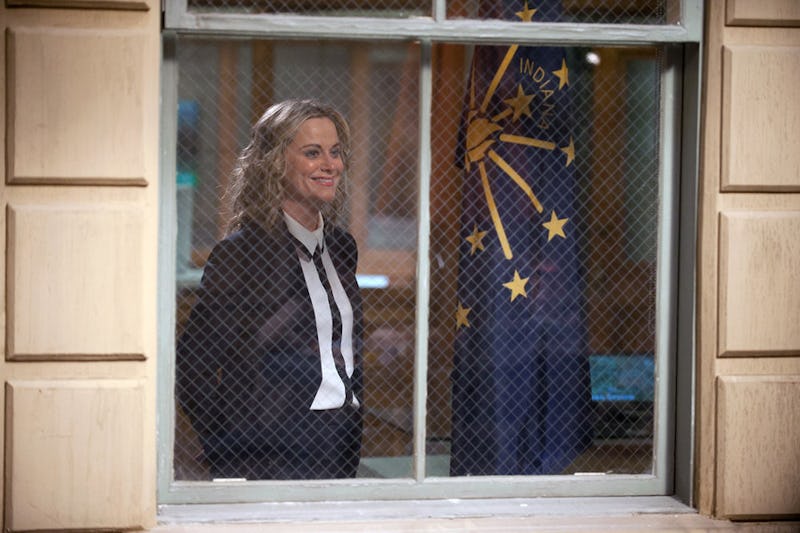 Tuesday night marks the end of a crucial TV journey of one Ms. Leslie Knope. We won't be seeing any more of her after the Parks and Recreation series finale, and that's an impossibly tough reality to deal with. We've laughed with her, we've cried with her, we've eaten too many waffles in her honor, and we've wished to see her name on voting ballots IRL ever since the pilot episode aired. Even though she's a fictional character, her political swagger is undeniable, and she's basically the answer to all of America's problems.
Right now on Parks and Rec, meaning Pawnee in 2017, Leslie getting ready to move to Washington, D.C. and begin an exciting new parks gig. Ben is running for office, and they're BOTH trying to juggle their careers and parenthood to the triplets (whom we still haven't seen enough of). But before we bid this comedic gem farewell, there's one very important goal we, as viewers, need to see checked off of Leslie's mind-blowingly ambitious bucket list: she needs to be elected President of the United States.
There's just no other way this story can end. We need a glimpse even further into the future and we need to see Leslie in the Oval Office, with Ben beaming with pride at the sight of his wife behind the most badass desk in the world. This is what Leslie has always wanted and nobody deserves it more than she does. Leslie wants to change the world, one patch of grass at a time, and we need to see it happen.
Since we've arrived at the final episode, it would be unreasonable to expect to witness a full campaign and everything that entails. Fine, whatever. We don't need much here, Parks writers. Here are all the ways you could give us a peek at Leslie achieving the ultimate goal of becoming the POTUS with the Mostest.
1. A Clip From Brandi Maxxxx's Porn Version Of The Campaign Goes Viral
I'm thinking there'd be a really icky title and in a really crass way, we'd know that Leslie made history.
2. The Show Ends On A Perd Hapley Segment Honoring Leslie
"The story of one local woman becoming the first female President begins... right now." Good ole, clear and concise Perd.
3. Burt Macklin, FBI, Calls The Oval Office & Leslie Answers
Oh, you thought he was dead? So did the President's enemies.
4. Joe Biden Needs A Favor From President Knope
And when he asks, Leslie psychotically giggles until he leaves the room, utterly confused. It doesn't matter what job title she has, Biden will always turn Leslie into a blushing school girl.
5. We See A Picture Of Leslie On Display — In Madeleine Albright's office.
Because now it's Leslie's ultimate hero who is proud to know HER.
6. Leslie Is Finally Given The IOW's Woman Of The Year Award After Her Swearing In Ceremony
It's about time this women's organization gave Leslie proper cred.
Whatever happens, we just need to know that in the Parks universe, Leslie is making the world a better place. Because that's what she's done for the last seven years, and we will miss her dearly. #Knope2020
Images: Colleen Hayes/NBC; andrewdwyer/Tumblr; Giphy (7)