This Dog Knows You Need More Cowbell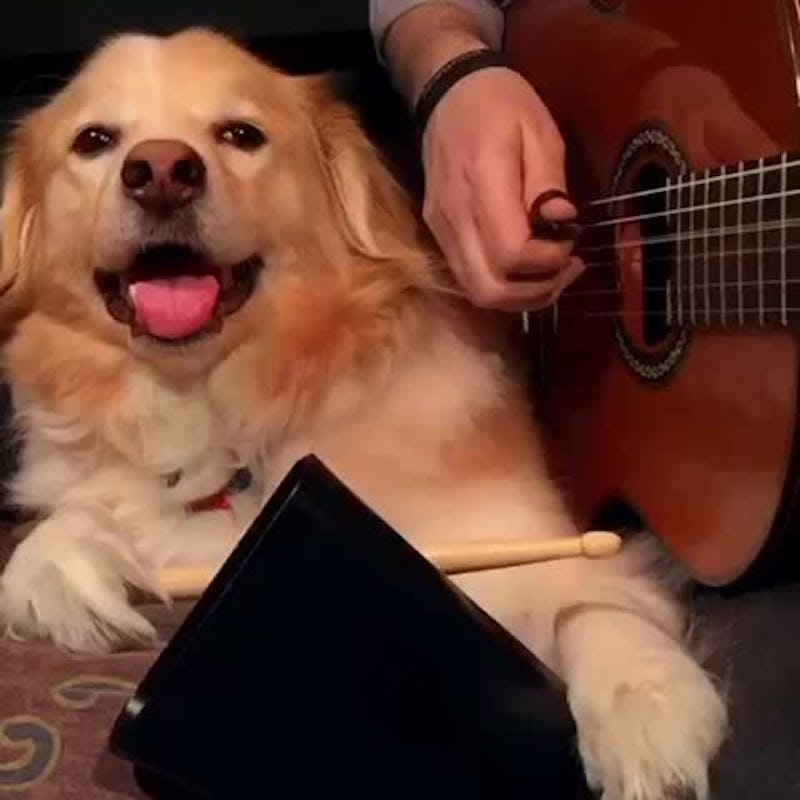 Gene Frenkle may finally have some competition out there, in the form of a surprisingly talented dog. The tightly-shirted, cowbell-playing musical genius, famously portrayed by Will Ferrell in the now-iconic Saturday Night Live parody of Vh1's Behind the Music, is knowing for adding the trademark cowbell to Blue Öyster Cult's classic "(Don't Fear) The Reaper." A recent Vine cover of the 1976 rock hit shows that Gene isn't the only one who can lay down the sweet cowbell beats: Maple, a Border Collie/Golden Retriever/Sheltie mix, plays the instrument with flair. Maple's owner, who goes by the moniker "Trench," is a 27-year old "fingerstyle [sic] guitarist & multi-instramentalist." He has released a number of lovely acoustic covers of famous songs on guitar, glockenspiel, and thumb piano, but his version of "(Don't Fear) The Reaper" gets a special kick with percussion by Maple the dog.
Watching Maple thump away at her cowbell is hilarious, surreal, and honestly mesmerizing. The Vine's loop is fairly seamless, so you can watch it in constant rotation for hours and hours. (It already has close to 12 million loops, so you know some people have been watching it on constant repeat.)
Say it with me everyone: "Guess what? I got a fever, and the only prescription is more cowbell."
Check out more of Trench's vines here. You can also watch Maple frolic in the snow to pretty music on her Vine page.
Images: YouTube; Giphy