15 Affordable '70s Clothing Pieces You Need To Make Your Wardrobe Groovy (For Under $60) This Spring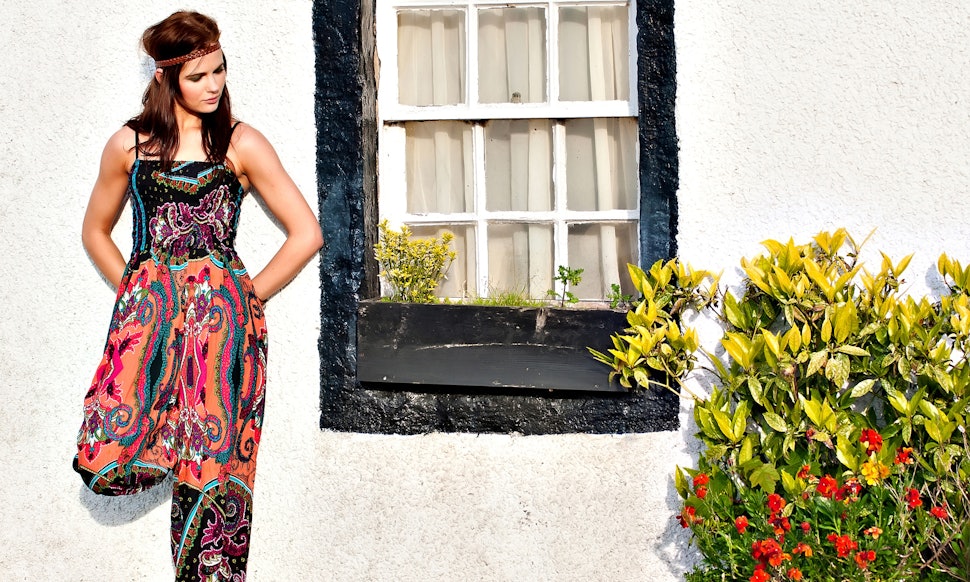 With all the Fashion Weeks happening right now, I'm starting to get confused which pictures are throwback from the 1970s and which are trends reemerging today. The '70s are definitely having a moment (again), and the trend seems to be picking up fast. Although this fashion month is debuting looks from A/W 2015, the very best '70s looks are already popping up in stores.
In case you're needing to update — erm, throwback? — your closet to include trends from the 1970s, here are 15 things to add to your closet to master the trend this season. Now is the time I would actually borrow a piece of clothing from right this instant. Oh, and don't worry: They're all under $60, so you don't have to pick just one.
Image: -Marcus/Fotolia
Denim Overalls
Denim overall shorts were popular last season, but now the denim overall pants are making a comeback, too. If you want to go full-on '70s, pick a flared pair. If you want a more modern feel, go for straight legs.
Life in Progress Classic Denim Overalls, $30, Forever 21
Jumpsuits
Particularly, this jumpsuit. It screams Woodstock. My mom tells me the tied front was very popular in her prime, and the flared wide-flared legs are perfect for a high waistline. This girl definitely looks taller and oh-so-mod.
Self-Tie Knotted Jumpsuit, $32, Forever 21
Orange Lipstick
We saw a lot of this at the Oscars, and I am not mad about it. Taylor Swift definitely made a case for the "red lip classic," but it looks like 2015 is all about the orange lip, which is definitely a nod to the 1970s.
Maybelline Color Sensational Vivids Lip Color, $5, Target
Wide-Barrel Curls
I could have easily put a wide-barrel curling iron here, but how authentically 1970s would that have been? Not very. Get real '70s-style curls by using rollers, just like our mothers (and, TBH, some fathers) did. These are less hassle than they had, however. The DryBar rollers require no heat and stay in hair without clamps. Easy peasy.
Fringe Skirts
The J.Crew womenswear line during NYFW featured a lot of fringe skirts, in midi, tea, and maxi lengths. The fringed jacket paired with the fringe skirt may not be so 1970s, but I like the idea of all fringe everything.
Fringed Jersey Skirt, $50, H&M
Fake Eyelashes
Although Twiggy was popular in the '60s, her statement eyelashes lasted well until the 1970s. I wouldn't recommend these on the daily, but for special events and paired with other '70s-inspired attire, these would be great for your next social gathering.
Tea Length Everything
Minis are fine, but knee to tea length dresses and skirts just have an awesome, vintage vibe.
Vibrant Visit Skirt, $55, Modcloth
Shoulder Strap Purses
From 2010 on, shoulder strapped purses were replaced with oversized bags, then cross body bags, which could literally only hold lipstick and a few dollars, then clutches. I'm not sure why the traditional shoulder-strap purse disappeared for a bit, but I'm glad to see it's back. Not only does it hold more, but it's more comfortable to handle walking down the street.
Mini Shoulder Bag, $25, H&M
Drawstring Shoulder Bag
Cher from Cluelessmight have had the most famous mini backpack in pop culture, but the tiny bags got their start in the '70s.
Pile Backpack, $25, H&M
Balloon Silhouettes
Not to be confused with the "bubble" silhouette. This is strictly tight on top, then lose on bottom. Kind of like an A-line skirt.
Swing Dress in Retro Floral Print, $46, ASOS
Jumper
Not to make this new trend a 1970s music video, but jumper dresses is the perfect addendum to a spring wardrobe. Not only is it versatile, based on whatever shirt you pair underneath (like paisley?) but it's super cute with pops of color as well.
Bicycle Built for Cute Jumper in Licorice, $50, Modcloth
Knee High Stockings
Instead of pairing leg warmers with your boots this winter, try knee-high stockings with chunky sandals. For extra compliments, used embellished stockings, like these with buttons on the side.
Lightweight Button-Rib Over-the-Knee Sock, $14, Urban Outfitters
Chunky Sandals
Though the '70s are generally remembered for its hippies, the goth movement also got its start during the decade. If you're into that style over the whole retro, bright colors thing, try these black, chunky sandals.
Rugged Life Platform Sandals, $16, Gojane
Plaid Mini Skirt
Plaid was everything in the '70s, plastered on everything from skirts and pants to dresses and a jacket it was everywhere. And it was cool.
Plaid Flannel Skater Skirt – Lily Star, $7, Target
Bow Hair Clips
This is perfect for the '70s goth look or the '70s glam look. Bows are the perfect accessories for hair or on clothes. Be experimental with bow clips — they don't always have to be used in hair.
Hair Clip with Bow, $6, HM