Fashion Week, Documented In 100 Selfies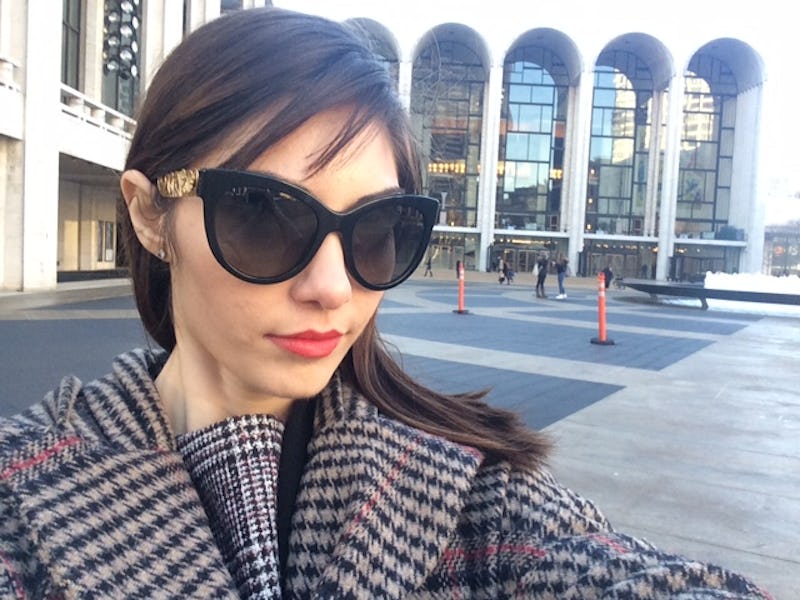 Fashion Week often ambles by before show attendees and designers even have a chance to process what they've seen. Street style photographers capture the quirky and eye-catching ensembles on the avenues of New York, and the runways are documented by Getty, but only lifestyle and fashion bloggers capture a photographic first-person account of the entire process. As a writer and self-dubbed sartorial addict, my eye has been on the backstage beauty and up-and-comers of Fashion Week for the past two years, but I have never turned the camera on myself. As an average human being with both boons and flaws, I rarely take selfies in my personal life unless I feel particularly prideful, but this Fashion Week I decided to document my own experience instead of simply focusing on the experiences of others.
Over the course of Fashion Week, I took 100 selfies of my frequent trips to the Lincoln Center, my experiments with cosmetics, my attempts to keep my temperature above freezing in the snow, and a host of other singular moments throughout the day which I might not have otherwise noted. I found that the imperative sparked more sartorial innovation and even encouraged me to ditch my camera face on occasion to the delight of my friends, family, and significant other, who find my pout both uncharacteristic and off-putting. By the end of the week, I was exhausted and chilled to the bone, but found that as a result of my seemingly endless selfies I had become less leery of the camera and even enjoyed striking a dramatic pose. I'll leave modeling to those over 5'5", but I'm not afraid to acknowledge that I enjoyed the fruits of my experiment.
1. I kicked off Fashion Week with a trip (both literal and figurative) to Queen of the Night.
2. A baroque room dripping in white wax served as the ideal place to take a double selfie at Queen of the Night.
3. What is a selfie without a little quirky self-mockery thrown in? A bit of comedy goes a long way after a day tromping about in the snow.
4. On February 11th, Lincoln Center was a veritable ghost town despite several off-site shows occurring around the city.
5. Post Day One of Fashion Week, I gave myself an eye detox with Peter Thomas Roth's Cucumber De-Tox De-Puffing Eye Cubes. In reality, one should take them out of the box before using, but I couldn't resist a playful selfie.
6. Nothing beats the cold like a Magnolia cupcake, especially after a day of viewing runway models.
7. An elegant smokey eye and crimson lip combination courtesy of PRIV served as inspiration for my Fashion Week cosmetics.
8. After the bitter temperature drop, a glamorous sherpa look became my go-to for Fashion Week.
9. A crinoline-style silk skirt and motorcycle jacket took me backstage at Nicole Miller after I bundled up in a puffer coat.
10. A mid-morning latte and chevron-patterned socks were my utilitarian accessories during a respite from backstage interviews.
11. A face-off with my coffee occurred when I realized I had ingested caffeine — not the decaf I had hoped for.
12. As a Californian, any temperature below 50 degrees incites a frown.
13. My thoughts on the weather grew from mild annoyance to adolescent rage.
14. However, for Fashion Week there is no such thing as quitting due to cold weather.
15. After forgetting the 20 degree temperature overnight, I was naively gleeful.
16. After snapping this selfie in front of the Lincoln Center mid-week, I promptly lost feeling in my fingers and toes and nearly had to be carried home by the companion I grabbed lunch with.
17. A thick, blanket-like scarf was much more comforting indoors than it had been outside.
18. After several days of misery, the cold began to dampen my excitement at Fashion Week.
19. However, no relief was greater than stepping into a warm tent at Lincoln Center and feeling as though I could finally remove my coat.
20. "Shades of Blue" could describe both my attire and my attitude towards the snow-laden streets mid-week.
21. After several hours indoors and a swipe of fuchsia lipstick to match my Lyn Devon dress, my frozen exterior finally began to de-thaw.
22. In anticipation of stepping outside, I threw on my Ray Bans and thought of sunny California.
23. My signature Fashion Week makeup routine began with a winged cat eye.
24. After a long day of interviewing, typing, and researching, my pillow felt like bliss. #IWentToSleepLikeThis
25. Multitasking.
26. I cracked open my new copy of Vogue mid-week to steal a bit of street style inspiration.
27. Navy and crimson heels paired with a prim purse handled quite nicely in the snow.
28. Days before Fashion Week began, I discovered Giorgio Armani Rouge Ecstasy Lipstick #402, which miraculously redirected attention from my dark circles and parched skin.
29. A lipstick this good deserves two selfies.
30. Exchanging my heels and skirt for this sweater after Carrie Hammer's beautiful presentation? #Bliss
31. I must remember that trench coats are suited to rain storms, not subzero temperatures.
32. After trotting around backstage and snagging soundbites from top makeup artists, this oversized grey sweater warmed my body to an acceptable temperature.
33. I did not wake up like this, but I did fall asleep short moments after taking this selfie.
34. J.Crew socks and a shopaholic mug perfectly encapsulate my off-duty style.
35. A heavy metal bag and studded lace Zara pumps lent my basic ensemble a bit of flair.
36. I greeted the weekend and February 13th with cabernet and polka dots.
37. Plaid sunglasses were the focal point of my Fashion Week ensemble, as they were the only visible part of my look underneath my colossal coat.
38. A crimson puffer coat and vintage Lacroix scarf served as armor against the icy wind.
39. However, a hat would have been useful.
40. Necessity is the mother of invention, hence my last-minute choice to bundle my head before walking out the door.
41. No matter how many times I hiked to the Lincoln Center through icy patches and snow drifts, I still arrived in a state of shock.
42. Tortoiseshell and leopard: a match made in heaven for Fashion Week.
43. Oversized gradient sunglasses and a leopard-print collar somewhat protected my face from the sun and chill.
44. A double-checkered ensemble required several layers of sweaters to withstand the below-freezing temperatures.
45. A thickly knit red swing dress and my trusty Armani lipstick brightened up a grey day.
46. Though an acquaintance once described this rosette-embellished hat as "shabby", it certainly keeps the cold at bay.
47. Even clad in a hood thick enough to double as a duvet, the weather during Fashion Week was utterly demoralizing.
48. A golden floral wreath channeled 2015's hair adornment trend.
49. An ombre scarf and mussed locks were hallmarks of winter Fashion Week.
50. Before attending a bowling engagement hosted by FLOWER and Drew Barrymore, I dressed down in a faux fur trimmed vest and taupe sweater.
51. Leather on leather is always the correct sartorial decision.
52. A baby pink mohair turtleneck and hot pink lipstick served to add warmth and vibrance to a snowy day.
53. These peep-toe boots may not look like they're for walking, but for three years their sturdy heels have cut through ice and snow like no other pair.
54. Post Carrie Hammer's show, my coat served as a makeshift blanket before I stepped into the cold.
55. Black suede boots bestowed as an extra layer of warmth without appearing too utilitarian in the snow.
56. Faux fur-lined gloves were not an extravagance but a necessity as I began to lose the sensation in my hands from walking between shows.
57. A neon scarf and winged liner gave my appearance a somewhat retro feel.
58. A silk scarf ornamented an otherwise blank canvas ensemble, as did my smirk of joy after I returned to the warmth of my apartment.
59. Despite sporting sufficient layers to keep my central nervous system from failing, my face suffered from the icy gusts.
60. After a long day of reporting, I threw on my gilded cat eyes and decided to create an impromptu photo shoot.
61. Tousled locks and a shocked expression are in fact de rigueur for autumn.
62. My hostility towards the weather continued to manifest in the form of a stuck-out tongue.
63. Perhaps one of my best workhorse accessories, this frayed grey checkered scarf accompanied me on more than one Fashion Week adventure.
64. A pair of metallic pink lips came courtesy of a Sephora goodie bag. Luckily, they opened to reveal restorative lip balm for my desiccated and, yes, cracked, lips.
65. Though not snow-appropriate, a pair of python-print sandals accompanied me to the brilliant Honor show.
66. Crimson lipstick and a corresponding coat became yet another go-to look for Fashion Week.
67. After returning from Honor to type away, I unbundled and de-sunglassed.
68. But not before taking one last, pouty selfie.
69. Valentine's Day occurs in the middle of Fashion Week, which I find to be an incredibly amusing coincidence.
70. I purchased a bouquet of flowers for myself and my roommate, because on Valentine's Day all women should treat themselves.
71. A delightful Valentine's Day card from my significant other was the sweetest accoutrement I could have asked for during Fashion Week.
72. A cozy heart-embellished blanket was the ideal pre-Valentine's day companion.
73. Bow-embellished platforms weren't particularly efficient in the snow, but they certainly put a smile on my face.
74. A Fashion Week break for SoulCycle was made more fashionable with a swipe of crimson lipstick.
75. Mud masks are the new makeup, especially when one's skin is violently opposed to the snow.
76. My Fashion Week arm candy included my trusted watch, a slim, silver bracelet, and a handful of makeup essentials.
77. Though it has been called my Sherlock Holmes jacket on more than one occasion, I threw on this tweed cape several times during Fashion Week. After all, there are worse thing to be compared to than Benedict Cumberbatch.
78. Accented with a contrasting tweed bowtie, the look is a quirky statement.
79. Polished off with a hat, I steeled myself to step into the nineteen degree weather. Somehow, the extra layers didn't help.
80. Over the course of the week, I found this hooded See By Chloe coat to be one of my best defenses against the chill.
81. Paired with my trusty tortoiseshell glasses and rosy cheeks, the look was fresh-faced and classic.
82. I prepped for attending Carrie Hammer's post-show celebration with a swipe of raspberry lipgloss and a wash of sheer, beige shadow.
83. For night two, I deployed Burberry's Gold Complete Eye Shadow Palette, which provides a subtly gilded look with grey, taupe, and brown hues.
84. A delicate ombre ribbon served as the perfect pre-Valentine's accoutrement.
85. Chanel Lipstick in rich, cabernet-hued Rivoli played well with a simple beige coat before I headed out the door.
86. What lay outside the door was not entirely pleasant. If only Fashion Week was allowed a temporary respite from the frigid temperatures.
87. Though I purchased these vintage combs for a Halloween costume, I played with the idea of sporting them with a theatrical ensemble for Fashion Week.
88. After a long week of shows, a smudged smokey eye in shades of copper and chestnut seemed like the perfect choice.
89. My beloved keyboard punctuated each day at Fashion Week.
90. No matter what the fable insinuates, red shoes are heaven-sent.
91. An old Rachel Zoe coat was my first entree into the world of east coast winter garb.
92. As my significant other demonstrated, the coat also has the bizarre ability to double as a makeshift hood.
93. Despite the subzero temperatures, I rocked a crop top and full skirt — with a coat, of course.
94. Complete with sunglasses and a glossy mauve lip, the look was one of my favorites of the week.
95. A copy of Daily Front Row served as the ultimate inspiration for an evening cat nap.
96. FLOWER's That's So Kohl Eyeliner gave my lackluster lids a flash of color when the needed it most after a long week of work.
97. My nails received a mid-week tune-up courtesy of Broadway Nails.
98. Slightly disheveled and not a little chilled, I returned to my apartment on the last day.
99. I concluded Fashion Week with a bit of window shopping at Lululemon; the store is unhealthily close to the Lincoln Center. I stopped in for a yoga mat and left dreaming of grey workout leggings and a heart-patterned sweater.
100. My post-Fashion Week and pre-workout look? #NoMakeup #NoFilter