This Swedish Hockey Team's LGBT Pride Is Amazing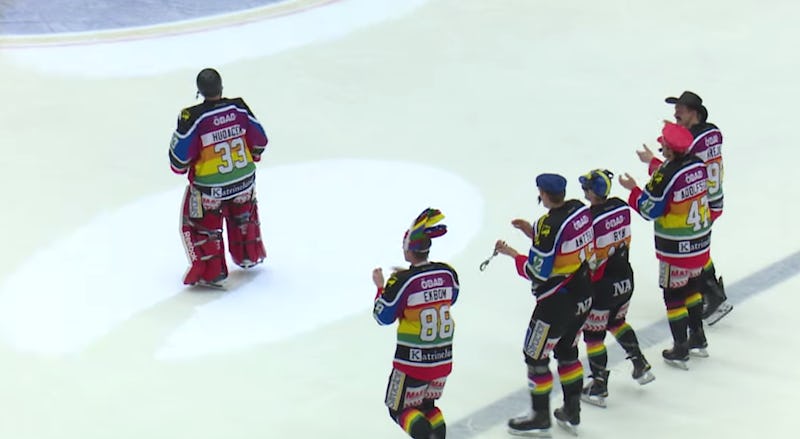 For one Swedish hockey team, simply winning a game isn't enough — they need to really get their fans in on the celebratory action as well. Goalie Julius Hudacek of Örebro HK, based in Örebro, Sweden, has made it a habit after every victory to give the team's supporters a warm show of thanks by taking to the ice once more and treating them to a hilarious display of athletic buffoonery (past activities have included playing leap-frog, juggling, cross-country skiing, and dressing up as Santa and letting a teammate drag him around the ice). But it seems that both goalie and team have outdone themselves this time: on Saturday, Hudacek and the Örebro squad donned rainbow-striped jerseys for their game against the Frölunda Hockey Club and celebrated their win afterward by dancing to the Village People's "YMCA," in support of the region's LGBT Pride Night.
According to a report by tech and business site Mashable, the team isn't just doing it for kicks — they mean serious business: a translation of an LGBT Pride statement on the team's page reads, "Pride game is a way for us to show social responsibility and take a clear stand for the equal value," reported Mashable. "Pride game is more than just a game, more than just a stunt."
The show of support has led to a surge in popularity among the team's rainbow Pride merchandise as well. A statement by team spokesperson Philip Nyängen on the website read, "After the Pride game against Frölunda ... the demand of [the rainbow striped jerseys] has been enormous. ... We are now selling them in our online shop." According to Nyängen, team scarves with a similar pattern completely sold out during the match on Saturday.
In recent days, a handful of sports leagues and organizations have made concentrated efforts to reach out to the LGBTQ community, perhaps signaling a new era in professional athletics. The You Can Play initiative, founded in 2012 by hockey scout Patrick Burke and GForce Sports' Glenn Whitman and Brian Kitts, aims to stamp out homophobia in high school, college, and professional locker rooms and ensure "equality, respect and safety for all athletes, without regard to sexual orientation," according to a statement on the organization's website. Last January, in coalition with You Can Play, the National Hockey League released a video statement as well, unequivocally announcing its support for the LGBTQ community.
The fight for equality in professional athletics doesn't end there either: in February 2014, a bill passed to the Arizona Senate, which would have allowed businesses to refuse service to LGBTQ patrons on the grounds of religious beliefs, provoked outrage among many national groups, including Major League Baseball (MLB) officials, who released a statement later that month, condemning the blatantly homophobic undertones of the bill:
As the sport of Jackie Robinson, Major League Baseball and its 30 Clubs stand united behind the principles of respect, inclusion and acceptance. Those values are fundamental to our game's diverse players, employees and fans. We welcome individuals of different sexual orientations, races, religions, genders and national origins.
Officials continued that the MLB had "a zero-tolerance policy for harassment or discrimination based on sexual orientation" and that it would not "support nor tolerate any words, attitudes or actions that imperil the inclusive communities that we have strived to foster within [the] game."
The National Football League has also begun testing the waters in support of LGBTQ players, airing a brief 30-second spot by television provider DirecTV during the first 2014 regular season game between the Seattle Seahawks and the Green Bay Packers. The ad itself featured a gay couple crashing through the walls of their home in a tackle position, as one quipped, "Chris and I have a friendly rivalry — Giants, Cowboys, you know the deal. Sure, we still argue sometimes, but we're just like any couple, really." It was a short-lived, blink-and-you-missed-it moment, but it signaled a definite shift in the advertising atmosphere within NFL headquarters.
With the recent NFL selection of openly gay defensive end Michael Sam by the Dallas Cowboys, as well as a host of coming-out statements by both collegiate, professional, and Olympic athletes over the past few months, it's a safe bet that the world of sports is indeed changing for the better.
Images: HockeyOrebro/YouTube screengrab; Getty Images (1)