Kim & Lisa R. Have An Awkward Fight On 'RHOBH'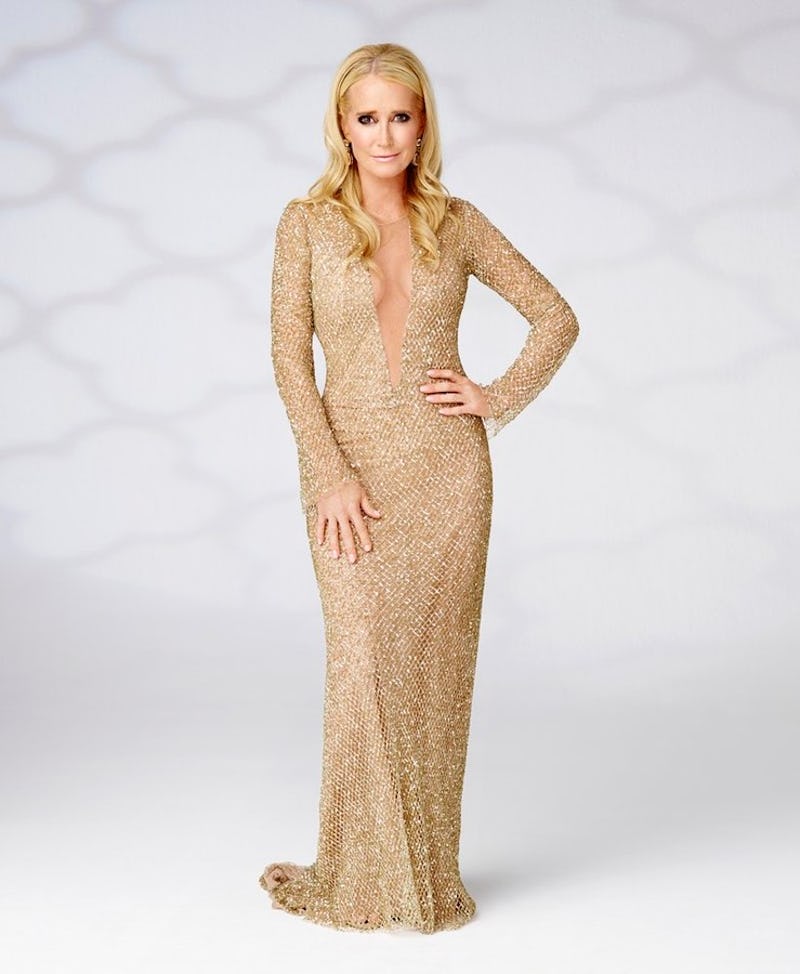 What is it about being in tiny, enclosed spaces that makes Kim Richards think they're the perfect venue for confrontation? When she and Lisa Rinna rode in a car together to Eileen Davidson's poker party a few episodes back on The Real Housewives of Beverly Hills , Kim acted completely bonkers, cursing and being really aggressive toward her fellow cast member. During Tuesday night's episode, she was at it again when the ladies flew in a private jet to the David Foster Foundation Gala in Calgary, Canada and confronted Lisa R. about what she's been saying about her sobriety.
As most RHOBH fights do, the situation that played out can be traced back to Brandi. If you recall, she dined with Lisa R. a couple episodes back where Lisa R. continued to call Kim an addict and say how everyone needs to do something about it. Well, that of course got back to Kim, and as expected, she didn't take it very well.
So when Kim and Lisa R. were sitting on the plane flying to the event, instead of napping, reading, or playing with their iPads like normal people, Kim decided to intensely ask Lisa R. to stop talking about her and trying to take down her sobriety. Yes, flying thousands of feet in the air in a piece of metal is exactly when you should angrily confront someone about the shade they've been throwing behind your back. And with R&B singer Babyface in the jet too, no less.
As an aside, this is the second episode of RHOBH Babyface has been in this season because he's buds with Yolanda's husband David. I don't know about you, but I'm kind of getting the impression that Bravo is trying him out to potentially become a new Housewife. All I'm saying is Babyface is probably coming for your position, Brandi Glanville.
In the end, Lisa R. apologized and said she wouldn't talk about Kim anymore. So everything was settled, right? Wrong-o. In the limo on the way to the gala, Yolanda said she hopes that morning's conversation won't put a damper on the ladies' upcoming trip to Amsterdam. Lisa was like, "Of course not, Yo!" And then she started talking about how the brothers of her husband Harry Hamlin lost their fight with alcoholism and how Harry has been sober for three years.
I think we can all take that as a hint that this conflict is most certainly not resolved. But in case you need an even bigger sign, the preview of next week's episode showed Lisa R. pulling a Brandi by throwing a glass at Kim during what promises to be the most memorable of meals during their trip. From what I gather, Kim will say something about Harry, probably related to his struggles with substance abuse. What did I tell you, Lisa R.? No good would come from your meddling in Kim's affairs.
Welcome to Amsterdam? Oh, you better believe it.
Images: Michael Larsen/Bravo; Giphy; realitytvgifs/Tumblr