'Money for Nothing' Is 'Empire's Best Tune So Far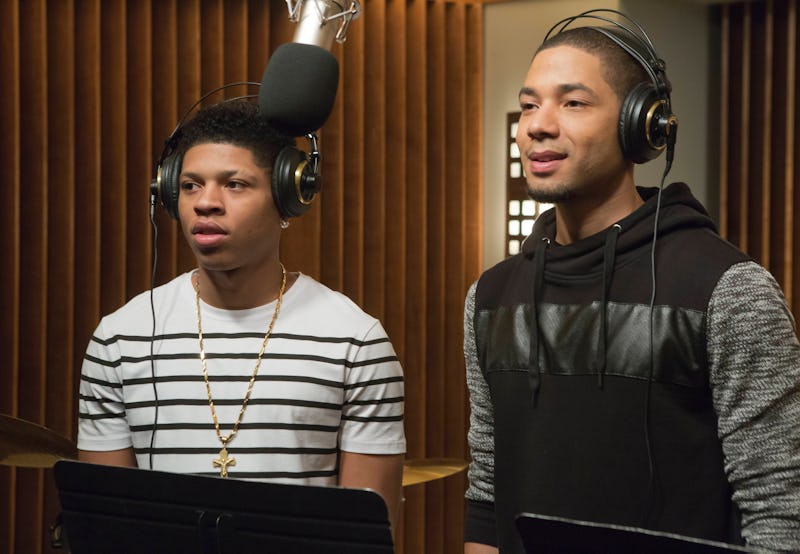 Fox's Empire has given us many gifts in 2015: A new TV addiction on Wednesday nights, lots of classic one-liners from Cookie Lyon, and some amazing new music. Every week since its premiere in January, the smash hit drama series has captivated viewers with both its awesome plot twists and original music curated by megaproducer Timbaland, who is responsible for many hit albums and songs by Justin Timberlake, Aaliyah, Jay Z, and more. So the man definitely knows how to create a hit single that'll get stuck in your head. But I have to say, I think the best song on the Empire soundtrack so far is "Money for Nothing."
The rollicking tune made its debut in last week's episode as a duet between dueling sibling rivals Jamal (played by Jussie Smollett) and Hakeem (Bryshere Gray) at the Lyon family's investor showcase. Jamal croons the chorus, which samples the 1985 hit of the same name by Dire Straits, a British rock band, while Hakeem spits some hot fire against rock guitar in the background. Entertainment Weekly said the song was "one of the most unique and intriguing songs Empire has put out thus far."
I think it's also proof that Hakeem and Jamal clearly do their best work together. It's too bad the entire family (including their older brother Andre) seems to be pitting them — and their upcoming albums — against each other. Here are more of the siblings' best duets.
"No Apologies"
This is the series' theme song, first original song, and was even released prior to the pilot aired in early January. In the show, Hakeem and Jamal perform "No Apologies" at the opening of the Lyons' club Leviticus (this is before the two siblings were in a fight).
In real life, Smollett said the recording of the song is what solidified the bond between him and co-star Gray. "It wasn't really until we traveled to Miami to record with Timbaland that we became dead-on brothers," he said. "He's like a fourth brother to me."
"Live in the Moment"
Jamal and Hakeem sang this jam in the pilot to "show off" (Rhonda's words) on Lucious' yacht. The younger Lyon boys give it their all even though they think no one's watching and they truly show the audience that they do love making music together. It's too bad they keep getting pitted against each other.
This tune also highlights Hakeem's mommy issues — the lyrics state that "Lucious gave me birth." Ouch.
"You're So Beautiful"
This song is set to premiere in Wednesday night's new episode and EW posted a sneak peek of Jamal and Hakeem's take on Lucious' big hit from back in the day — and it's pretty damn great. Of course, Jamal puts his own spin on the lyrics: "This is the kind of song that makes a man love a man." Does this mean Jamal is ready to come out?
While EW has the Jamal-only version, Spotify has a version of the song with both Jamal and Hakeem and it's even better, proving they make a dynamic duo.
"'You're So Beautiful' is one of my favorite songs this season," Smollett told EW. "It was produced by the great Jim Beanz and co-written by Jim and myself. When Jim first played the track, it spoke right to me. The lyrics were actually inspired by Gabby Sidibe. She's confident, sexy, and owns exactly who she is, but every now and then… you just need to simply hear the words, 'You're So Beautiful.' "
Images: Chuck Hodes/Fox (2)