Did This Magazine Feature A Way-Too-Skinny Model?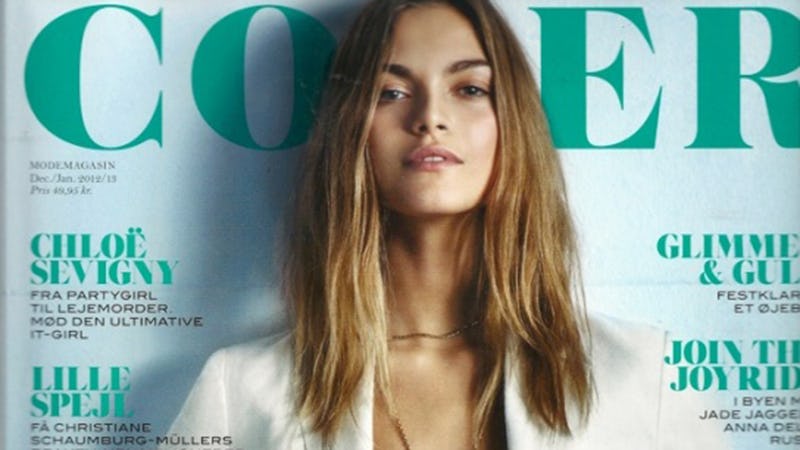 The fashion industry has come a long way from its one-dimensional, and rather outdated, standards for women's body image ideals. "Plus-size" is becoming more widely accepted in mainstream style spreads, with models like Ashley Graham, Tess Munster, and Candice Huffine emerging as fashion's latest key players, dominating everything from print ads to runway. It finally seems like traditional beauty molds have been broken and that real change is underway — but we still have a lot of work to do. The most recent controversy? Danish magazine Cover featured an extremely thin model, which many are saying promotes an unhealthy body image for young women. Naturally, social media is already exploding with people expressing their extreme outrage at the spread.
According to E! Online, critics slammed the Danish magazine for promoting anorexia as a coveted beauty asset, sparking a Twitter debate from horrified spectators using #covergate, about the model's shockingly emaciated figure. Danish Tax Minister, Benny Engelbrecht, expressed his appall claiming "I seriously thought that the fashion industry had understood that anorexia is a problem that should be taken seriously," E! Online reported.
In attempts to mitigate the heated situation, Cover founder Malene Malling took to Facebook to publicly apologize and defend the mag's reputation for supporting diversity in beauty standards. "On the Cover we have, in all the years, worked to show an expanded beauty ideal, show that you can be beautiful in various ages and various sizes. We have always sought to work with healthy girls."
With so much recent success in positive body image efforts within the fashion industry, it is devastating to know that unhealthy and unrealistic ideals remain in the mindsets of some. While it is argued that universal beauty should include a full range of all shapes and sizes, including some slender healthy physiques, the question remains — how thin is too thin? Setting limits on either end of the weight spectrum seems unfair, so it may be a while before we have a perfect solution... if we ever find one at all.
Here are some more of the outraged commentary on Twitter:
Images: Cover Magazine