9 Ways To Make Your Home Feel More Grown Up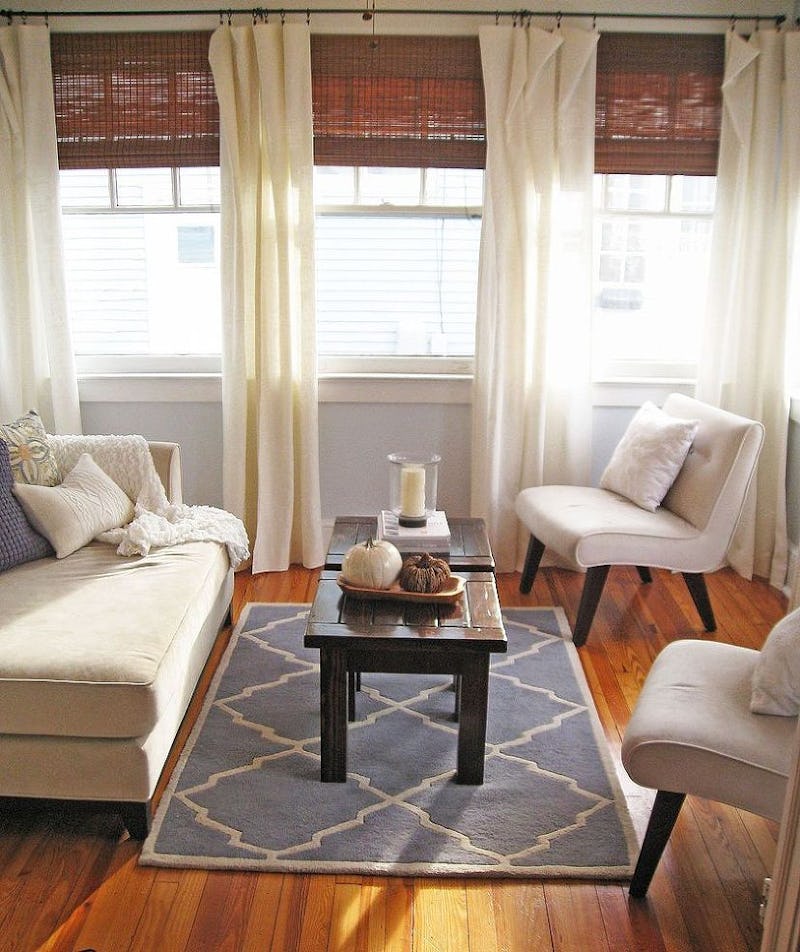 You know what a grown-up's home looks like. You've either grown up in one, stayed in one, visited a neighbor, friend, or relative who lived in one, or, at the very least, seen one in a magazine. You just know from looking around at the vacuumed rugs and the interesting light fixtures that you are standing in the house of an adult human being. And yet, somehow, that setting seems impossible to duplicate.
Between your couch that you've had since college, and your makeshift gallery wall of pictures and painted canvases, something a little too young and transient has slipped into your design, like you're just staying temporarily, or you're making due with what you've got.
But you're done making due. You don't want your home to look like a college dorm, or that token first apartment, anymore. Instead you want it to exude maturity, to look like the kind of home you'd be happy to invite guests to. The kind of home you don't apologize for or wish was different, but feel comfortable in and love wholeheartedly. You want a home that's old enough to suit your needs and your style. And these nine ideas are the perfect way to get just that, while keeping your budget in mind.
1. Add a bar cart
Not only will this raise the maturity level of your living room instantaneously, but a chic drink cart is a great feature to have in your home for entertaining friends and guests. You don't even have to go all out stocking up your cart (although that's definitely recommended) — just having it in the corner of the room creates a touch of '50s glamor, and brings to mind the classy catchphrase, "what can I get you?"
Project via Hometalker Stacey @Addison Meadows Lane
2. Make an "only framed art" rule
OK, enough with the double sided tape and the thumbtacks. Hanging framed pictures and art shows that you think your wall decor is important enough to preserve and highlight. The best part? Whether your frame costs $100 or $1, choose simple, black borders, and most people won't be able to tell.
Project via Hometalker Tanya @Dans le Lakehouse
3. Lay down a rug
It doesn't matter if you DIY your own or find one on sale, a sophisticated rug adds a cozy level of adulthood to your home (as long as it's not a neon colored shag). To keep a rug or carpet from making your space look too old, choose a color and pattern that highlights your palette and adds just the right drop of edgy contrast.
Project via Hometalker Ann Marie @ White House Black Shutters
4. Bring in some plants
Somehow, a potted houseplant has a way of polishing up an unfinished home like nothing else. Add a leafy friend to that unused corner in your living room, or create a mini herb garden on your kitchen windowsill. If you don't trust your green thumb, try succulents as a starter plant — those little guys are hardy!
Project via Hometalker Elena @ 'A Casarella
5. Hang window treatments
They don't have to be long, pooling curtains (though, that definitely adds sophistication), but hanging window treatments of any kind is a great way to add more texture to your space. Putting up a window treatment, like a valance or DIY greek shade, shows true design effort, the mark of an decor-conscious adult.
Project via Hometalker Allie @ Sunshine and Sawdust
6. Overload on matching throw pillows
Turns out that adding a delicately arranged pile of throw pillows to any surface makes it look photoshoot ready. Gather up clearance sale pillows in your color scheme of choice, making sure to vary your patterns, and to throw in one or two contrasting colored pillows. Add them to your couch, bed, dining room chairs, or any other sitting space in need of decorating.
Project via Hometalker April @House by Hoff
7. Light up some lamps
You can't get more mature than a table lamp. Thinking "oh, this room has light, but I would love more light in this corner" shows a level of home decor savvy that only a grown-up understands. The best way to harness this design is to get a pair of lamps for two sides of a couch, or to bring symmetry to a bedroom. To keep to your budget, try a DIY solution.
Project via Hometalker Jeannine @ The Concrete Cottage
8. Make your bed. Every morning.
Though this might sound like a no-brainer, it's tough to convince yourself to make your bed when your eyes aren't quite open yet. Still, making your bed in the morning is a great way to ensure that you wake up ready to tackle your day, leaving behind an orderly bedroom that is most definitely not a college dorm.
Project via Hometalker Katie @ Spray Paint & Chardonnay
9. Style your bookcases
Instead of just cramming your books in the shelves, turn your bookcases into mini showcase space by adding interesting details, arranging books by color or height, or tucking a trailing potted plant in between two books. You can make this underused space eclectic and eye catching by mixing and arranging things you've already got in your home.
Project via Hometalker Nicole @ Simply Nicole
Looking for more home decor styling tips and how-to's? You'll love what we've got over at Hometalk on our Home Decor page!