How to Mimic Your Professional Facial at Home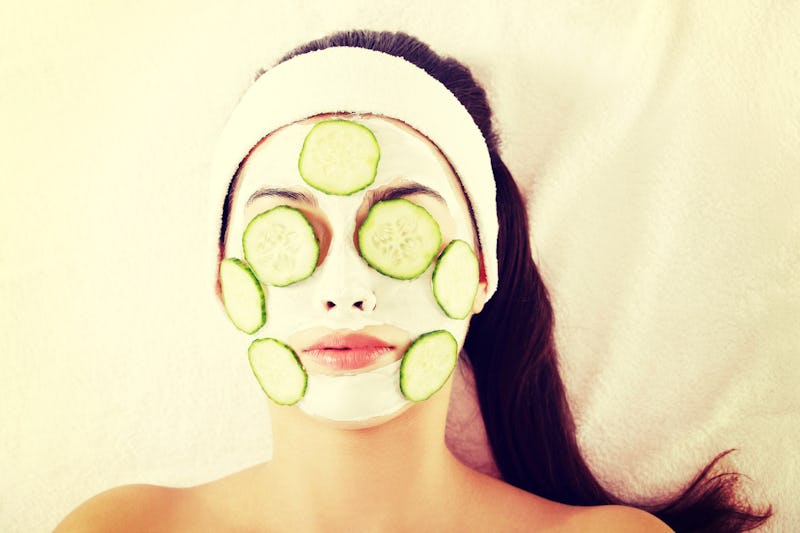 I was reviewing my bank account statements at the behest of my tax accountant, and I noticed I spent $750 on facials. In the last three months. There's nothing like an expense that costs more than one month's rent that prompts the question: "Can I give myself an at home facial?!"
Don't get me a wrong, nothing beats a professional spa treatment. They are the best. And whatever you try to do at home cannot ever be faithfully simulated. First of all, you don't have an esthetician's license to nab higher-strength products (and even if you somehow obtain them through the black market, you might Harvey Dent your face). Second, there's no way you should perform your own extractions. The vast majority of estheticians don't even do it on themselves. Extractions involve a combination of meticulous investigation, flawless angling, and ultra-precise unearthing. Just don't do it.
I chatted with Kerry Benjamin, an LA-based celebrity esthetician, creator of Stacked Skincare™ and owner of spa Kerry Benjamin Skincare, to find out just how close to a professional facial you could get with a little DIY action. "I always tell my clients that they need to do both if they want to have beautifully flawless skin. It can't just be one or the other. Professional treatments are a deeper exfoliation and infusion of potent active ingredients that are not available to purchase for consumers," advises Benjamin.
Fortunately, Benjamin assured me you can get really close to a professional facial with the right products, routine and commitment. Yes, there are products other than your mighty Queen Helene mask that can up your home routine. Here, Kerry spills her beauty beans! (Yesss!)
Before we get into it, we have a few caveats and tips. Pay close attention!
TIPS
Get to know your skin before doing anything to it. Just because your girlfriend swears by her homemade apple cider vinegar toner doesn't mean it won't trigger a nasty reaction. Patch test everything you use before you slather it all over.
Perform the facial at night time so you can reap even more benefits. Your skin is in hardcore repair mode while you sleep. Benjamin reminds us, "Make sure you have a freshly washed pillowcase to sleep on, too." In fact, you should change out your pillowcases every 2-3 days since they're a breeding ground for bacteria, dead skin cells, hair oils, and a bunch of other gross skin-hating, pore-clogging particulates.
Allot about one hour for the facial, although if you really need to, Benjamin says "you can get down and dirty and do it in 20-30 minutes."
Ideally, perform your at-home facial once a week or bi-weekly. If that's too frequent for you, anything is better than none. Skip it the week you plan to visit your esthetician.
Always use lukewarm water for showering, cleansing, and rinsing. Hot and cold water are hard on your skin not to mention unpleasant and/or torturous.
Take deep breaths during your facial, especially as you wait for your mask to dry. Part of the reason why I love visiting an esthetician is so I can lie down without a care in the world and focus on deep breathing (as opposed to the usual shallow/no breaths).
Prep your hair by tying it up and wearing a headband or wrapping it up tight with a towel.
Now here's what you need to do. Make sure you pick and choose your products depending on your skin type and specific concerns. Scented candles and soothing Celtic music optional.
1. Remove All Your Makeup
What to do: Benjamin advises that you "rub a natural botanical oil onto your dry skin over makeup, wet hands, and rub the oil using circular motions. Remove makeup with a clean face towel." This method ensures the least amount of tugging and stress on your delicate eye area while nourishing and plumping skin at the same time.
Why you're doing it: Makeup is not only the ultimate barrier between your skin and treatments, but it also tacks on pollution and dirt throughout the day.
What to use: "I prefer using jojoba, coconut, or avocado oil. This works great for any skin type. If you choose to use makeup wipes instead, remember you still need to cleanse your face! Wipes can remove makeup, but they don't cleanse your skin," says Benjamin.
2. Cleanse Thoroughly
What to do: Dispense your cleanser into your hands and massage softly into dampened skin. Take your time. If you're using a Clarisonic, which Benjamin recommends, cleanse and exfoliate with it while you're still in the shower. Also, if you decide to cleanse in the shower, you can skip the steam step below. Click here for a more detailed lowdown on cleansing.
Why you're doing it: For a complete facial, you need to get rid of surface debris so the soon-to-deeply-penetrate treatments to follow enter your pores with ease.
What to use: Use a soft, clean, and disposable face cloth — not a harsh, dirty wash cloth or towel — to rinse. Here are some standout cleanser options: CeraVe Hydrating Cleanser, $10, Amazon if you have dry skin; Bliss Fabulous Foaming Face Wash, $24, Amazon for oily/combo; and Fresh Soy Face Cleanser, $38, Sephora for normal. If you prefer something natural, try Acure Organics Sensitive Facial Cleanser, $9, Amazon – it works wonders for all skin types and feels like silk.
3. Exfoliate
What to do: If you cleansed and exfoliated with a Clarisonic in the shower, then skip this step. If you didn't, then exfoliate with a gentle product.
Why you're doing it: Again, you need to pave the way for subsequent treatments so their active ingredients can absorb effortlessly without encountering any superficial blockages. Exfoliation allows you to slough off dead skin cells that accumulate on your skin's surface.
What to use: You can use a physical exfoliator (scrubs with beads in them) or a chemical exfoliator (those that contain chemical substances, such as pumpkin enzymes, AHAs, or BHAs that dissolve dead cells). Many products, like Kate Somerville's crazy-good ExfoliKate Intensive Exfoliating Treatment, $85, Amazon, contain both. Looking for something cheaper? Try Aveeno Skin Brightening Daily Scrub, $7, Amazon.
4. Prep & Degrease
What to do: Using a cotton pad, swipe an alcohol-free toner all over. Let it absorb.
Why you're doing it: Toning removes excess oil and lowers your skin's pH to prep skin for a deeper treatment. Avoid alcohol to prevent drying.
What to use: Try Lancôme Tonique Douceur Alcohol-Free Toner, $25, Sephora for normal skin; L'Occitane Shea Butter Gentle Toner, $24, Amazon for dry skin; and Aveda Green Science Replenishing Toner, $39, Nordstrom for oilier skin types. Want something natural? Use the Jurlique Rosewater Balancing Mist, $24, Amazon.
5. Steam
What to do: You have three options. 1) Boil water in a pot in the kitchen or collect hot water in a tub or giant bowl in your bathroom sink. You can add a few drops of your favorite essential oil for some olfactory, armomatherapeutic pleasure. Place a towel over your head, loom over the water, and let the towel that surrounds your head capture the steam. 2) Dunk a towel directly into hot water, squeeze out the excess, and let it rest on your face. 3) You can also buy a small countertop home steamer that does all the work for you, like the Conair Facial Sauna System, $25, Amazon. No matter what, make sure the water or steam isn't so hot it feels like you're burning! This is common sense, but I'm sure someone somewhere out there's made this mistake before.
Why you're doing it: Steaming opens up your pores and makes them more receptive to treatments. It also makes your skin supple and plush.
What to use: If you decide to use an essential oil in your hot-water bath, try lavender or geranium, both of which are incredibly calming and balancing.
A caveat from Benjamin: "I don't recommend steaming if you used a chemical exfoliant, as it might cause problems for some people. For example, if you're prone to pigment, too much heat followed by a peel can cause more pigment. It's likely not a problem for most home-care peels, but I would advise this to be on the super-safe side for those with darker skin tones."
6. Treat With A Peel
What to do: Use a store-bought peel to infuse your skin with a surge of powerful anti-aging, anti-acne, and revitalizing ingredients. Follow the instructions on your peel, as some require a wipe-off while others direct you to let the formula sink in.
Why you're doing it: Professional peels literally remove the top layers of your skin to facilitate cell turnover so fresh, healthy cells can surface. Facial peels are popular because they can help with texture, tone, anti-aging, and acne. For your at-home facial, use a peel you find at any convenience or beauty store. It will contain a less potent formula but, as I've already mentioned, you can't get the superhero strength unless you go to an esthetician (which you should if you have some severe issues).
What to use: Dr. Dennis Gross Skincare Alpha Beta® Peel Original Formula, $88, Amazon is amenable to even sensitive skin, so much so that you can use it daily. It's loved and coveted for a reason – the glycolic acid, mandelic acid, and willow bark extract combined with retinol make a powerful DIY peel so your complexion becomes smooth, clear, and luminous. Plus, this two-step peel comes in a pre-soaked cotton towelettes to avoid a mess. Benjamin emphasizes that there are many types of chemical peels made for different skin needs, so do your research before you buy.
If you're looking to soothe your face after a peel, Benjamin recommends ice rollers, which are literally rollers that you freeze. "Ice rollers are amazing! I use them in all my treatments now to calm and soothe. For home, they are fantastic for depuffing and closing up pores after a facial." Try Smyrna(TM) Ice Roller PRO For Face and Body Massage, $16, Amazon.
7. Apply A Mask To Target Specific Problems
What to do: After you wipe off or absorb the formula of your peel, apply a mask. This is your moment of relaxation as your mask works hard to fight off your specific concerns. If you're disturbed by those pesky zits, use a clay-based mask. Dry? Use a moisturizing mask. Does your complexion look lackluster? Try a brightening mask. Do you have one problem on your T-zone but another on your cheeks? Frankenstein your masks depending on the issue (yup, in one application). I like to put a kaolin mask on my forehead and a brightening mask on my cheeks, simultaneously. The amount of time you'll leave each mask on depends on the product you use, so read the directions.
Why you're doing it: A mask physically covers the skin, allowing the active ingredients to penetrate and quickly draw out impurities, tighten, hydrate, and/or brighten. Think of it as a targeted treatment for all over.
What to use: For blemishes, try the GLAMGLOW® SUPERMUD™ Clearing Treatment, $69, Sephora. To alleviate dryness, try Peter Thomas Roth Cucumber Gel Mask, $25, Amazon. For a dull complexion, try Boscia Luminizing Black Mask, $34, Sephora. For all-around anti-aging, try Perricone MD Chloro Plasma, $60, Amazon. Want more recommendations? Here are more masks for all your skincare needs. Or you can make your own face mask, which will also save you some cash.
Extra Tip: For an extra boost, add your favorite serum underneath your mask. Let it completely absorb first before you apply the mask.
Simultaneous Mask Add-Ons
Lips
What to do: Benjamin's tip for lips: "You can pick up any sugar scrub or make one yourself to use a few times a week as well as during your home facial treatment. After exfoliating your lips, apply a hydrating mask. You can also take two small strips of Saran wrap to seal in that moisture for 10 minutes or longer. Just slice off a small piece of Saran wrap and simply put it over the hydrating mask and it will stick to it. Leave it on and let all that goodness absorb!"
Why you're doing it: You hate dry, chapped lips, right? Lips often go neglected compared to the rest of your skin, so use this time to give them a little extra loving.
What to use: You can use the exfoliator and hydrating mask you used for the above step. If you don't have a hydrating mask, use a thick lip balm. If you really want a lip-specific product, try tarte Maracuja Lip Exfoliant, $16, Sephora
Eyes
What to do: Add a mask specifically created for the delicate eye region immediately after you apply your face mask. Remove along with the face mask.
Why you're doing it: The delicate skin around your eyes is super sensitive, so even just a little dehydration in that area can make you look exhausted.
What to use: Shiseido Benefiance WrinkleResist24 Pure Retinol Express Smoothing Eye Mask, $54, Amazon is great for all skin types, even if you don't yet have those little lines of wisdom. Want to go full-on natural? My mother used to slice cucumbers and put them over my eyes for soothing hydration.
If you want, invest in a Clarisonic Opal, $185, Clarisonic to deeply infuse your eye cream into your skin. Benjamin says, "The Opal is great for deeper product penetration and reducing under eye puffiness and dark circles almost instantly."
8. Moisturize, Moisturize, Moisturize (& Spot)
What to do: After you rinse off your face, eye, and lip masks, replenish the hydration by softly rubbing in your favorite serum then moisturizer all over (don't forget your neck and décolleté). Benjamin says, "A serum is super important during this step, as you'll get the biggest benefit after the exfoliation. Apply the serum and then your moisturizer for maximum benefit." Massage your face for an uplifting and relaxing effect, focusing on points that are most easily predisposed to wrinkles, such as your forehead and eyes.
Why you're doing it: After all the exercise your skin's been through, it needs to be moisturized to plumpness and nourished with essential vitamins (as it should be every day).
What to use: If you don't already have a go-to moisturizer, my favorites are Philosophy Hope in a Jar Night, $46, Amazon, Algenist Overnight Restorative Cream, $94, Sephora, and for something from your local convenience store, Aveeno Positively Ageless Reconditioning Night Cream, $18, Amazon. If you're looking for something oil-free, try Kate Somerville Oil Free Moisturizer, $65, Amazon. On the flipside, if you want to amp up the moisture, add a few drops of Kahina Giving Beauty Argan Oil, $36, Amazon to wake up with that dewy, otherworldly glow. Don't forget to moisturize your eyes and lips, too. If you're bothered by a pimple, spot on Clean & Clear Advantage Acne Spot Treatment, $8, Amazon.
Want even more penetration of your serums? Use a Microneedle Roller, $30, Amazon. Benjamin says, "Microneedling has two main benefits: It stimulates the healing process, signaling cells to repair and replenish while simultaneously creating tiny microscopic channels so that 80 percent of active ingredients are absorbed, as opposed to a typical less than 10 percent."
Benjamin also recommends using an Lightstrim LED Device, $249, Amazon: "The Light Emitting Diode emits specific wavelengths of light that safely renew cells. It's a great way to treat a wide range of concerns and it's also almost impossible to overdo the treatment since these devices emit a very low wavelength. Blue light is best for treating acne and infrared or red is best for boosting collagen."
So there you have it. Make an event out of it with your friends or spare yourself the chit chat and facialize yourself solo. Once you get the hang of it and perfect your routine, you might find yourself getting praised by your esthetician next time around, the ultimate spark for that perfect glow.
Images: Zenspa1/Flickr; Velyr, naka, domenicop20, Gennadiy Poznyakov, zinkevych, HconQ, Voyagerix, JackF/Fotolia