Why This 1D Video Deserved the Award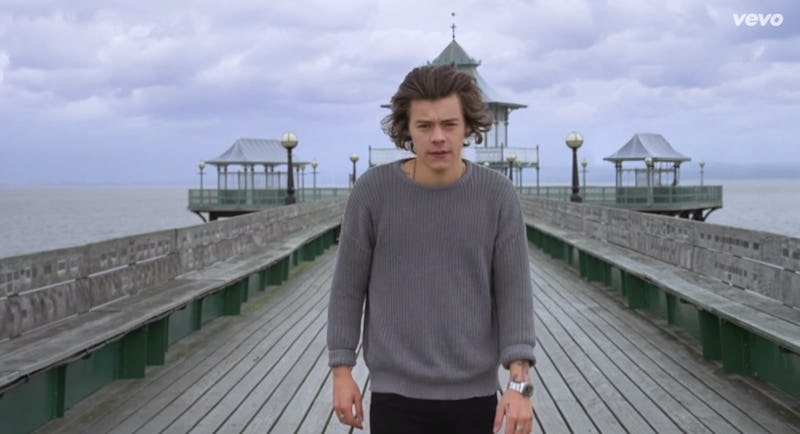 Here's something that should surprise absolutely no one. One Direction's video for "You & I" took home the award for British Video at the Brit Awards on Wednesday, Feb. 25, which isn't exactly shocking considering how that particularly award is voted for. The honor is given to the video that receives the most votes during the ceremony, which is collected via Twitter hashtag, which, for "You & I," was #ONEDIRECTIONONBRIT. The boy band snagged the award, but unfortunately couldn't accept the honor as they are currently on tour. Instead, mentor Simon Cowell took the stage and thanked the guys for being so amazing — something that he didn't have to tell their fans, who are already pretty obsessed with everything 1D.
That's not to say that the music video didn't win the Brit Award on its own merit. The video for "You & I" is a touch bizarre and completely different from anything we've seen the boy band do in recent memory. Despite the beginning of the video promising an ordinary stroll down a long pier, the video quickly gets pushed into trippy territory when the bandmates begin transforming into one another, freezing in time, and multiplying. Don't think that 1D can get that bizarre? Check out these stills from the video.
When Niall starts turning into Liam.
When Liam's hand has magical powers...
...that turn him into Harry.
When we get this shot of Harry running. (Not weird, just great.)
When Zayn shows another side of himself — the back of his beautiful hair.
When a hand separates Zayn from Louis.
When we get to stare into Harry's eyes.
When allllll the One Direction boys have clones.
And then Niall gets this balloon for no reason.
And it gets weirder, you guys. I promise. Watch below.
Images: One Direction/Vevo (10)