Colorful Designer Manholes Take Over Milan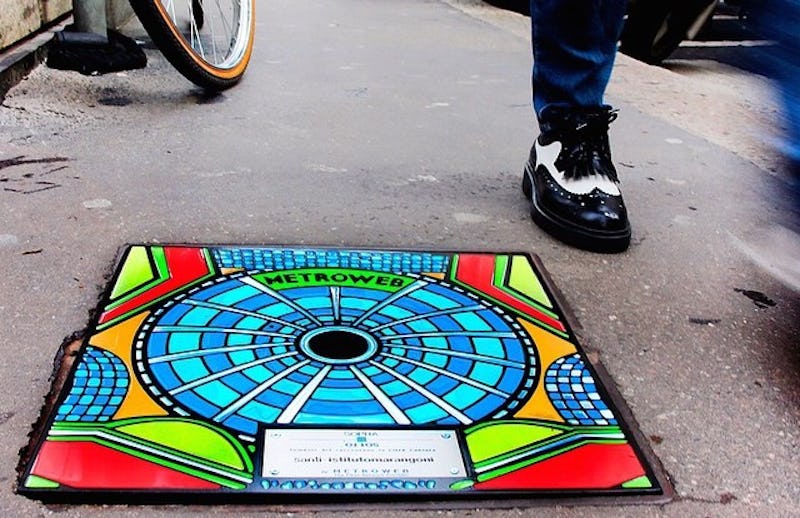 Leave it to a fashion forward city like Milan to turn manholes into works of art. As the world descends upon the Italian city for its annual Fashion Week, top designers like Giorgio Armani, Prada, and Versace have decorated manholes all over Milan for an open-air exhibition called "Above the Below — Manhole Cover Art and the Wired City." The fashionable street covers, which debuted on February 24, are stopping people in their tracks and making them see these often ignored, iron-made objects in a whole new light.
Commissioned by the city of Milan along with Metroweb, a local fiber optics company, these 24 hand painted manholes have taken up residence along Via Monte Napoleone and Via Sant'Andrea. The project aims to put a spotlight on the vast network of communication and technology that is found underneath the bustling city. Each manhole showcases the designer or brand responsible for its unique creation, from Armani's classic logo, to Missoni's and Emilio Pucci's bold prints, to the unmistakable Baroque graphics from Versace. This is the third installment in Milan's manhole art series, following last year's "Over the Under" collection of manholes designed by street artists like Shepard Fairey and Space Invader.
The couture manholes are on display until January 2016 and will be auctioned off for charity after the exhibit. Check out some of these designer creations accessorizing the streets of Milan below:
Images: Tombini Art/Instagram (7)