Jamal Comes Out On 'Empire' In A Powerful Scene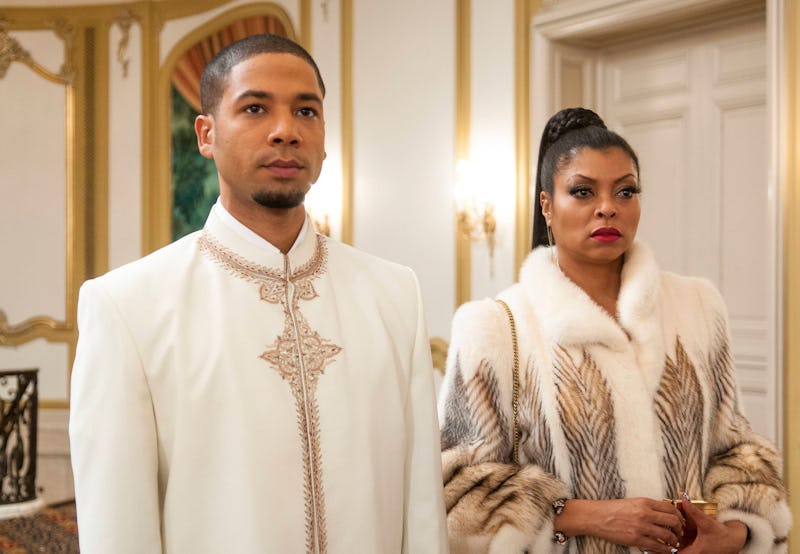 The moment we've been waiting for is here. On a very public stage, Jamal came out to the entire world on Empire , and of course, while the rest of the family beamed with pride over Jamal's news, Lucious took it less than pleasantly. In fact, the leader of Empire Entertainment proved how close-minded we were all afraid he would be when his acceptance and love would have mattered the most.
Wednesday night's episode "The Lyon's Roar" began with the Lyon family starting to finally come together as Cookie and Lucious were relaxing after their recent, ahem, romantic reunion, and the former couple talked about producing a legacy album with the whole Lyon family. And within minutes of approving the idea, Hakeem, Jamal, Cookie, and Lucious all ended up in the recording booth, singing the first single "You're So Beautiful," which had sentimental value for the family. Lucious used to sing the song to Cookie and the family, and Cookie sang it to herself to get her through prison in the hopes of seeing her family again. The entire scene was beautiful, aside from Andre unfortunately feeling left out. And Jamal was even considering waiting to come out until his father passed away just to make him happy since his health was failing. But meeting a new man and a few words from Lucious changed all that.
As part of the legacy album, Lucious hired Ryan, a talented videographer, to document the Lyon family in their legacy documentary. Ryan, being openly gay, quickly bonded with Jamal and told him that he shouldn't feel ashamed of his sexuality because "God made [him] this way." This kind of self-acceptance really seemed to affect Jamal and Ryan continued to encourage him by saying he should come out for his family, for his daughter.
Lucious indirectly also played a hand in Jamal's coming out as he echoed Cookie's sentiments about being a family during the Empire White Party, and told Jamal to impress him by sharing Jamal's truth in the music. What Lucious didn't realize was how truthful Jamal was planning to be when his son told him that he had his own arrangement of the family's beloved song. Jamal changed the words around and finally spoke his truth in a move that shocked everyone.
While Lucious replayed all of the many moments of unrest, tension, and hatred he showed Jamal during his upbringing, and his realization that Jamal was gay, the rest of the Lyon family and Vernon was extremely supportive. Even Andre, who has constantly schemed for the throne, gave his brother silent support during his performance. And Cookie was the happiest of them all.
After the world blew up with the news and took it much better than Lucious — one paper even titled their story about Jamal's coming out "The Lyon Roars" — Hakeem visited his older brother and told him that his coming out wasn't foolish. "It was the bravest thing I've seen in my life," Hakeem beautifully stated.
Sure, it would be nice for Jamal to have his father's acceptance. And sure, it would be nice for the family to come together and actually reunite and have a happy ending. But in the end, this was Jamal's truth. It lets him fully express himself in his music, so he doesn't need to live two lives. Now that Jamal knows his sexuality won't limit him from being on top in the music industry, he can fight for his place in the Empire, and show his father and the world what he can really do.
Images: Matt Dinnerstein/FOX; rydeforyou/Tumblr (5)