Do NYFW Beauty Trends Hold Up IRL?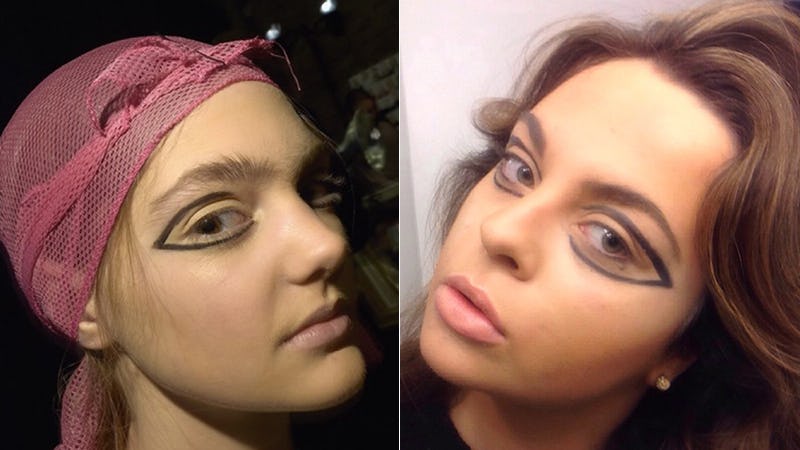 New York Fashion Week is undoubtedly one of the most anticipated fashion events to take place all year. For the industry's key players, it's a trade show where they can share their greatest masterpieces on the world's stage for everyone to soak-in. For us mere mortals, it's a live-action Pinterest board free to view through the hazy glare of Instagram filters and clever hashtags, inspiring the freshest ensembles and beauty looks to match. Still, year in and year out, I find myself asking: How much of what we see on the catwalks is actually — well — wearable? After all, these shows are allegedly "ready to wear," which implies the designers expect us to pop them right into our wardrobes.
My fellow Bustle writer, Melanie Richtman, compiled a list of the season's craziest beauty looks unveiled on the New York runways just a week ago, from electric-colored lids to Nordic-inspired geometric face paint. I decided to put all of the looks to the ultimate test and try them out on myself — in the name of hard-hitting investigative journalism, of course. I collected my data based on three areas of criteria: a) what level of skill these looks require, b) how wearable they are, and c) how good do they actually make me look.
I consider myself to be advanced in the makeup department. I have years of YouTube studying under my belt, my makeup box is overflowing with products I have spent far too much money on, and the saleswomen at my local MAC store know my full name by heart. Suffice to say, I was confident enough in my skills to believe I could pull these looks together. But was I confident enough to actually rock these looks in real life? Survey says: absolutely not.
Allow me to present my findings:
Anna Sui's Nordic-Inspired Makeup
This look was incredibly specific and required a seriously steady hand (and probably a ruler, which I unfortunately didn't have lying around). I decided to paint the lines on my face using an angled brush and a brown cream eyeliner pot. A concealer pen remained on emergency stand-by for when I messed up the lines (approximately 1,457 times). While the level of difficulty for this look was sky-high, the pay-off was non-existent. Aside from a pretty kick-ass Halloween costume, I didn't feel comfortable wearing this look... anywhere. Thankfully, I shared my recreation with the entire Internet instead.
Grade: B-
Jeremy Scott's Neon Eyeshadow
As if I didn't feel silly enough with the Nordic face paint, I went full-clown with neon blue-green lids inspired by Jeremy Scott, using loose sea green pigment by MAC and concealer to hide my dark brows. Among my many grave concerns about this look, nothing was worse than having to scrub the color off my lids when I was done. My heart goes out to all of the models that had to endure this cruel and unusual punishment.
Grade: D+
DKNY's Graphic Eyeliner
Of all five of the looks, this one was the easiest to try out. I grabbed a chubby black eyeliner and went to town, haphazardly drawing the large v's around my eyes without any true plan. Unlike the Nordic lines from Anna Sui, this larger-than-life liner look didn't seem to be polished or uniform, so I didn't fret if they weren't precise. I did clean them up with concealer and used a eyeshadow smudge brush to keep the lines somewhat close to the same consistency on both sides.
Overall, I hate to say it, but I kind of actually liked this look. It reminded me of the graphic eyeliner '60s icons like Twiggy and Edie Sedgwick used on their eyes — except far more extreme. I may even feel implored to try the look out with some thick false eyelashes and see what comes of it, even if I never actually end up leaving my apartment.
Grade: B
Zero + Maria Cornejo's Smudged Black Eyeshadow
I'm sorry, but this looked plain dumb. I felt like a toddler finger-painting unsupervised. I grabbed a couple of smokey dark eyeshadows and smudged them where the model has shading in the picture. Ta-da! Samantha, you have truly outdone yourself in the embarrassing department.
Grade: F
Carolina Herrera's Glitter Snow Lashes
This look is actually very pretty, despite how difficult it was to photograph. A simple combination of raspberry lips and glitter lashes, I experimented with my own lashes using a boatload of mascara and loose glitter pigment from MAC that I layered on repeatedly. My only complaint? I couldn't get the glitter to actually stay put, so I am perplexed as to how Carolina Herrera's makeup artists achieved the impossible. Does glitter mascara exist? If not, I'm quitting my job and presenting this idea on Shark Tank.
Grade: A-
Images: Getty Images (5); Samantha Schnurr (5)