You've Gotta See These Bizarre Nasty Gal Pieces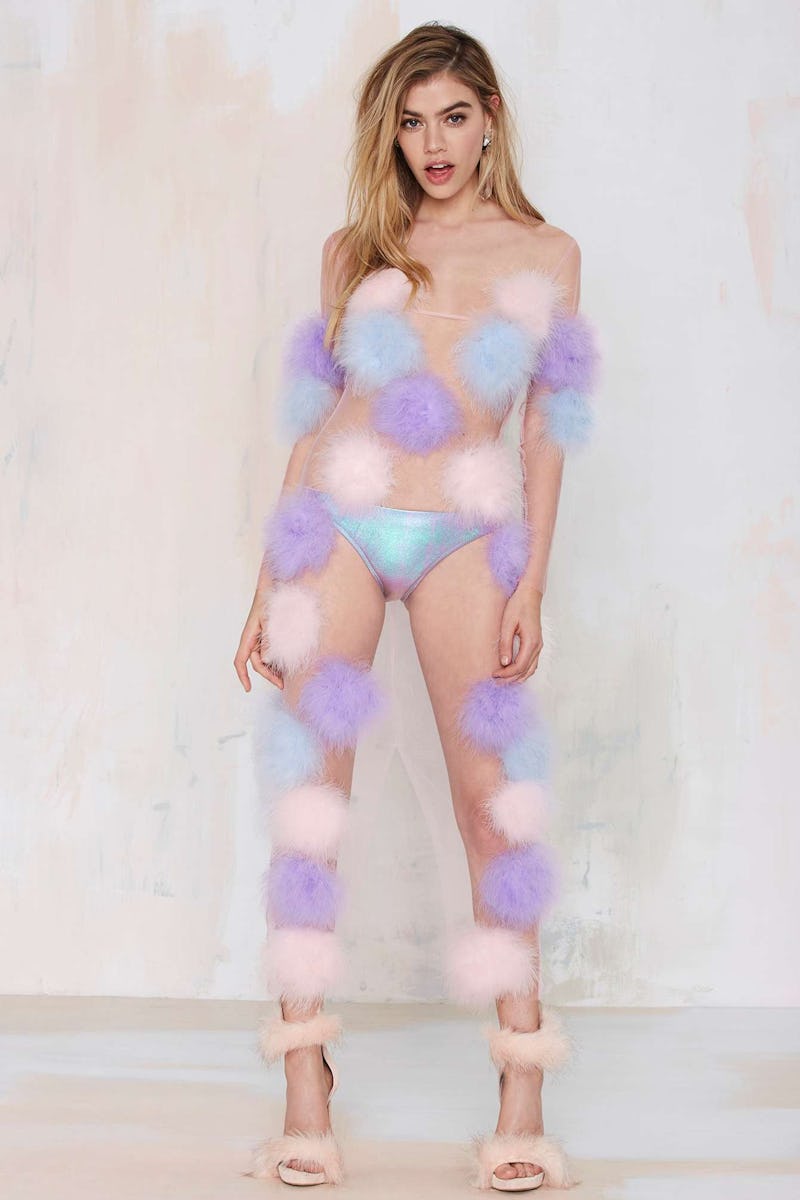 Blazers, midi length skirts, and workplace blouses are all well and good. But sometimes, a gal just needs to get racy with super short skirts, cutout dresses, and skin tight shifts. And that's precisely where Nasty Gal comes in. The online retailer is known for ultra trendy threads and sexy little numbers that would make even the coolest grandmothers lightheaded. But occasionally, Nasty Gal can get pretty, well, weird. Unique pieces and individualism may be a priority for the popular website but I'm thinking that the Dyspnea Mutha Fluffa Feather Dress takes all that just a tad too far. Seriously, though. This sheer pom pom dress has got to be a joke, right?
The pom-pom covered frock costs a whopping $583 and for what you may ask? A totally see-through swathe of mesh fabric, and some huge poufs of purple, pink, and baby blue fluff to cover your naughty bits. Oh, and see these ultra-necessary panties (you know, to keep you from breaking any indecent exposure laws)? Yeah, they're not included. Sooo good luck with that, I guess?
I'm not sure who's in the market for a fluffy naked dress (maybe a very mature Sesame Street character?), but ya gotta admit it's good for a laugh. This is just the latest in a whole slew of bizarro fashions from the retailer. Check out these other super weird Nasty Gal concoctions.
Another design from Dyspnea that uses strategically placed flowers to help you subvert those draconian anti-nipple Instagram rules.
Because nothing says athletic wear better than crystal beading and a sex banner across your chest.
I'm sure this isn't what your grandma had in mind when she crocheted you those doily-style placemats.
At first, this just looks your average LBD. But then, the intentional underboob catches your eye. Oh, Nasty Gal...
It reminds me of Mickey Mouse ears... But, like, on your boobs.
In case you were wondering, this is my butt.
Another ultra-sheer ensemble that looks like a very punk beach cover up.
Images: NastyGal.com