9 Perfect Brews For People Who Don't Like Beer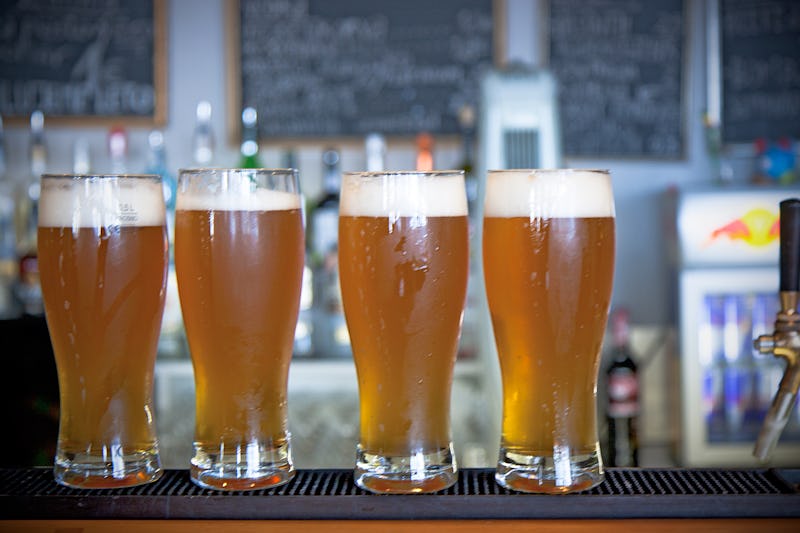 Beer is an acquired taste, and most people either love it or hate it. Some people can tolerate the light beers if that's the only available choice, but it usually ends up being one of those plug-your-nose-and-swallow scenarios — and you can do better. Because just like wine, there are so many different beer options that there's truly something for everyone. Even people who hate beer can find a flavor to guzzle. I hated beer for a very long time, and then I found Guinness, which is essentially a frothy coffee drink, and I fell hard and fast. Milkshakes and sugary coffee drinks are awesome, so any beer that tastes like a snack is forever a good choice. Right, guys? Right.
The craft beer world is a beautiful, chaotic, lawless universe of flavors and sensations, and even the weirdest kinds of thirsts can be quenched. Any of the following beers are worth a sip, because they are unique and taste nothing like beer. A lot of them are limited edition flavors, so they might be hard to track down year-round, but I can assure you, they are worth the wait. So if you hate beer, here are all the beers you should try. Drink up.
1. Sriracha Hot Stout by Rogue
Just like the condiment (which is a main ingredient in this brew), this beer pairs with every dish and instantly makes it better.
Oh yeah. This exists, and it tastes like a Reese's Cup in a glass.
The watermelon-y goodness that comes out of this bottle will blow your G-D mind. The best part? It's available from March to July, right when you need the taste of summer most.
Ingredients included in this boozy gem are: coconut, curry, dandelion greens, hibiscus flowers, and pineapple guava. Basically the best parts of every food dish combined in a bottle. This really tastes nothing like beer.
5. Banana Bread Beer by Wells
It's comfort food in a bottle. And it's also the solution to your winter madness. The snow might keep falling, but nothing matters as long as you can drink a fresh loaf of fruit bread.
6. Voodoo Doughnut Pretzel, Raspberry, and Chocolate Ale by Rogue
When your period comes to town, this is the one thing you should have in large quantities in your fridge.
7. Strawberry Ale by Redd's
Forget Punxsutawney Phil and his bogus seasonal claims, and suck this summer beverage down. Eliminate all of your cares in the process.
8. Double Chocolate Stout by Young's
This, my friends, is what grownups drink when they want a milkshake with a kick.
9. Grapefruit Hefeweizen by Schofferhofer
I know, I know. Beer mixed with grapefruit juice sounds like a bad 3 a.m. decision in the making, but this is truly delicious. You won't regret it like you will the kettle corn tacos you sloppily made.
Image: Phil Dragash/Flickr; Peanut Butter/Quality Liquor, Banana Bread/BeerMarket, Double Chocolate/TotalWine, Melonhead/Shipyard, Strawberry/Redd's, Grapefruit/Schofferhorfer, Rogue (2)