8 Stylish '80s Movie Characters Whose Fashion Prowess Still Resonates Today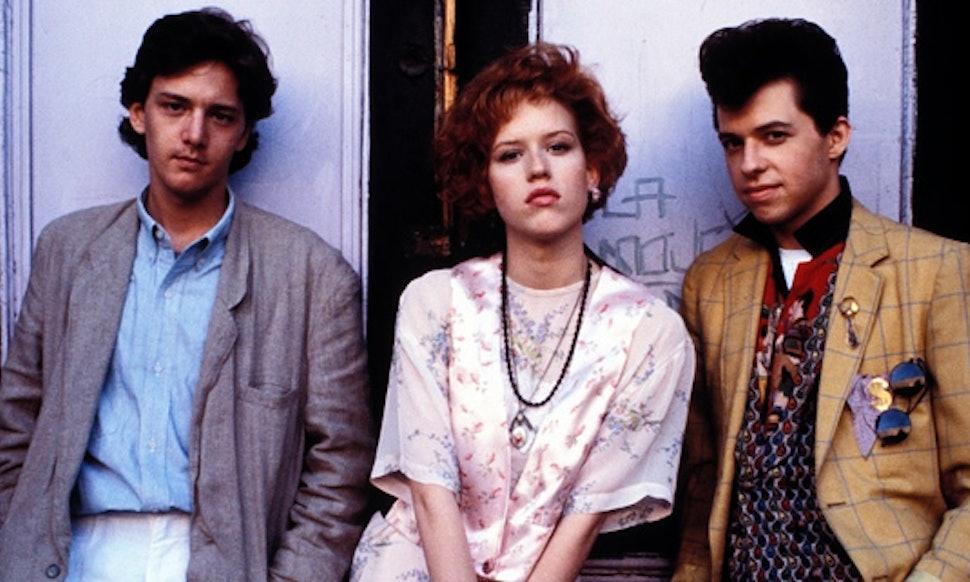 From Lloyd Dobler triumphantly holding that boombox above his head to the infamous Saturday detention that united all of high school's most stereotyped students for one fleeting afternoon, '80s movies really nailed the adolescent experience (and maybe brought us to tears over the occasional pint of ice cream). Another thing that your favorite Brat Pack films got so, so right was the fabulous '80s fashion, which always makes us want to go rummaging through our mom's closets and the racks at the local thrift store.
Whether you prefer safety-pins-and-leather punk looks or the classic, all-American girl next door, here are some of the best examples of '80s movie babes with style that still resonates (and even a few equally fashionable male sidekicks).
Image: Paramount Pictures
Andie Walsh, 'Pretty in Pink'
Ranked a triumphant #1 yesterday, today, and forever, this girl is the epitome of flawless '80s style. Despite her limited funds and the fact that she had to make her dad's breakfast every morning before school, she still somehow managed to layer one amazing floral print garment after another and finish it all off with a painfully cool hat. Her outfits were perfect for taking her from class to that underground rock club that we wish we frequented in high school. Plus, the fact that she managed to make gym clothes look stylish even makes up for those strange granny glasses that she was partial to.
Image: Paramount Pictures
Iona, 'Pretty in Pink'
Annie Potts's made-for-her role in Pretty in Pink makes for some of the most stylish scenes in a movie that is already arguably one of the most stylish of the decade. There are even a few moments when she almost outshines leading lady Andie (that white wig, anyone?) Whether she's feeling punk with sky-high spiked hair and fingerless leather gloves or reminiscing in her high school prom dress and an impressive bouffant hairdo, wondering what outfit she would wear next is one of the best parts about re-watching this '80s classic.
Image: Paramount Pictures
Sloane Peterson, 'Ferris Bueller's Day Off'
Her style is part preppy, part California-cool, and occasionally somewhat masculine, but there's no denying that Ferris Bueller's heroine is endlessly fashionable, even more than 20 years later. Girlfriend rocked a white button-down like nobody's business, and I'd be lying if I said I've never Googled where to find that amazing white fringed jacket.
Image: Paramount Pictures
Linda Barrett, 'Fast Times at Ridgemont High'
OK, so her "style" consists solely of a barely-there red bikini, but Phoebe Cates made that red bikini damn near iconic.
Image: Universal Pictures
Allison Reynolds, 'The Breakfast Club'
While she was regarded as the "Basket Case" in The Breakfast Club, Allison's oversized sweater, maxi skirt and parka are actually pretty chic — however unintentionally. And in my opinion, carrying all of the essentials in your oversized bag isn't crazy, it's just smart.
Image: Universal Pictures
Watts, 'Some Kind of Wonderful'
For fans of tomboy style, no one did it better in the '80s than Watts. She layered vests over T-shirts, wore a mean leather jacket, and made us all want to try out a pixie cut.
Image: Paramount Pictures
Duckie Dale, 'Pretty in Pink'
Rounding out the Pretty in Pink style trifecta is the movie's resident stylish male and Andie's steadfast and true admirer. I love Duckie's paisley button-downs and bolo ties, and it seemed that his closet was filled with an endless supply of blazers in perfectly clashing patterns. It was his round sunglasses, however, that really made each outfit a "truly volcanic ensemble."
Image: Paramount Pictures
Lloyd Dobler, 'Say Anything'
Sure, Diane Court's sundresses were great, but the real style hero in Say Anything was Lloyd himself. His combination of cargo pants and high-top sneakers looks like something you'd see in a street style shoot today, and we still can't get over that great camel trench coat.
Image: Twentieth Century Fox Films