Two Llamas Brought America To A Standstill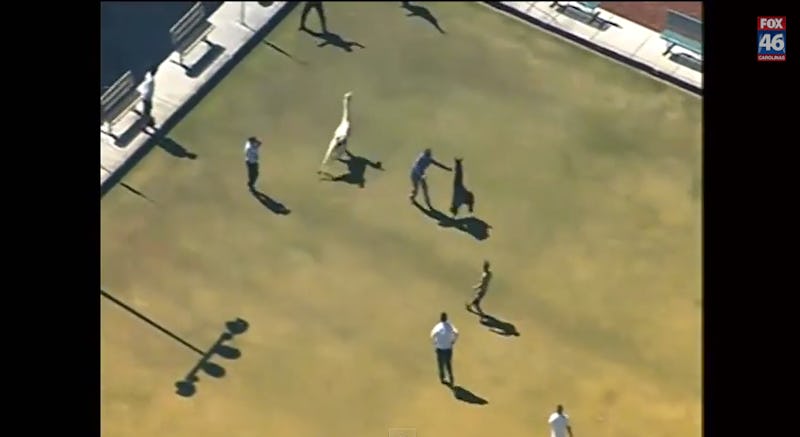 The American workforce came to an unavoidable standstill on Thursday afternoon, when those on their computers both rejoiced and bemoaned the Internet's top trending topic worldwide — llamas on the loose in Phoenix, Arizona. That's right, two llamas were running around a neighborhood in Sun City, a town within the Phoenix area, leading to a not-so-high-speed chase by what looked like the police. The llama chase was so intriguing, in fact, that local news crews set up live feeds of the chase — complete with imaginary Tom And Jerry-esque soundtrack — so that the entire nation could tune in to the hottest topic of the day as it happened.
The surprisingly agile duo, one white and one black, were seen running — prancing? — around parking lots and people's front yards, stopping traffic as the spitting creatures are won't to do. Sparking a media frenzy, various media agencies picked up the story. It got folks over at The Washington Post so excited that they ran the story with the headline "BREAKING: Two llamas are on the run" — which, if I am to be completely honest, brought me great pleasure.
The social media-trending llamas similarly delighted many and started seemingly endless #llama jokes.
But also stirred the more contemplative to question the bigger things in life, like the role the Internet plays in connecting an ever-shrinking world, and why the media dedicated such attention to two llamas.
The llama chase was so quick that those who missed the excitement lamented their brief absence from the Internet.
If you're one of the unfortunate ones who missed the year's most nail-biting news story yet, you can again thank the Internet for the providing us with this video of the two llamas outrunning these feeble humans in their grand — but ultimately unsuccessful — bid at freedom.
Image: Fox46 Carolinas/Youtube