What We Know About 'Daredevil'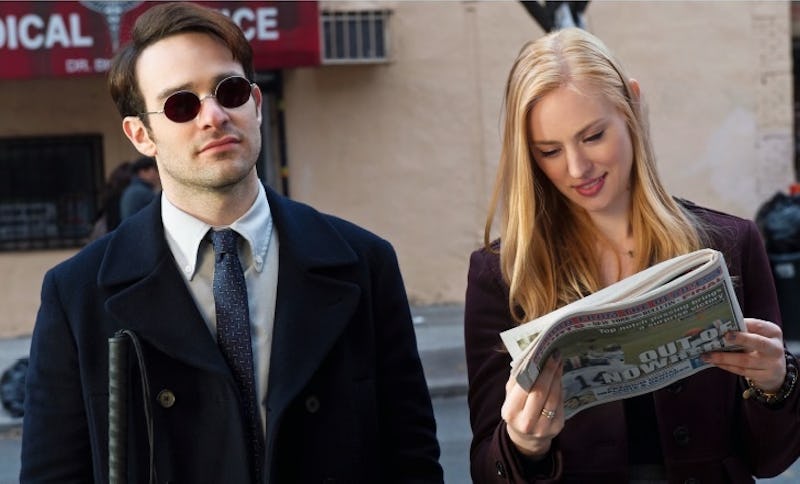 The world is in comic book overdrive right now, and whether that's a good or a great thing is up to your fondness for all things superhero. Netflix is getting in on the game with their upcoming series Daredevil which we should all pray is better than the Ben Affleck movie of the same name. Luckily, it's Netflix — they haven't steered anyone wrong yet, unless you count skipping class to finish binge-watching House of Cards problematic, which, obviously, you don't. The streaming service has just released new stills and a moving poster teaser for Daredevil and gave us our first look into how this series is shaping up, and this show's future is so bright it might need shade.
And I mean literally, because that's pretty much the brunt of we can gather from that moving poster, which features star Charlie Cox slipping on his pair of Daredevil-signature sunglasses. (The titular superhero is blind and happens to look extremely good in dark eyewear.) Though the moving poster doesn't tell us much, we already know a little bit about the upcoming series, which Netflix is set to release all the episodes of on April 10, 2015. Here's what we already know about Daredevil, from the premise to the casting.
Who is in the series?
Former Boardwalk Empire star Cox will play Matt Murdock, whose alias is superhero Daredevil. Deborah Ann Woll of True Blood fame will play Karen Page. Elden Henson, whom Hunger Games fans will recognize as Pollux from Mockingay: Part I, will play Foggy Nelson, and Rosario Dawson, who just starred in Top Five, will star in the series as Claire Temple. Other cast members include Toby Leonard Moore as Wesley, Bob Gunton as Leland Owlsley, Vondie Curtis-Hall as Ben Urich, Vincent D'Onofrio as Wilson Fisk, and Ayelet Zurer as Vanessa.
Who is Daredevil?
The star of the series is a blind lawyer whose unique ability makes him capable of incredible feat. Murdock's lack of sight allows his other senses to be superhumanly heightened, which leads him to start fighting crime as the masked vigilante Daredevil.
Where is it set?
New York City, specifically the Manhattan neighborhood of Hell's Kitchen, which executive producer Jeph Loeb felt was the "only place we could shoot it."
Is there a villain?
Former Law & Order: Criminal Intent star Vincent D'Onofrio will play a man with the alias "The Kingpin." Of his character — real name Wilson Fisk — Onofrio stated: "Our Fisk, he's a child and he's a monster. Every move that he makes and everything that he does in our story comes from his foundation of morality inside himself." In the Marvel comics, Fisk is a powerful, wealthy villain who clashes with both Spider-Man and Daredevil. According to reports, we'll see Fisk at the beginnings of his crime streak.
Will it connect to other comic shows?
Loeb stated that the ABC series Agents of SHIELD will connect to Netflix series, and that's not the only one. Daredevil will be the first of five series to appear exclusively on Netflix. The other four Netflix series are titled Jessica Jones, Luke Cage, Iron Fist and The Defenders. It looks like we won't be running out of superhero stories anytime soon.
Check out the moving poster below.
Images: Netflix (6)