A Stain Proof White T-Shirt Now Exists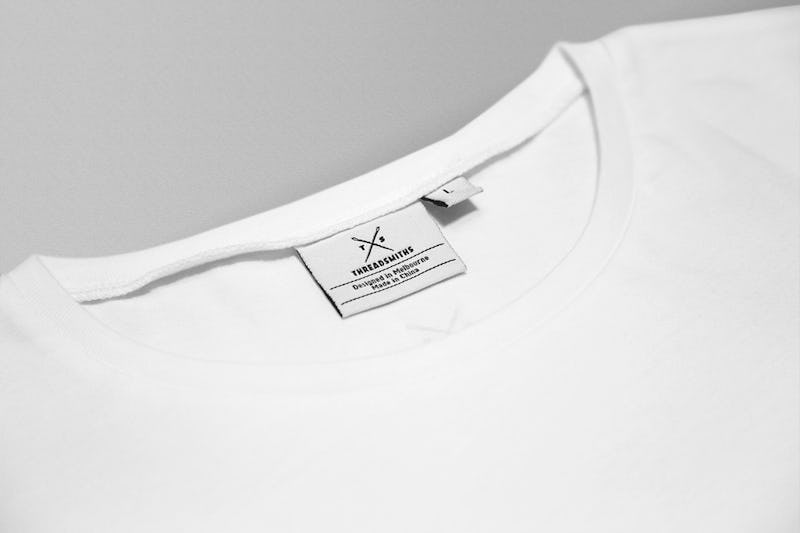 There's a reason my closet consists mostly of blacks, grays, and navy blues. Partly because it's slimming, but mostly because I'm prone to spills and stains, as a perpetually hungry human being. But alas, I can rest easy, because Threadsmiths Clothing now sells a white T-shirt that's repels water and dirt, making it stain-resistant. Hell. Yes.
Named "The Cavalier," this shirt comes in a range of sizes, from men, to women, to kids, and even to babies. Mothers, you can now rejoice. Friends of lushes, you can now rejoice. Lush yourself? Rejoice. Because its 100% cotton, it's as comfortable as your go-to t-shirt, but is made with a patented nanotechnology application, making it stain resistant, according to their website.
What's more, the shirts are made with no aerosol applications or dangerous chemicals, so it's completely safe to wear. So how does it work? Science, duh. The nanotechnology "minimises the surface area for water and dirt to adhere to, causing it to bead up and roll off the fabric—creating a natural self-cleaning effect," according to the site.
I love a good white t-shirt. It's a staple to any wardrobe, and can double as an off-duty and a work shirt, especially if you throw on a blazer. Plus, it can transition from day to night pretty effortlessly. And with the advent of this breakthrough technology, I'll never have to wear a bib while eating again. Just kidding. I never did that...
You can purchase these glorious t-shirts from www.threadsmiths.com.
Images: Threadsmiths Clothing