I Tried Kim K's Selfie-Slimming App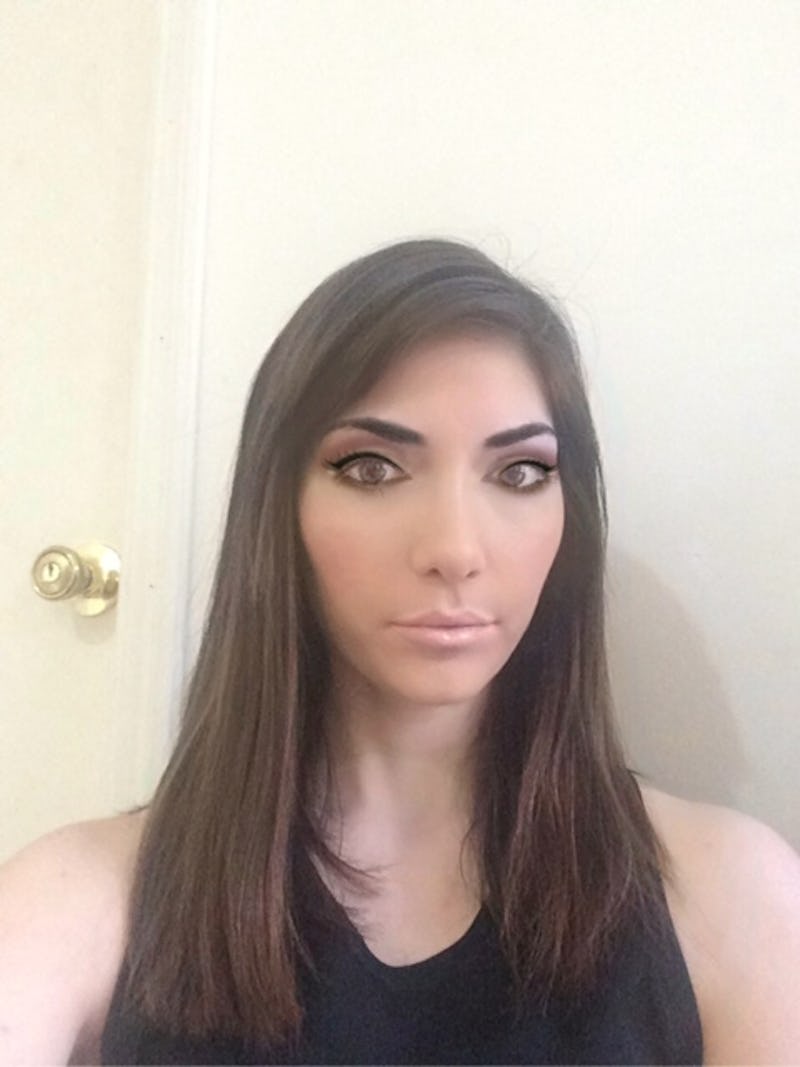 The jig is up, and one of America's most notorious reality stars has finally admitted to giving her selfies a once-over with a photoshopping wand. Kim Kardashian confessed to modifying her selfies using the gratis Perfect365 Makeover App. While the news that Kardashian painstakingly remasters her selfies using the wonders of technology is far from a revelation, I have no doubt that Perfect365 will be downloaded by thousands, if not millions, of women within the next 24 to 48 hours in pursuit of a flawless selfie. As an old school beauty devotee, I would rather layer on a dusting of bronzer than use the X-Pro II filter on Instagram, but I find the notion of a complete makeup application in a few touchpad strokes utterly fascinating. In pursuit of the truth behind Kim Kardashian's selfies, I downloaded Perfect365 and began my selfie trial.
The app first requires that the user take a selfie in which their face is centered in the image frame, or select such an image from their photo album. Next, Perfect365 asks the user to provide the "key facial points" by maneuvering a series of dots to the point of the cheekbone, inner and outer corners of the eye, cupid's bow of the lip, width of the nose, and the middle and ends of each eyebrow. After these initial points of reference are set, the user can indulge in whatever kind of virtual makeover they wish. A series of pre-produced looks are available for experimentation, but choosy users can also customize their own visage using eyeliner, eyelashes, lipstick, hairstyles, hair color, blush, contouring, and foundation.
In preparation for the app's makeover, I took a simple selfie with nothing to adorn my skin aside from my basic tinted moisturizer and a single coat of mascara. After playing with the app's signature "Natural" and "Pure" options, which were the least jarring of the bunch, I jumped in the deep end with a look entitled ipsy Chic. The result was, in a word, horrifying. My lashes had grown to thrice their normal length, a miscalculation with the dots had caused the eyeliner to dip into my eye, and my skin had grown multiple shades deeper in a mere moment. I had lost my own features. The photo had become distinctly more Kardashian-like.
After wiping the slate clean, I decided to customize my own photo. After adding a thin line of eyeliner and setting my lashes to medium volume using the app's plethora of options, I discovered that cosmetics were not the only method of alteration the app used. Users can actually indulge in virtual plastic surgery using the app's "Face" options, which include "Slim Face," "Lift Cheeks," and "Enhance Nose." Those with unwanted imperfections can also erase dark circles, lighten their skin, or buff away blemishes with the app's "Skin" sector.
I tried each and every option, and the laughable result was something I could barely call a face, let alone one that was flawless. It suffices to say that I now understand where Kim Kardashian's most alien photos come from. Thanks to Perfect365, I have both saved myself several minutes of self-criticism about my features sans retouching and cost myself several hours of sleep thinking of the cringe-worthy alternate universe photos I created today.