Mason & Madison's Twinship Is Explored On 'Glee'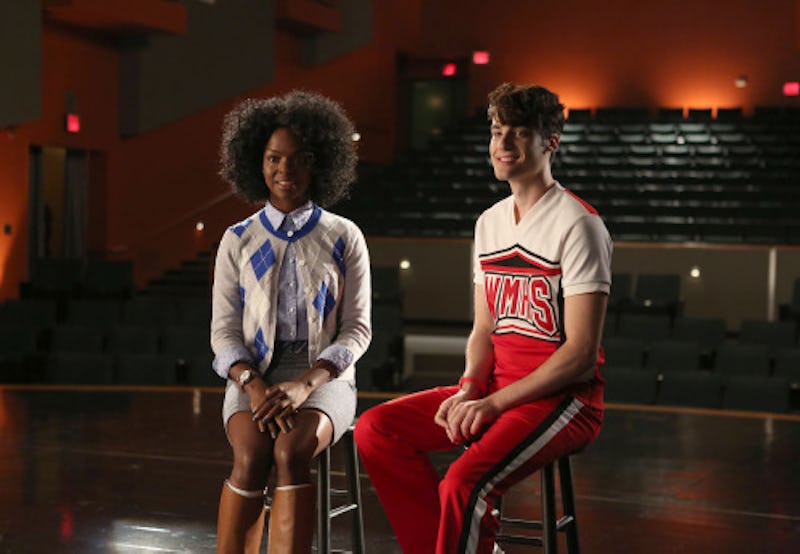 An episode of Glee without Klaine, Brittana or Rachel and Sam tension. That's what occurred on the Fox series' ninth episode of their final season "Child Star." This sounds like it would be a disaster, and yet parts of the episode were actually quite refreshing. For what feels like the first time this season, we were able to really dive into the new New Directions gang: Their struggles, their romances, their attempts to connect to one another. Some of these great moments of "Child Star" came when Spencer and Roderick bonded after originally being rather annoyed of each other. But arguably the best scenes from Friday night's episode followed the joy and tension that came from the newly formed pairing of Jane and Mason — the male half of the Cheerios/New Directions McCarthy twins. Mason revealed to Spencer and Roderick that he was interested in dating Jane but was worried about how his sister's overbearing ways might ruin his chances. Turns out, he did have some valid reasons to be worried about Madison's reaction.
Not only did Madison not take the news well, she basically tried to control her brother's romantic interest and his actions to the point where he literally had to break free, or at least sing about doing so. But considering the twins were originally introduced with a creepy vibe and talk of possible incest, it's nice to see these two finally growing outside of their slightly annoying, slightly abnormal familial relationship. Especially if it means engaging in a new romance that is too cute to be ignored.
The Mason/Jane romance began rather quickly. While many of us Glee fans probably could have seen it coming since the two randomly sang together in the episode "Jagged Little Tapestry," it was still a surprise to hear Mason talk about how he liked Jane, and then later sing a line about falling in love and looking at Jane offstage. But nonetheless, it was really quite adorable to watch. Mason was nervous and babble-y around Jane and tried to come up with dorky ways to impress her.
But the problem in their potential relationship wasn't about Jane not reciprocating those feelings. She definitely seemed to reciprocate. No, the problem was Madison. Mason explained to fellow male glee clubbers that he was worried that Madison had been trying to control his life and decisions, and that she wasn't allowing him to explore the possibility of dating Jane or even just singing with her during glee club practice.
And he wasn't wrong. Madison clearly did have a tough time adjusting to the possibility of another woman in Mason's life as she had always raised him growing up, what with their parents apparently being too focused on performing and not spending enough time parenting (Mason's lines, not mine). In a close sibling relationship, this is a common theme. Older siblings, regardless of how much older, can sometimes take on the parent role in their brother or sister's life, I know I have a little experience with that myself.
To see Madison having so much trouble dealing with Mason "moving on" from her was refreshing, poignant and endearing. It made her more interesting and her relationship with her brother more real and less creepy. There are only a few more episodes of Glee left, let's hope we get more moments of this kind of truth in storytelling along with all the over-the-top joy, music and silliness we're used to and have enjoyed over the years.
Images: Beth Dubber/FOX; marauder-in-warblerland/Tumblr