This "Uptown Funk" Cover is The Funniest Ever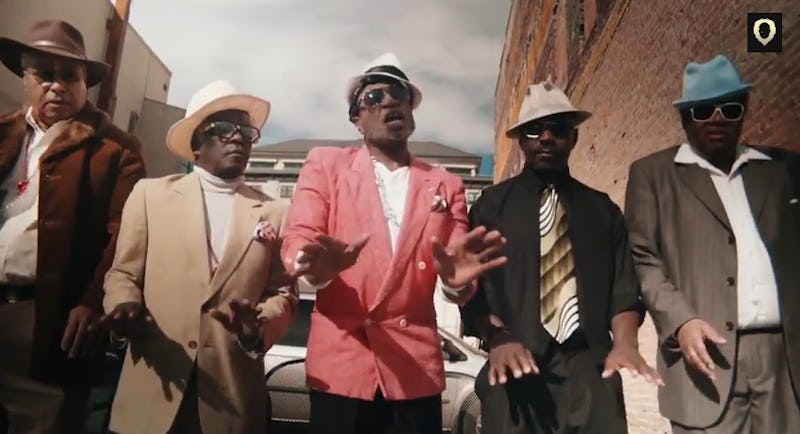 Before a few moments ago, I'd never heard of Alex Boyé, but after watching his hilarious cover of Mark Ronson and Bruno Mars' "Uptown Funk" on YouTube, I won't soon forget his name. Apparently, the British singer-actor is quite the seasoned cover artist, having revamped everything from Katy Perry's "Roar" to Taylor Swift's "Shake it Off." Oh, and he's even ventured into Frozen territory by covering "Let it Go," so clearly I need to get more acquainted with his work. Boyé is of Nigerian descent, and according to his YouTube page, he's a fan of putting a unique African spin on pop music. Judging by the overwhelming popularity of his covers (his "Let it Go" rendition has garnered over 60 million views to date), he's obviously quite skilled at what he does. I have to admit that his spin on Ronson and Bruno's song (which he calls the "Oldtown Cover") is pretty fantastic, but it's the video that has me completely hooked.
From the extra groovy moves to the spirited background dancers, the video does a great job of conveying the same upbeat mood of the original song, while providing some seriously LOL-worthy moments.
Here are 6 of the most hilarious scenes from Boyé's "Oldtown Cover" video:
The Funky Throwback Wardrobe
My favorite is the guy on the right wearing the fur-lined coat and the necklace that resembles those soft-twist poly leis people wear on New Year's Eve.
The Evil Knievel-Like Parking Lot Stunts
I'm pretty sure this is a safety hazard.
The Choreography
Is this his attempt at twerking?!
The Dancing Grannies
These are the coolest dancing grannies ever. I would hang out with them any day of the week.
This Guy Who Doesn't Feel Like Dancing
Apparently, he's not a fan of the two-step.
This 92-Year-Old Lady Doing a Split
Yep, according to the video clip, this lady is 92. Seriously, she puts my flexibility challenged limbs to shame.
Check out Boyé's "Oldtown Cover" below:
Images: AlexBoye/YouTube (7)