'Suits' Season 5 Can't Start Soon Enough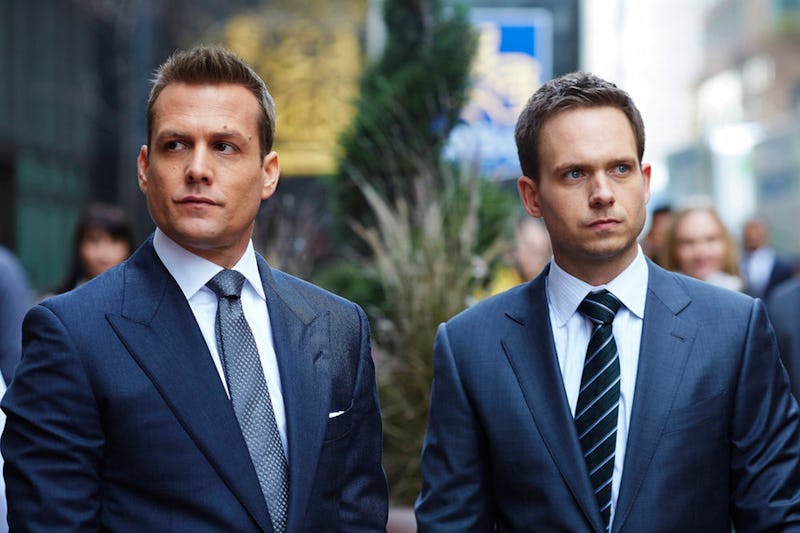 Can you believe Wednesday is already the Season 4 finale of Suits ? I feel like our favorite group of lawyers just returned and now we have to say goodbye to Harvey, Mike, Donna, Rachel, Louis, and Jessica. Thanks a lot, USA network. With that mini-rant out of the way, let's focus on something positive, like when is Suits returning for its fifth season? As we fans know, Suits is renewed for Season 5 as of August 2014. So, when will it finally be back on our TVs?
According to Hypable, the hit legal drama is slated for a summer 2015 return. Waiting three or four months isn't too horrible, right? After all, there is a whole lot of other TV on, which will hold us over until we can get our hands on brand new episodes of Suits. However, just in case you feel like you might lose your mind, or you don't know how to pass the time, I have a few ideas for all of my fellow suitors.
If you're already feeling anxious to say a temporary farewell to Suits, then here are eight ways for you to cope. They might not all do the trick, but, hey, it doesn't hurt to try. Plus, they are all Suits-related, so, obviously they're worth taking a stab at!
Binge The Entire Series
Enough said. Who else is already starting the pilot?
Watch Harvey Specter Dance On Repeat
Harvey, aka Gabriel Macht, is dancing. I repeat, Harvey is dancing. This will help anyone pass the time, right?
Buy A Dictaphone
If you want to be even more like Louis Litt, then you need to purchase a dictaphone, stat. Not only will you immediately feel like Louis, but you can also begin recording your hopes, dreams, opinions, and grocery list onto a handy-dandy recorder.
Learn The Law
Anyone else have a hard time following all that legal jargon? Just me? Maybe we should all browse through some law books so we can keep up with Jessica and the gang. Good news! Law For Dummies totally exists.
Figure Out The Can Opener Ritual
The first person to figure out this Suits myth started by Harvey and Donna will win $1 million. OK, not really, but I will be at your mercy.
Transform Your Wardrobe
The Suits cast has impeccable taste when it comes to fashion. Seriously, they always look gorgeous and makes me feel like I have no style. Well, time to change that! Go shopping, channel your favorite character, and transform your wardrobe into something that all of the characters would approve of.
Go For A Mud Bath
A little mud can do the body good. Don't believe me? Just ask Louis Litt. Not only does it get you Litt Up!, but it also eases your mind, relaxes your body, and takes away all those worries you're having about going through Suits withdrawal.
Find Your Donna
Last, but definitely not least, what better way to survive the Suits hiatus than finding your very own Donna? Who doesn't want to have someone by their side who is smart, fun, stylish, witty, caring, and has a killer sense of humor? I don't know about you, but if I had someone like Donna to call my friend, I'd be beyond happy.
If these eight tips don't help you through the Suits break, then I will leave you with this quote from Mr. Harvey Specter, because I don't know how else to help you: "You want advice? Call Dr. Phil."
Images: Shane Mahood/USA Network; communified (2), suitsusa (4), deep-coean, suitssuitssuits/Tumblr