8 Books Olivia Pope Would Definitely Read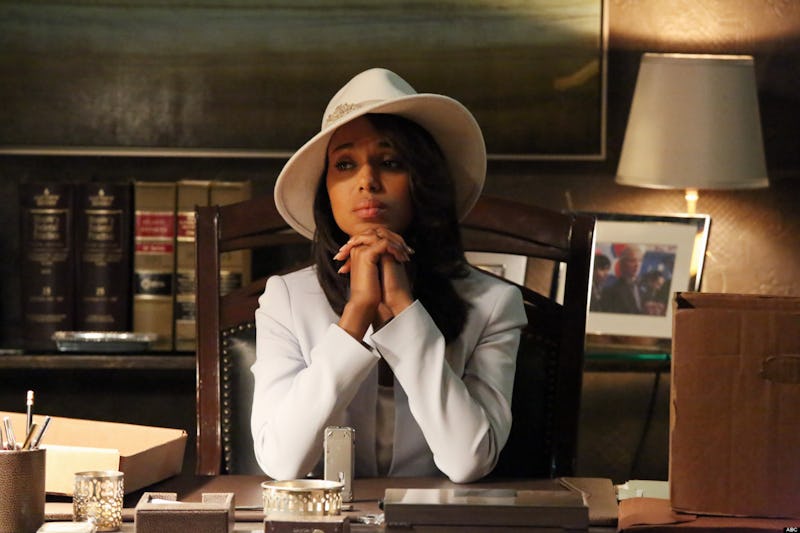 Regardless of whether you're about to graduate college with zero job prospects or a successful power-woman running her own company, at the end of the day, you will most likely go home to a stressful yet amazing episode of Scandal and some (preferably red) wine. Watching Olivia Pope fix problem after problem while juggling a disappointing-if-handsome president on the side is a common activity among people of our generation.
But while we curl up to Olivia, what does she curl up to? It's hard to imagine Pope watching shows about blackmail and extramarital affairs in the White House — it's too meta. The answer is obvious: When she's not taking over the world one pantsuit at a time, she reads good literature. She has to. She's too great not to.
I've snuck into her living quarters and taken a peek at the books on her overstuffed but impeccably organized shelves. (OK, that's not actually possible — but if it were, you know I'd take a detour to go through that closet. Oh man, that closet.) Check them out below.
This book deals with guilt, consequence, and the blurred lines between right and wrong. Olivia's job isn't easy. She often represents morally questionable people, yet always keeps her clients' best interest at heart, even when said clients have done some disgusting things (looking at you, Hollis Doyle). In Atonement, one girl's decision changes a couple's life forever. Olivia knows the feeling of holding another person's future in her hands, what with election rigging, covering up murders, and accidentally freeing dangerous terrorists. McEwan's story about repercussions and reconciliation surely speaks to Olivia.
Olivia Pope may not be typical, but she is a classic, and she no doubt loves some of the classics herself. Pope's experience studying Shakespeare in prep school exposed her to all the Bard's plays, but Measure for Measure may especially resonate with her given the misunderstanding, backstabbing, and overall drama of the play. Pope might be able to relate to these themes on some — OK, all — levels. Even if she doesn't see herself in Shakespeare's plays, Pope will appreciate his timeless ability to examine humanity.
Ripper by Isabel Allende
While reading Ripper, Olivia can lose herself in a completely different world that still reminds her of her own experience with mystery, action, and consequences. The book parallels the investigative side of Pope and Associates' work, especially the heavy digging they do on clients. Family is a complicated concept in Olivia's life, and like Amanda in Ripper, Olivia often deals with seeing her parents' traits in herself. Pope hates her father, but often slips and wants to believe that he isn't a monster. Her colleagues at Pope and Associates serve as her chosen family who protect her in ways that her parents never would. Olivia surrounds herself with destructive types, but also has a close-knit group that do anything for her. The family theme in Ripper would surely draw her in, at least for a first read.
Olivia knows her history, and Lincoln is a classic president that she has definitely read a book or two about. Though Pope may not be running for office herself (yet), she works with enough politicians to know the qualities that make a competent and excellent leader. Knowing Olivia, she's read up enough on Lincoln to know more than a few of the secrets about him.
This funny and troubling memoir tells the story of a sad childhood. Karr's prose and her ability to bring grace and humor to such a tragic story make it an interesting and compelling read for anyone. This account of such a human and emotional experience wouldn't be lost on Olivia. She can understand the complexities of living through hardship, falling in love with people you probably shouldn't (like the President of the United States), and working through it all with grace.
Sula by Toni Morrison
Sula is an Olivia Pope must. Olivia grew up attending only the best schools, and would appreciate Morrison's prose on its own. But Sula is more than just beautiful writing. The book plays with the relationship between good and evil, and deals with ambiguity, trust, and an unspoken bond between two women. There are also some beautiful mother-daughter scenes that include sacrifice, betrayal, and love. Olivia can especially relate to this theme because for most of her life she grew up yearning for a loving mother who died in a plane crash (until of course Olivia learns that her mother was alive the whole time and also a terrorist - betrayal and love, right?). Oh, and there's also the part of the novel where the entire town thinks Sula is a homewrecking harlot for sleeping with her friend's husband. As the President's lover who gets briefly exposed to the country and then dropped by nearly all her clients, Pope might have some feelings on this topic.
Poetry often serves as refuge for a grieving, confused, or sad soul, and let's face it, Olivia's not exactly a happy person. She may wear the white hat, but it comes with a price. Langston Hughes' poems hold a truth and sincerity that speak to the reader in profound ways, and any woman in power dealing with half the messes Olivia sorts out in a day should have them at hand. Poems like "I, Too," may not lift Pope's spirits, but they will provide her with beautiful words that she can relate to and appreciate.
The Bible
I'm not suggesting she reads it before bed each night (or ever), but the Bible is a classic and it's definitely on a shelf somewhere in Olivia's apartment or shoved in a box under her bed. Hey, you don't deal with a Bible-thumping VP for four years without doing a little research.
Knowing Olivia, these are only a few books in her collection, and she probably also has first-edition copies of her favorites. I would also venture to guess that she reads both TIME and Vogue. Olivia went to law school, not fashion school, so she needs to get her closet inspiration from somewhere, and that means sometimes reading a different kind of bible, no matter what Shonda Rhimes wants you to believe.
Image: Robert/flickr; ABC