The Inventive Ways To Rock A Red Lip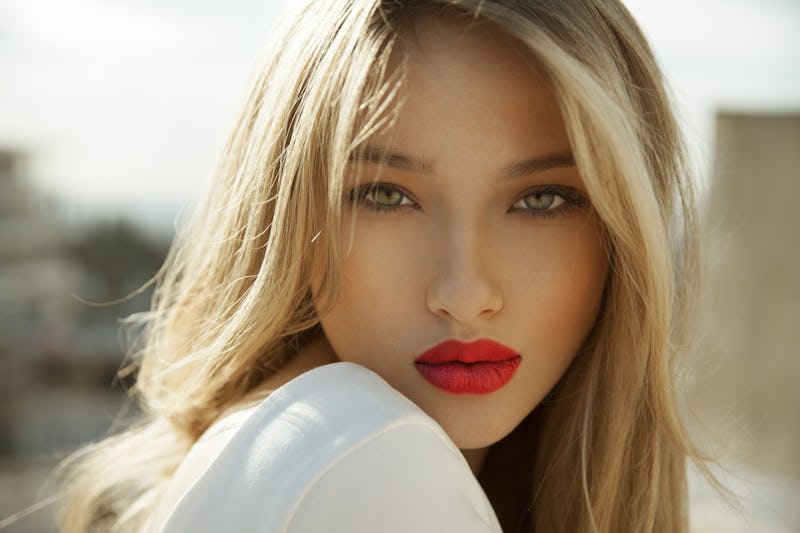 Red lips are a classic makeup lover's go-to look. Everyone can look chic while rocking one and it's often an easy breezy way to look done up without having to spend hours in the mirror. However, I'm disenchanted by how one-noted the red lip look often is — 95 percent of the looks I see involve a nude eye. Some will get inventive with blush or bronzer, but even that is not a common practice. Just today I was looking at a Chanel makeup advertisement with Keira Knightley that features her in a classic, fire-engine red lip — but with a soft, nude eye and a hint of blush. I've seen this look thousands of times — there's nothing innovative happening here. Don't get me wrong, going classic can be great, but I think it's time to get more creative. Challenge yourself to get out of classic red lip look and go bold!
Obviously red lips are a bold statement, so you don't want to overwhelm your face with color, but adding some can actually make your lips stand out that much more. If you want to start standing out and taking your red lip look to the next level, here are five ways you can go from classic to post-modern:
Pair Red Lips With A Smokey Eye
Although both of these looks are daring, they can actually pair quite nicely together. The trick is to make the rest of your face as neutral as possible and use a muted shade of red, so the emphasis is slightly favored on your eyes. Use a matte lipstick or an orange-red color to get the muted effect, since something too bright and shiny can result in a more overwhelming style. (Although there's nothing wrong with that if it's your thing!)
Embrace Red Lips And A Dark-Colored Eye Shadow
This is one of those looks that people usually make fun of or view as a joke, but it can totally look sophisticated with the right touch. I was inspired by Lupita Nyongo's Lancome ad, as she manages to pull off the same color combination as the photo shown here — looking elegant as ever. As you can see by the model above, she looks put together and even sultry: This is a look that would catch your eye across the room!
If you're going to replicate this look, I would recommend doing a trial run on a day you don't have to go anywhere, or the night before you're planning to sport it at an event. The same goes with coloring and skin tone, as you want to choose a shade of purple (or any other color you're using) that works well with your natural color palette. Also, fading your eye shadow up into your crease will help it to look sculpted and not quite as drastic, since you want to strike a balance here between your eyes and lips.
Try On Red Lips And Contouring For Size
Looking glowy and chiseled while also rocking a red lip will leave you feeling chic for days. I love how contouring helps to highlight your cheekbones and make your entire face look poised. If you're feeling a little shy about trying out a new look with a red lip, take baby steps!
Make sure you're sticking with matte products so that you don't get too much shine and use a gloss over your lipstick to give your face that extra pop. If you want to have a bigger pout, using countering with your red lip will make your lips look even bigger than they are (thanks optical illusions), which is an added bonus.
Mix And Match Shades Of Red
A great way to play up your red lips is to experiment with the shade. Usually, people will go with a bright fire-engine hue, but try on cherry, scarlet, or crimson for size! You can also wear a contrasting shade of red in your clothing to make your lips stand out even more. If you're feeling really daring, you could even try to wear a subtle red or dark pink eyeshadow with a more subdued shade of red.
Let Red Lips Give You Wings
There's nothing more classic than winged eyeliner, so why not pair it with the classic red lip? These two oldies looks surprisingly refreshing together, since they balance the dark and the light. Like the model shown here, opt for using a dark eyeshadow to create a dramatic effect. Your eyes will look big and almond-shaped.
With the rest of your look, go neutral! This pairing calls for balance with your other products and don't be afraid to skip blush, bronzer, and even foundation altogether.
I can't wait to go and try some of these updated red lip pairings for myself! In the spirit of being bold, brazen, and daring with your beauty, I encourage you to do the same.
Images: Fotolia; Getty