That 'Friends'/'E.R' Crossover Isn't What It Seems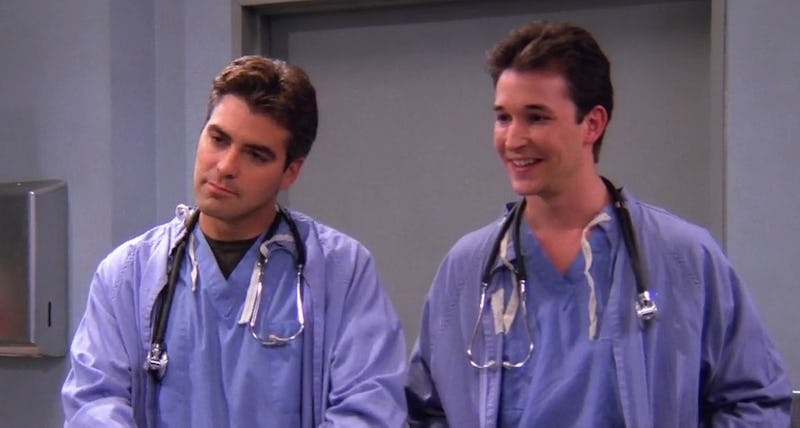 Almost as much a fixture in nineties sitcoms as laugh tracks, long title sequences and outrageous fashion was the TV crossover. Fans went crazy when the plots of two shows intertwined, characters appearing in each other's worlds and comforting us by making us feel like the entire TV universe was one mythology. At the very end of The Fresh Prince of Bel Air, George and Weezie Jefferson of The Jeffersons buy the Banks' Beverly Hills home from Uncle Phil. Cosmo Kramer from Seinfeld appeared on an episode of Mad About You as a kooky new tenant, and of course, Phoebe Buffay's pathological-lying twin Ursula was a character on Mad About You. But there's a crossover on Friends that might not be a crossover after all — George Clooney's ER -like appearance on the Friends season one episode "The One With Two Parts: Part 2."
At the time the episode aired in 1995, George Clooney was a big star on NBC's E.R., playing Dr. Doug Ross. He co-starred in the medical drama alongside Noah Wyle who played another handsome doctor, Dr. John Kyle. Both Clooney and Wyle guest-star in the episode of Friends where Rachel hurts her ankle and has to switch names with Monica at the hospital to get insurance. Surely, this is another TV crossover, right?
Not quite. Yes, Clooney and Wyle play two handsome doctors that flirt with the girls — but even though it may look like they are playing their exact characters from E.R., the doctors have different names entirely: Clooney and Wyle play doctors Mitchell and Rosen.
The whole thing is pretty sophisticated and meta, if you think about it: it's an episode of everyone deceiving each other. Monica and Rachel change names, Clooney and Wyle change the names of their E.R. characters to other Handsome Doctor names.
So is it a crossover? Not quite, but it almost was. Is it amazing? You bet.
Image: Netflix