The Full, WTF List Of 2015 MTV Movie Award Noms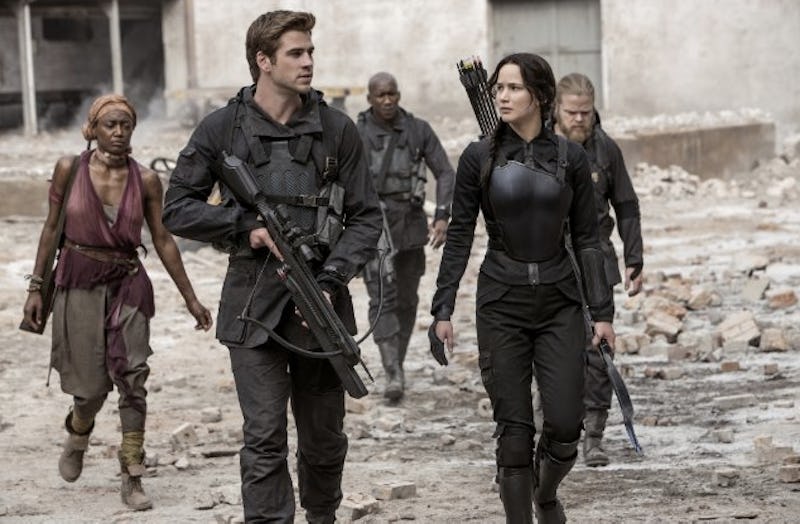 If someone were to ask you what your favorite movie of 2014 was, I have a feeling your answer wouldn't be, "Well I'm torn between two — Mockingjay and Selma, so I hope they're up for the same awards!" Not that they weren't both great movies, but they were so incredibly different that it would be weird for them to show up in the same category... unless you're talking about MTV, where weirdness is king! The nominations for the 2015 MTV Movie Awards on Sunday, Apr. 12 were released Wednesday, and right up top in Movie of the Year, you have Oscar-nominated titles like American Sniper, Boyhood, Whiplash, Selma... and Mockingjay and Guardians of the Galaxy. Which weren't nominated for any Academy Awards. Y'know, in case you missed the show and were curious.
The rest of the nods make slightly more sense than last year's nominations, with the usual suspects in the Best Female and Male Performance categories, just skewing younger for the demographic that watches the show, although of course this is MTV, so right next to Breakthrough Performance and best duo, we also have Best Scared-As-S**t Performance and Best Shirtless Performance. As you do. Fingers crossed that Kate Upton wins in the latter category, because I'd say this is The Other Woman's one shot at an award all season long.
Here are the rest of the nominees!
MOVIE OF THE YEARAmerican SniperThe Hunger Games: Mockingjay- Part 1Guardians of the GalaxyGone GirlThe Fault in Our StarsBoyhoodWhiplashSelma
BEST FEMALE PERFORMANCEJennifer Lawrence – The Hunger Games: Mockingjay- Part 1 Emma Stone – Birdman: Or (The Unexpected Virtue of Ignorance) Shailene Woodley – The Fault in Our Stars Reese Witherspoon – WildScarlett Johansson – Lucy
BEST MALE PERFORMANCEBradley Cooper – American Sniper Chris Pratt – Guardians of the Galaxy Ansel Elgort – The Fault in Our Stars Miles Teller – Whiplash Channing Tatum – Foxcatcher
BEST SCARED-AS-S**T PERFORMANCERosamund Pike – Gone Girl Annabelle Wallis – Annabelle Jennifer Lopez – The Boy Next Door Dylan O'Brien – The Maze Runner Zach Gilford – The Purge: Anarchy
BREAKTHROUGH PERFORMANCEAnsel Elgort – The Fault in Our Stars Rosamund Pike- Gone Girl David Oyelowo – Selma Dylan O'Brien – The Maze RunnerEllar Coltrane – Boyhood
BEST SHIRTLESS PERFORMANCEZac Efron – Neighbors Chris Pratt – Guardians of the Galaxy Channing Tatum – FoxcatcherAnsel Elgort – The Fault in Our StarsKate Upton – The Other Woman
BEST DUOChanning Tatum & Jonah Hill – 22 Jump StreetZac Efron & Dave Franco – NeighborsShailene Woodley & Ansel Elgort – The Fault in Our StarsBradley Cooper & Vin Diesel – Guardians of the GalaxyJames Franco & Seth Rogen – The Interview
BEST FIGHTJonah Hill vs. Jillian Bell – 22 Jump StreetChris Evans vs. Sebastian Stan – Captain America: The Winter SoldierDylan O'Brien vs. Will Poulter – The Maze RunnerSeth Rogen vs. Zac Efron – Neighbors Edward Norton vs. Michael Keaton – Birdman: Or (The Unexpected Virtue of Ignorance)
BEST KISSAnsel Elgort & Shailene Woodley – The Fault in Our StarsJames Franco & Seth Rogen – The InterviewAndrew Garfield & Emma Stone – The Amazing Spider-Man 2Scarlett Johansson & Chris Evans – Captain America: The Winter SoldierRose Byrne & Halston Sage – Neighbors
BEST WTF MOMENTSeth Rogen & Rose Byrne – NeighborsJonah Hill – 22 Jump StreetJason Sudeikis & Charlie Day – Horrible Bosses 2Miles Teller – WhiplashRosario Dawson & Anders Holm – Top Five
BEST VILLAINRosamund Pike – Gone GirlJ.K. Simmons – WhiplashJillian Bell – 22 Jump StreetMeryl Streep – Into the WoodsPeter Dinklage – X-Men: Days of Future Past
BEST MUSICAL MOMENTJennifer Lawrence – The Hunger Games: Mockingjay – Part 1Chris Pratt – Guardians of the Galaxy Seth Rogen & Zac Efron – NeighborsBill Hader & Kristen Wiig – The Skeleton TwinsMiles Teller – Whiplash
BEST COMEDIC PERFORMANCEChanning Tatum – 22 Jump Street Chris Pratt – Guardians of the GalaxyRose Byrne – NeighborsChris Rock – Top Five Kevin Hart – The Wedding Ringer
BEST ON-SCREEN TRANSFORMATIONEddie Redmayne – The Theory of Everything Elizabeth Banks – The Hunger Games: Mockingjay – Part 1 Zoe Saldana – Guardians of the Galaxy Steve Carell – FoxcatcherEllar Coltrane – Boyhood
Images: Murray Close/Lionsgate, James Bridges/Twentieth Century Fox, Universal Pictures, Merrick Morton/Twentieth Century Fox and Regency Enterprises