20 Graphic Bags With Words And Phrases That'll Make Your Ensemble Instantly Cooler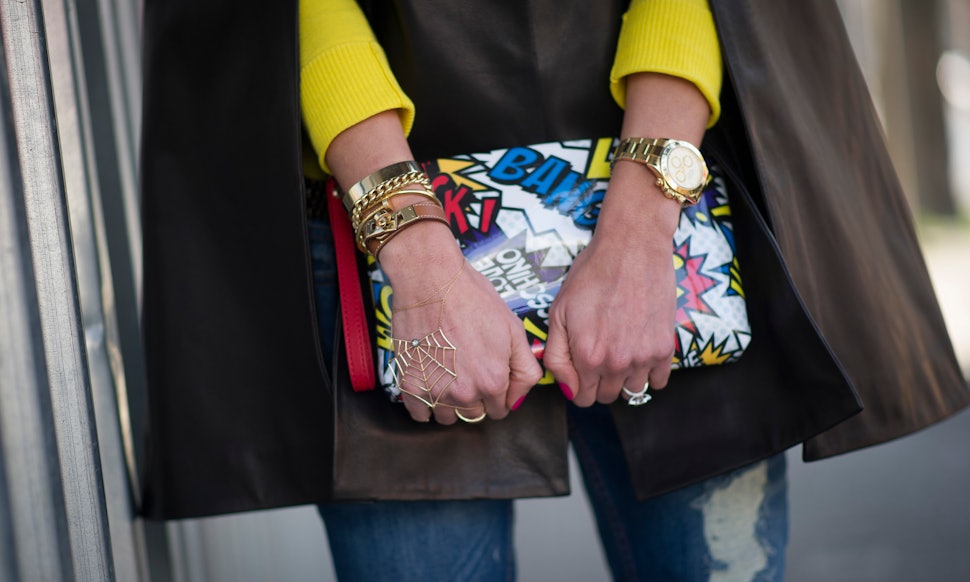 Timur Emek/Getty Images Entertainment/Getty Images
If you've paid attention to any street style trends lately, you've undoubtedly noticed a big one: women carrying bags that, when you do a double take, you realize are speaking to you. Whether it's a small clutch flashing a single neon word (often with an exclamation point tacked on) or a tote bag with a philosophical phrase on it, graphic bags with words are the must-have accessory of the moment. They're an easy way to add a spark of interest to an otherwise boring outfit, and they're perfect for days when you just don't feel like using your words. Now, whatever your mood is, there's a bag out there that can say it for you.
You don't have to spend a lot of money on this trend either if you don't want to. One option that's always fun (and affordable) is going the DIY route. Try Jordan Ferney's easy slogan tote bag tutorial on Oh Happy Day.
If you're not the DIY type, though, never fear! Here's a round-up of 20 different wordy bags of all price points, from $10 to $1500, and of all sizes, from clutches and coin purses to tote bags and duffle bags. Give your vocal cords a rest and check out these cheeky, loquacious bags.
QUEEN OF POP!
An adorable pun for an adorable bag.
New Look Queen of Pop Zip Around Purse, $9, ASOS
PARTY
Available in black, white, and cobalt.
Party Faux Leather Clutch, $15, Forever 21
TODAY...
"Do great work, don't waste time, be kind, make it happen, be awesome, do what you love."
A Way with Verbs Tote, $15, Modcloth
I HAVE WAY MORE MAKEUP AT HOME
Don't we all?
Makeup pouch by Pamela Barsky, $16, Etsy
IOU
Not a bad reminder to keep on your purse.
ASOS IOU Purse, $6, ASOS
LOOK COOL
You will if you're carrying this tote.
Monki Alma Bag Look Cool, $28, ASOS
FLAWLESS
It doesn't hurt to brag a little.
Rainie Metallic Flawless Clutch, $30, Missguided
WHAT
Sometimes you didn't hear it, sometimes you weren't paying attention, and sometimes you just can't believe it. This bag is for all of those occasions.
Pieces "WHAT" Cross Body Bag, $42, ASOS
FIERCE
'Cause you are.
BCBGeneration 'Fierce' Shoulder Bag, $42, Saks Off 5th
OH... SNAP!
The comic book style is a classic for a reason.
Skinny Dip SNAP Clutch Bag, $46, ASOS
A BUNCH OF SH*T I BASICALLY CAN'T LIVE WITHOUT
Yes, actually, I DO need five different pairs of black skinny jeans.
Important Shit Duffle, $48, Danielle Guizio NY
WHAT BOYFRIEND?!
You don't need a boyfriend when you have a bag as cute as this.
Rebecca Minkoff Pouch, $50, Bloomingdales
POW
Small but powerful.
Wow Pow Print Cross Body Bag, $56, River Island
FIRE
For when you're on fire.
Kenzo Leather Clutch, $218, My Theresa
Also available in mustard and grey, $182, My Theresa
OUI
"Oui" on one side and "Non" on the other — flip the bag to suit your mood.
Clare V Oui Non Leather Clutch, $206, Net-A-Porter
DON'T PANIC
The perfect bag for getting through airport security and plane delays.
Marc by Marc Jacobs Metropolitote Printed PVC Tote, $280, Net-A-Porter
JUST MARRIED
If you're getting hitched, you basically NEED this clutch.
Kate Spade New York Wedding Bell Glitter Just Married Clutch, $398, Saks Fifth Avenue
BAD CHOICES GOOD PHOTOS
The motto of every awesome Instagram account.
Donatienne Haylie Clutch, $405, Madison Los Angeles
WHY NOT? MAYBE...
Two slogans, two color schemes, one bag.
Kotur 'Morley' Slogan Print Satin Clutch, $495, Lane Crawford
FEMME
For your inner princess.
Edie Parker Flavia Femme Acrylic Clutch, $1,540, Net-A-Porter