Have A Time Travel-Themed Daylight Savings Party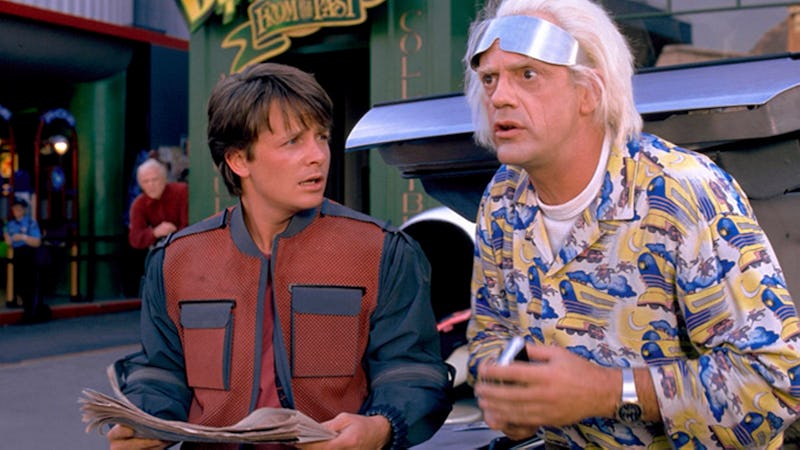 More than 70 countries utilize Daylight Saving Time, including our own, and we're all about to "spring forward" on Sunday. And while you may be bemoaning the time change, losing that extra hour of sleep is good for something — throwing an awesome time traveler party. Of course, we're no Doctor Who or Marty McFly, but DST is essentially time travel, just like taking an international flight is like time traveling.
Whatever your thoughts on how effective or necessary Daylight Savings is in this day and age, it's still happening on Sunday at 2 a.m. local time. Personally, I prefer "fall back" to "spring forward," mostly because of that glorious extra hour of sleep. The extra hour of daylight is nice if you're looking to enjoy some actual outdoor activities when the workday is done, though. Speaking of which, I bet all of you buried in snow would love a time machine to take you to summer's warmer climates, huh? Even more so than traveling to the Middle Ages or 2032 when Beyonce is president, you'd probably love to transport yourself to a beach a few months from now.
In any case, celebrating Daylight Savings is as easy as a few time traveler movies and summery cocktails to inspire your very small movement through time. Here's everything you'll need.
The Food
Time travel can be a culinary adventure, considering you're jumping from the past to the present to the future. One day, you could be eating some familiar comfort food, and the next you're struggling to eat some sort of crazy meal from the future. Looking for a few recipes to keep you satisfied no matter what decade you land in? We've got you covered.
Time Is Relative Cookies
Relatively delicious, if you ask me. And hey, even time travelers appreciate a celebratory clock cookie before jetting off into the future. You can find a great recipe for time-inspired cookies at Repeat Crafter Me.
Endless Summer Flatbread Pizza
Since we are only jumping an hour into the future, you can tailor your menu to take a short leap, as well — into the summer. Serve your guests a delicious summer flatbread by A Better Happier St. Sebastian that will help them combat the winter blues and have them wishing for an actual time machine to take them to June.
Food From The Far (East) Future
It seems like every movie set in the future has the protagonist enjoying sushi, ramen, or Chinese take-out. These spring rolls by I Am A Food Blog are easy to serve and easy to enjoy, but don't include any alien ingredients.
The Drinks
Let's face it: Time travel will be much more fun if you have a cocktail. Just be careful you don't have too much... otherwise who knows where you'll end up.
Satsuma Orange Margarita from A Cozy Kitchen
Again, let's take a small trip into the future to sip margaritas on a sunny beach somewhere.
Doesn't this seem like the type of thing you'd be sipping on if you found yourself in a swanky bar in a futuristic metropolis?
The Fashion
Whether you want to emulate a time traveler from literature, TV, or movies, or you're just looking forward to breaking out one of your summer dresses, the fashion at your party should have time travel and the future in mind.
Personally, I find the Time Lords of Doctor Who to be the most fashionable time travelers. Remember — bow ties are cool.
Dress Like a Time Lord by thatemilykelley featuring ankle boots
But if TARDIS driving aliens aren't really your style, the dress code could revolve around where you're going. Break out the sandals and Lady Gaga-worthy space wear!
Dress Like a Time Traveller by thatemilykelley featuring print shirts
The Entertainment
You can't just sit around waiting to travel into the future, right? Here's how to get your party people into the spirit of Daylight Savings.
Time Travel Marathon... With a Twist
If you already have a bunch of time travel-themed movies and series in your collection, have a marathon. But sitting around watching movies isn't very party like, so add a fun twist. Put the movies on mute (so you can still blast your favorite party playlist), and place a cut-out mustache, hat, or eye patch on your TV screen. Every time the cut-out appears on a character's appropriate body part, drink. And if you don't happen to have a stash of Back to the Future DVDs lying around, here are some other suggestions:
Double Down
Daylight Saving Time goes into effect at 2 a.m. on Sunday, which means you'll have to celebrate an extra hour of party time. For that extra hour (or the hour before, whichever you prefer), make every drink or snack a double!
Images: Universal Pictures; Jan/Flickr; Summer Flatbread/A Happier Better Sebastian; Spring Rolls/I Am a Food Blog; Margarita/A Cozy Kitchen; Smoking Violet/The Kitchen Alchemist; Universal Pictures; Getty; Giphy