'Shark Tank's Twin Z Pillow Helps Parents Of Twins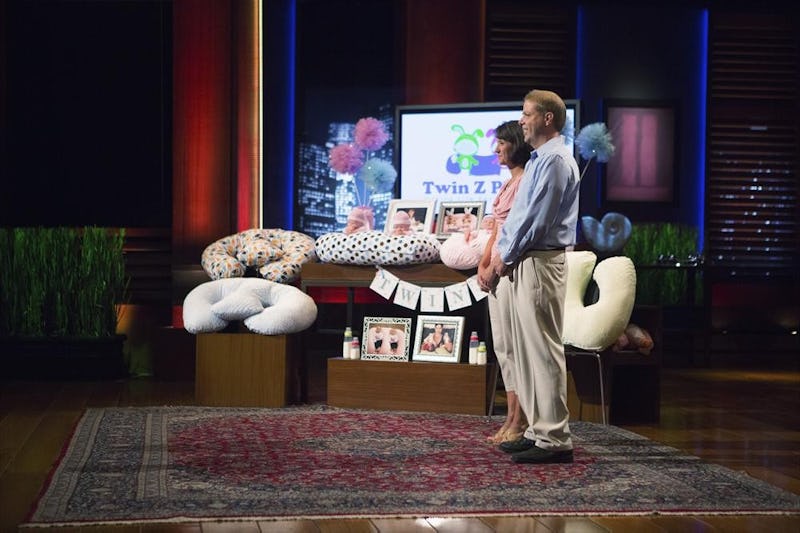 Anyone who's ever gone to a baby shower knows that, sitting in the middle of the pile of presents, there will be a hard-to-wrap, donut-shaped Boppy pillow. It looks like any old travel pillow to non-mothers, but mothers swear it's an essential part of parenting because it helps give a little leverage when it comes to holding the baby for feeding time. The only problem? There's only room enough for one baby. Parents of multiples are stuck. Enter the Twin Z Pillow, which claims to be a "6-in-1" feeding pillow speficially designed for twins. Its inventors, Michelle and Jason Barsosky, are looking for a boost from the Sharks on Shark Tank. But, before it's featured on Shark Tank , is the Twin Z Pillow available anywhere now?
The Twin Z pillow is already pretty established. When Boston Magazine interviewed people who were auditioning for Shark Tank in Cambridge last April, Jason Barsosky was very forthcoming about his wife's success. "She has this thriving business," he told the magazine. "We have had $500,000 in sales this year." Yowza! I guess this is one of those cases where the entrepreneurs don't really need the Sharks to get their business off the ground — they're just looking for exposure and expansion.
In fact, if you're headed to your next baby shower and the mom is expecting multiples, here's where you can get the Twin Z Pillow. Babies not included.
Twin Z Waterproof Pillow, $100, Twin Z
You can order the Twin Z nursing pillow straight off the company's website. You can just get the pillow, or go crazy and get a whole bunch of twin-themed regalia, from twin gift sets that come with two helpings of blankets and diapers to t-shirts that say "Real Men Make Twins."
Twin Z Pillow, $100, Amazon
If you're one of those people whose life is controlled by Amazon — no judgments here — you don't have to worry. Amazon can send you a Twin Z nursing pillow with just one click. You can't get the t-shirts of gift sets there, though.
That seems to be it for the moment. There are rumblings on the Internet that it could be found online at Target, but I couldn't find it there. (And, no matter where you get it, it'll cost a pretty penny, too, coming in around $99.) Maybe after the Shark Tank experience, you'll be able to find them all over.
Image: Michael Desmond/ABC