'Night of Too Many Stars' is Too Funny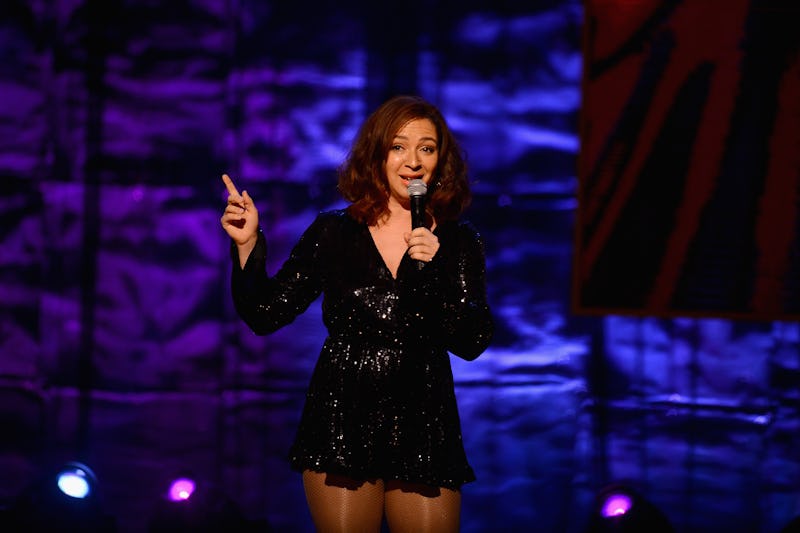 How do you get a bunch of the most talented comedians in one theater for a night full of crazy antics? Well, you could award Oscars like a few weeks ago, or you could raise money to benefit programs for the autism community like Comedy Central's Night of Too Many Stars , which aired on Sunday night. The event has raised more than $18 million for the cause since it began in 2006. The Daily Show's Jon Stewart hosted the event, which featured stand-up performances, auctioned-off wacky audience experiences, and live segments from the star-studded phone bank. There were lots and lots of laughs for a great cause.
Jim Gaffigan had amusing rants about winter and Amy Schumer hilariously reflected on the filming of her upcoming film Trainwreck, directed by Judd Apatow. Saturday Night Live alumna Maya Rudolph's song about the fundraiser's phone number hilariously devolved into her collecting money from the audience and sitting on the laps of random old dudes in the audience. There are actually two different celebrity auctions: One is on Omaze, where you can purchase a seriously cool experiences (Apatow will direct your Vine, or you can get tickets to Stewart's final Daily Show to name two) to benefit the cause, and ones up for bid at the event itself. With comedian Ricky Gervais behind the gavel, Stewart got the audience at the Beacon Theater to invest in hilarious opportunities, like getting Chris Rock to become the new spokesman for Tommy Hilfiger underwear. "The reason I wear Tommy Hilfiger underwear is because it makes your d**k bigger," he told the theater to much laughter.
A schoolteacher paid to "commit a crime" with John Oliver, so they wound up stealing wine and a block of cheese from a New York deli. Sarah Silverman auctioned off the chance to play her parents in a therapeutic role-playing scenario, where she tells the winner everything she's been meaning to tell her parents. The funniest highlight of the night was Paul Rudd's "Wheel of Rudd." Audience members got the chance to spin the wheel to determine how they'd interact with Rudd: "Mirror and Shotgun" (shotgun a beer with him), "Sleeping Penis" (see his privates), "Baby Bird" (he ate the person's chewed food), and "Slap" (the opportunity to slap him). So Rudd shotgunned a beer, got baby birded, and slapped by folks from the audience. Sadly, there was no "Sleeping Penis."
As you were watching, you may have noticed there were some jarring cuts during the auction. I thought I was imagining them or it was my TV, but nope, they really happened. I can only reason that they did that for time. The Beacon Theater segments were shot on Feb. 28. And though it was released before the broadcast, Adam Sandler and Bob Barker's Happy Gilmore reunion is totally worth another watch. They brawl in Barker's hospital room, where they faced off throwing punches and bedpans. It's serious business.
While they settled that score, the Night of Too Many Stars raised $4 million by the end of the night. What a great night filled with hilarity and generosity.
Image: Stephen Lovekin/Comedy Central