9 Lit Classics Relevant To A Modern Millennial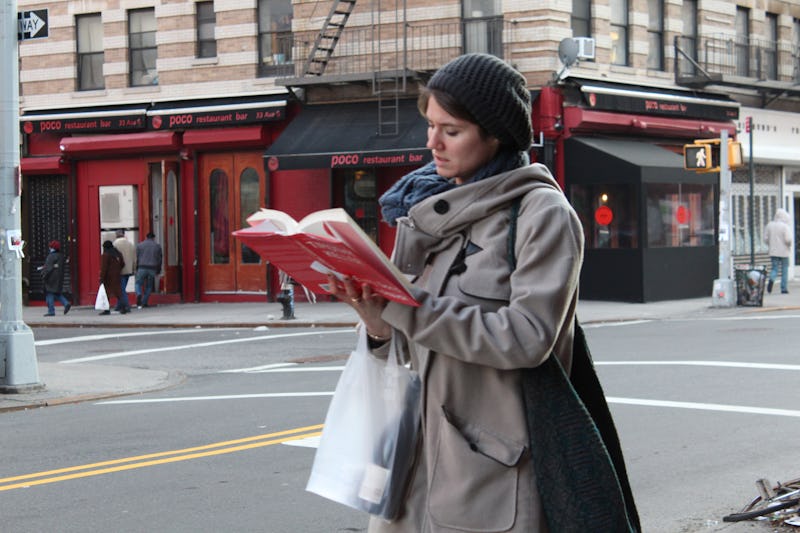 Before I drag myself out of bed in the morning, I reach for my phone and spend a few moments checking my email and scanning my Twitter feed. While I'm making breakfast in the morning, I podcast NPR, and before I leave the house I'll grab a copy of the New Yorker, and drop into my bad a book from of my favorite contemporary authors. Gone are the days when I held an actual newspaper in front of me at the breakfast table, and scanned my parents' shelves for a worthy classic to consider during my commute — today is all about the here and now.
As a child of the Internet, I often find it tough to log off long enough to enjoy the delights of a good novel, and heading to the classics section at the local library feels practically laughable given the new releases cropping up every day. Of course, as much as I relish the literary exploits of a thoroughly modern Millennial, as I age I've come to appreciate the timeless wisdom that only the classics have to offer. They're like a fine wine (or better yet, a truly killer cheese).
Granted, Tolstoy has very little to say on the subject of emergency tattoo removal or the ethics of fast fashion, but every so often a classic makes itself so relevant to the modern Millennial that it's impossible to ignore. So, if you're looking for some applicable wisdom from the world's greatest authors, why not try these 9 volumes and find out exactly how you can benefit from the past few centuries of wisdom and experience.
In the immortal words of Nazareth, "love stinks," and modernity certainly hasn't made it any easier. From the countless humiliations of online dating to the relentless digital deluge of happy Instagram couples smiling up at you from broad sandy beaches or board game night with the neighbors, finding true love can seem next to impossible for the Millennial. Of course, there's an app for that... and a podcast, a Facebook group, a Tumblr, a Meetup, and a shocking number of variations on the theme of speed dating, But if you want some genuinely sound advice on finding love, why not turn to D.H. Lawrence. Lawrence developed his philosophy of love at the very height of first wave feminism, and his optimistic, egalitarian, high-minded passion provide the perfect counterpoint to the millennial tradition of bravado, oversharing, and irony up the wazoo. Like a fine sorbet to cleanse the palette, Women in Love is just the ticket for the Millennial looking for a whole new outlook on love.
In a world populated by glow in the dark cats, mice that tweet like birds, and venomous cabbages — could there be a better time than now to take a careful look at the work of Mary Shelley? Every single day we Millennials make choices about whether to drive or bike, buy organic or stick with stick with the regular stuff, try out the Google Glass or stay well away. Our generation will be defined by how and when we choose to use technology, and although modern minds certainly have more than enough to say on the subject, finding the truth in all that noise can be tough. In the midst of all that hullabaloo taking a look at the wisdom the ages have to offer on this particular subject feels particularly sage, and Mary Shelley's Frankenstein is the perfect place to start.
Lolita by Vladimir Nabokov
Sometimes it's tough to be a growing girl in a youth-obsessed world. There are times when, at age 29, I honestly feel that I'm over the hill, and in those moments I turn to Vladimir Nabokov for a quick trip to the darker side of our cultural obsession with youth and beauty. As more and more publications celebrate the hottest 20 under 20, and we Millennials march further and further from our teen years, Nabokov can always be relied upon to remind us what we're definitely not missing.
George Eliot's Middlemarch is a rich, intimate portrait of life in a provincial English town and the struggles faced by the community as times change and progress runs smack into desire. In an era when the times are changing faster than I can even tweet about it, what could be more relevant to the modern Millennial than a deeply personal portrait of the complex effects of change?
Upon my first encounter with For Whom the Bell Tolls, I was struck by the utter unfamiliarity of a tale featuring a young American firebrand setting off for foreign shores to fight a war of consciousness. Today, as wars rage around the world and foreign fighters stream onto killing fields the world over, Hemingway's stark, brutal portrayal of the ways of war and what it means to leave home and fight has greater resonance than ever before. Whether or not you've ever considered making your way around the world to take up arms, we Millennials live in a world without borders when it comes to war, making For Whom the Bell Tolls a literary classic apropos in our modern era.
I first read Lord of the Flies when it was assigned to me by a high school teacher who seemed to regard the novel as a cautionary tale that would implicitly validate the adults' right to rule. These days, as Millennials are all too quickly taking over the world (I'm looking at you Zuckerberg), why not take a few minutes to consider what a society structured by ourselves and our peers might look like — the good, the bad, and the ugly?
When I was 22, on the cusp of graduating and spending my nights piling laundry into trash bags as quickly as possible so I could get on to bigger and better things, I had no idea how much I'd miss those halcyon days on campus (or, more often than not, asleep until 3 p.m. and then frantically catching up on reading while my roommates watched Scrubs on mute). Nostalgia for a past not long gone may just be one of the most surprising pains of the post-graduate millennial condition, and nobody does nostalgia quite like Evelyn Waugh. So, when you find yourself staring longingly at those packets of ramen noodles or reading the alumni newsletter all the way to the end, consider picking up Brideshead Revisited instead — Waugh's poignant tale of young love and misspent youth will bring you all the way back and remind you why it's best that you left all at the same time.
We've all lived through dark days and incredibly hard nights, and although there do seem to be some troubles specific to the Millennial condition, mental anguish is nothing new. No one brings that pain to life with the honesty and candor of Sylvia Plath. So when the going gets tough and you're not sure how to carry on, fear not — there's always The Bell Jar to fall back on.
There's no roadmap to the Millennial life, and making your way through your 20s and 30s can at times feel akin to floating down a dangerous river in the thick of a jungle you can neither see through nor navigate out of. So, whether you find yourself mired in relationship drama, unsure of where to head professionally, or stuck trying to become the person you want to be, there's always succor and strength to be found in Heart of Darkness.
Image: Tina Leggio/Flickr