9 Irish Women Authors To Read On St. Patrick's Day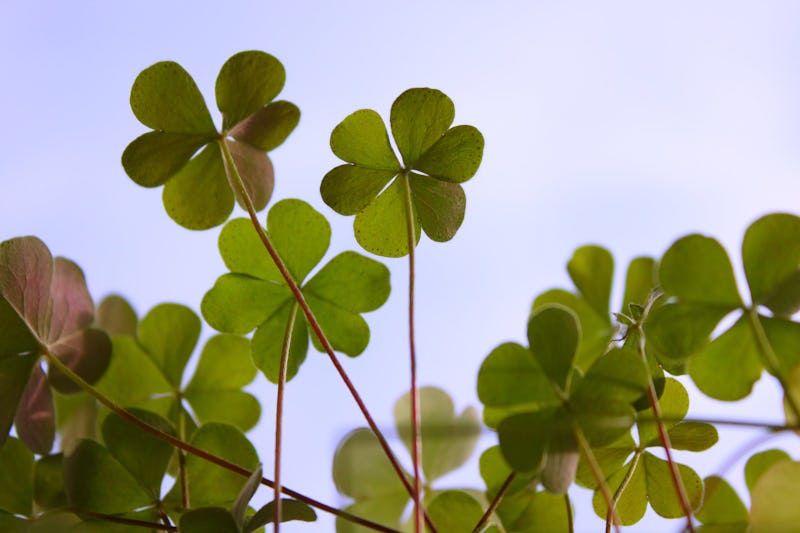 Hey guys! Pop quiz! Name three Irish writers. You have seven seconds.
Did you count off: 1. James Joyce; 2. Oscar Wilde; and 3. Samuel Beckett? Or: 1. Roddy Doyle; 2. Colm Tóibín; and 3. Colum McCann? W.B. Yeats, Jonathan Swift, and George Bernard Shaw?
If you listed any of the above writers, I would be really thrilled, because all of these authors, both living and dead, have written works that every well-read person should read (or, in Joyce's case, at least make a concerted effort to maybe read at least three pages of). But did you notice that all these brilliant literary Irish men are male?
For some reason (I can't imagine what that reason would be!), female Irish writers often get lost in the country's narrative. But recent years especially have offered a spate of progressive female voices joining in on the male-dominated chorus. So, on this St. Patrick's Day, let's raise a pint to the women who are sharing their versions of life on the Emerald Isle (which, for breadth's sake, here includes Northern Ireland, too), from brand-spanking-new talents like Sara Baume and Claire-Louise Bennett to contemporary classics like Anne Enright who deserve to be revisited.
Sara Baume
Spill Simmer Falter Wither by Sara Baume, $23, Amazon
Heralded as a "major new talent" by The Independent , all signs (and blogs) point to Sara Baume as a pioneer of a new and innovative Irish literary scene. A County Cork native born in 1984, Baume's short story Solesearcher1 won The Stinging Fly's 2014 Davy Byrnes Short Story Award; and her extraordinary debut novel Spill Simmer Falter Wither (Tramp Press), which centers on a misfit and his one-eyed dog, reaffirms this young writer's nascent "greatness." You can learn more about this visual artist-turned-fiction-writer, who's at work on her second novel, in her Irish Times profile.
Claire-Louise Bennett
Of the shifting Irish literary landscape — which, like many facets of Irish culture, has been deeply affected by the post-Celtic Tiger boom — Anne Enright recently said that the crash's "disrupt[ion]" has heralded a "resurgent modernism in writers like Eimear McBride and Claire-Louise Bennett." You've likely heard of the former, but the latter, too, is quickly making a name for herself as a fresh new voice in both fiction and personal narrative. Until the Stinging Fly Press publishes her short story collection Pond next month, you can read (and re-read) her challenging, poetic short story The Lady of the House , which won the 2013 White Review Short Story Prize.
Danielle McLaughlin
Another Stinging Fly Press darling, the oft-awarded Danielle McLaughlin — who, among many other accolades, has been shortlisted for the 2013 Irish Book Awards for her story "A Different Country" — will be releasing a short story collection from the Dublin-based indie press this year. For now, you can read McLaughlin's beautiful short story "The Dinosaurs on Other Planets," which appeared in The New Yorker last year along with a supplemental interview.
Maggie O'Farrell
With two Costa Book Awards under her belt (she won in 2010 for The Hand That First Held Mine; and she was shortlisted in 2013 for Instructions for a Heatwave), Maggie O'Farrell has established herself as a powerfully insightful writer of contemporary fiction. The Northern Ireland-born writer has written six novels, all of which examine independent young women striking out on their own; the complications of being in a family comprised of complicated people; and Irish identity, whether native or exiled, with stunning depth and empathy.
Anne Enright
The Forgotten Waltz by Anne Enright, $10.79, Amazon
Anne Enright is one of the most subversive and talented writers working today (IMHO), so no list of brilliant contemporary writers — whether Irish or female or neither — would be complete without an appearance by this Fellow of the Royal Society of Literature (which is, I would imagine, just as fancy as it sounds). Enright's 2007 novel The Gathering, which won the Man Booker prize that year, is arguably her best-known work. But I prefer her 2011 novel The Forgotten Waltz, a sharp, surprisingly funny take on adultery. Enright is also a vivacious and entertaining interview subject, as evidenced by this 2014 interview with The Believer , which (spoiler alert) ends with Enright and her interviewer practicing yoga together over Skype.
Maeve Binchy
Circle of Friends by Maeve Binchy, $7.19, Amazon
A grand dame of contemporary Irish literature, Maeve Binchy, who died in 2012, left behind a trove of 16 novels — including Tara Road, Circle of Friends, and Chestnut Road, a posthumously-released short story collection — that honestly evoke modern Irish life. A self-professed "airport author," Binchy's self-effacing humor belies a talent for rendering flawed, honest, fiercely independent heroines who experience love and loss in equal measure.
Emma Donoghue
Kissing The Witch by Emma Donoghue, $10, Amazon
Emma Donoghue is best known for her remarkable 2010 novel Room, but before the writer blazed her way into the American mainstream she'd produced a roster of highly-regarded works, many of which explore female sexuality: her first novel, Stir Fry, was a 1994 finalist for the Lambda Literary Award; in 1997, her second novel, Hood, won the Stonewall Book Award; and her 2000 novel Slammerkin, a work of historical fiction, won the 2002 Ferro-Grumley Award for Lesbian Fiction. If you, like most human beings, are into revisionist fairy tales, check out her short story collection Kissing the Witch, which reworks classic legends into decidedly feminist bents (e.g., a Cinderella who chooses to share her happily-ever-after with her fairy godmother over the handsome prince).
Audrey Magee
The Undertaking by Audrey Magee, $12.99, Amazon
The literary world is rife with World War II-based novels, but I can assure you you've never read one quite like Audrey Magee's The Undertaking, which was shortlisted for the 2014 Baileys Women's Prize for Fiction. The novel features a newly married couple as its protagonists: Peter Faber, a German soldier; and Katherina Spinell, the daughter of a high-ranking Nazi. Predictably, The Undertaking is an emotionally difficult read, but Magee handles these morally bankrupt characters with admirable precision: she never tries to justify or apologize for her characters' evilness; rather, she relays this unique perspective with nightmarish honesty.
Tana French
In The Woods by Tana French, $14.29, Amazon
If you prefer your psychological thrillers to be narrated by strapping detectives with charming Celtic lilts, you will be obsessed with Tana French's Dublin Murder Squad series, the writer's collection of five chilling, compulsively readable novels. These literary reads are way more than flimsy whodunits — in her haunting and effective prose, French relays powerful stories of the ways in which good, honest people are affected by trauma and hurt, both dramatic and quotidian. Start with 2007's Into the Woods, and you'll murder (heh) the following four in one fell swoop.
Image: Judith Doyle/Flickr; Claire-Louise Bennett, Danielle McLaughlin/Twitter; Ben Gold