Potential 'RHONJ' Spinoff Better Be Good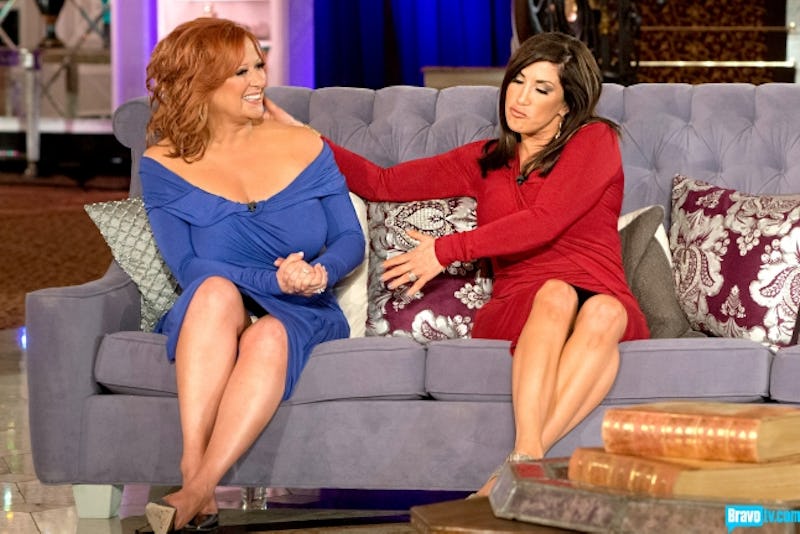 Last night, the red-headed matriarch of The Real Housewives of New Jersey fame (infamy?) took to Twitter and Bravotv.com to confirm that she, Caroline Manzo, will not be around for Season 6. I don't blame her. Season 5 gave my stomach ulcers ulcers. There is only so much Teresa Giudice versus Joe Gorga drama a non-cyborg can handle. However, Caroline is far from done with reality television: she, her family, and Bravo started production on the spinoff Manzo'd With Children. Puns are my oxygen, so I'll let the name slide.
Initially, I adored Caroline. She was brassy and unapologetic, and I love a lady who keeps it real. However, she suddenly found/positioned herself as the resident "everything expert" of the cast, and that's fun for zero people. I'm somewhat apprehensive to work Manzo'd into my future TV schedule for a number of reasons. Granted, I'm getting ahead of myself (the network has yet to order the series), but I know what I don't want from the show:
I'm nervous that Manzo'd will be a weekly infomercial for all of the Manzo family's business endeavors. We get it, Manzos. You have your hands in one million pots. But blk. Water looks like something Daniel Plainview would drink during one of his outbursts. I can't say the word "Cafface" without making a face (but I applaud Lauren for all four Yelp stars!). I will give the combination Taco Bell/Pizza Hut that was the car wash/strip club points for creativity, but YIKES. Yikes. Little Town? More like Big Frown… On My Face Every Time They Mention That Restaurant.
If it's the made-for-TV version of Caroline's life advice podcast, call me Ryan, because I am Seacrest OUT.
There are few things as frustrating as watching adults who are unable to tackle basic household tasks. Perhaps the Manzo sons are chore-savvy, but given Caroline's "uber-mom" persona, I wonder what their Caroline-less apartment is like IRL. Here's hoping the 40 minute mark of every episode isn't a quick clip of Chris and Albie's "laundry hijinks" or "wacky adventures with Drano."
Certainly, there will be some crossover from RHONJ (they're literally family), but if this show is simply another avenue for Caroline to complain about the Giudices or the Gorgas or Danielle Staub, I'll start my own Andy Rooney-style web series to complain about Manzo'd. Let us move on. Wait, I retract that sentiment. I would be beyond ecstatic if Caroline used the show as an opportunity to explain what the hell happened between her and her sister Dina. Take us back to that castle-cabin and bring in Dr. V.!
Andy Cohen help me if Caroline decides she can no longer live in a house without her entire family and buys one houseboat for everyone to call home. The Manzos against the ocean! Me against my seasick stomach! So many emotions heightened by close-quarters! Barf everywhere!
So what do I want the show to be? My ultimate RHONJ spinoff: Caroline's sister Fran starts a petting zoo in the Manzos' backyard. It would be called Fran & Franimals and be sponsored by Danimals. You can have that one, Bravo.
Photo: Bravo