Kaitlyn & Britt Might Both Be 'Bachelorette'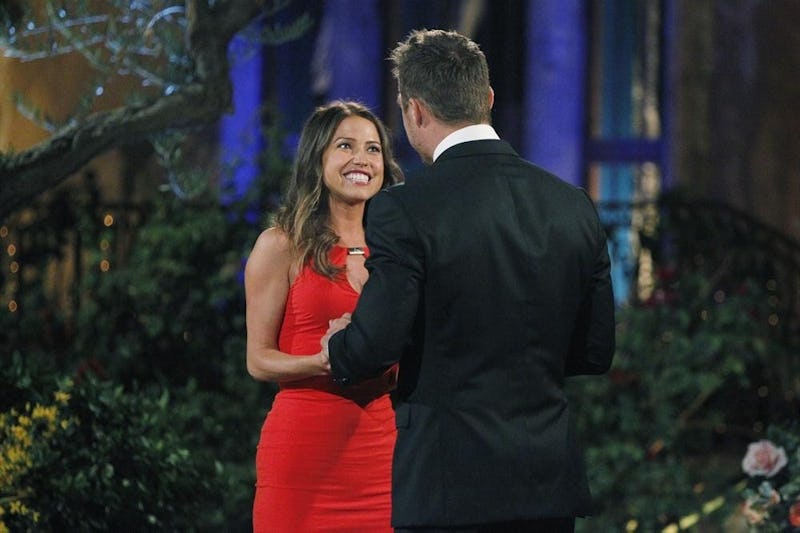 It's understandable that a show that's been around for a decade wants to change things up a little, but I'm not sure this is a change I'm good with. Over the past few weeks, ABC's been in the process of deciding who the next Bachelorette will be, and decision definitely seems to be split between Kaitlyn and Britt, two of this season's favorites, and I'd bet money that Kaitlyn would be it... until now. Thanks to news that's come out over the past few days, it seems there's a chance that Kaitlyn and Britt might both be the next Bachelorette — and eventually, it'll come to a vote between the contestants.
As Reality Steve noted in his recent blog post, both Kaitlyn and Britt were spotted filming in LA — which means either ABC is trying to trip us up or they're going to introduce both women as The Bachelorette. Kaitlyn posted about filming while some fans caught up with Britt and got to meet her... and were prompted by camera men to talk about how much they love her. Seems like a Bachelorette project if I've ever heard one. Unfortunately, the tweet has since been deleted, but Steve has a screenshot on his blog.
This evidence combined with this article about The Bachelorette changing things up on this upcoming season, and it seems hard to deny that something is definitely up. Reality Steve also said one of his sources (who are usually very reliable) told him that the voting thing is happening, much like The Bachelor did with Jay and Byron in Season 6. That happened before I started watching the show so I can't speak to how well that did or didn't work out, but I'm not a fan of that idea being pulled out of the attic to use again.
If this is true? I'm a little disappointed in ABC. Like, a room full of guys voting on which girl they want to compete for? That just leaves a bad taste in my mouth, and haven't Kaitlyn and Britt been through enough?
Not much longer 'til we find out what's going on for sure, and my fingers are crossed that we get one bachelorette this season. Just one.
Image: Rick Rowell/ABC