12 Female Composers You Should Listen To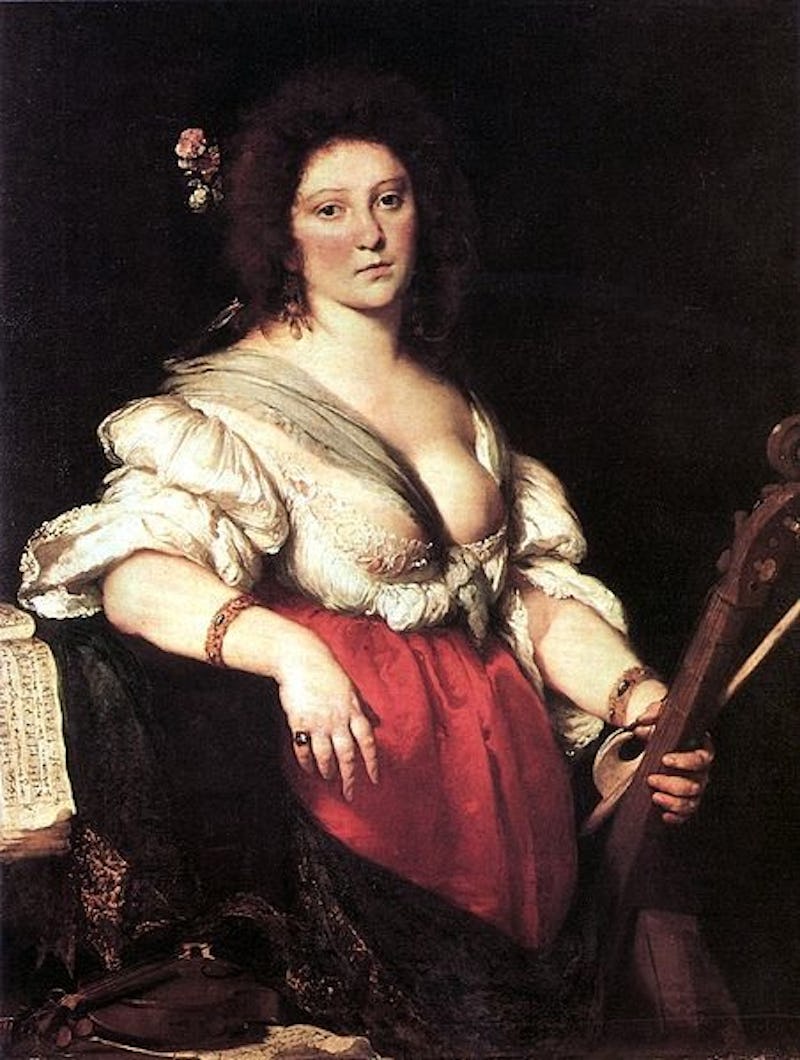 The history of music composers, like basically every other artistic pursuit ever, is overflowing with men. Talented, exceedingly brilliant men, definitely; but there's a pretty explicit deficit of women in the "famous composers" canon. And that's a shame, because despite huge odds, women have composed some seriously beautiful and innovative stuff over the centuries — and often had to stop when they got married. They've endured jibes by misogynists (i.e. basically everybody), and have even stood by while their male family members got all the accolades (and, in some cases, credit for their work). Even if you're not a fan of symphonies, you have to agree that this is a pretty serious injustice. And we need to correct it.
You may be surprised that there are even 12 women to make up this list — but in European history, music has often been something that an "accomplished" lady learned, along with embroidery and other feminine pursuits. They were, of course, not meant to take it too seriously. However, these talented and ambitious women found a way — and the fact that their music survives for us to hear is testament to just how driven they were.
So put on some earphones and meet 12 brilliant woman composers who deserve a lot more recognition. I promise that you'll get inspired.
1. Barbara Strozzi (1619-1677)
Strozzi, in addition to having excellent taste in portrait-wear, was a take-no-prisoners Italian who composed Baroque-style music in Venice. She had some pretty serious obstacles to overcome — she was illegitimate, had four children out of wedlock, and jealous male rivals spread the rumor that she was a high-class prostitute, which may actually have been true — but despite it all, she was the most prolific composer working at the time. When her first opus was published, she called it "the first work that I, as a woman, all too daringly bring to the light of day," which says quite a lot.
2. Ethel Smyth (1858-1944)
Dame Ethel Smyth was a lesbian suffragist who was madly in love with Virginia Woolf and served two months in prison for breaking windows in pursuit of votes for women — but she's most remembered as a seriously gifted composer. Her opera, "The Wreckers," is considered one of the best operas ever composed in England.
Despite all that, and her dame hood, she encountered some pretty severe misogyny: she had massive problems getting works performed, and was turfed out of music competitions when her identity was leaked to judges. And, when the musical community started to come around, she was too deaf to appreciate it.
3. Clara Schumann (1819-1896)
Clara was Robert Schumann's wife and a very good friend of Johannes Brahms — and it will surprise nobody to know that they've completely overshadowed her, even though she was a highly gifted concert pianist (one of the first to perform from memory) and composer.
She had a lot to deal with as Schumann's wife — he went insane and had to be committed to an asylum — and gradually lost confidence in herself as a composer, writing "I once believed that I possessed creative talent, but I have given up this idea; a woman must not desire to compose — there has never yet been one able to do it. Should I expect to be the one?"
4. Amy Beach (1867-1944)
Amy Beach was America's first homegrown female composer, and was, mind-bogglingly, almost entirely self-taught. Her husband, however — who was 24 years older than her — forced her to restrict her public performances to twice a year, and it was only after his death that she blossomed into a real compositional force. She even toured Europe for three years on her own as a pianist in the 1910s, and produced some hugely popular songs.
5. Lili Boulanger (1893-1918)
Boulanger was the definition of a prodigy. She won the Prix de Rome, a French scholarship for artistic prowess, at the age of 19 with the composition "Faust & Helene," but the composer Faure, a friend of the family, had discovered her perfect pitch at the age of two. Unfortunately, she didn't live long enough to produce what would have been a brilliant career — she died tragically of Crohn's disease at the age of 24 — but she left behind some very cool music, and has an asteroid, 1181 Lilith, named after her.
6. Hildegard Von Bingen (1098-1179)
We mostly know Hildegard von Bingen as the medieval nun-mystic polymath who heard voices and saw visions from God (some theorists now think she had schizophrenia); but she was also a highly musical woman who wrote a huge amount of religious music. She wrote the text and lyrics to at least 69 compositions, plus an entire morality play about the soul and the Devil (who only has a speaking role). How she found time while also inventing a new alphabet and several enormous books on medicine we don't know.
7. Louise Farrenc (1804-1875)
Louise Farrenc was, like a few of the ladies on this list, actually fairly famous while she was alive, as a pianist. She even worked as the Professor of Piano at the prestigious Paris Conservatory. However, she had a fight on her hands; hers is one of the first recorded arguments about equal pay for women, as she discovered seven years into the job that her salary was much less than her male coworkers and demanded the same. Pretty damn awesome.
Her work for chamber music was highly admired by Schumann (before he went mad), and her Third Symphony is being rediscovered as one of the best in the field, woman or not.
8. Florence Price (1887-1953)
Florence Price, who was born in Little Rock, Arkansas, was the first American black woman to have her compositions played by orchestras. She faced some truly galling roadblocks to her success — she was a single mother to two girls, and had to move out of Little Rock as a child because her mixed-race family felt unsafe — but ended up winning the Wanamaker Foundation Award for a composition in 1932, and had her works performed by Marian Anderson, the famous black contralto singer, regularly.
9. Fanny Mendelssohn (1805-1847)
Oh, look, a relative of a famous male composer who's been completely overlooked! That's never happened before.
Fanny was the sister of Felix Mendelssohn, and was, like him, a child musical prodigy, but her father wrote to her in 1820, "Music will perhaps become his [i.e. Felix's] profession, while for you it can and must be only an ornament." How nice. (Some of her stuff was even published under Felix's name.) She still kept composing, though, ending up with a portfolio of 460 pieces of music, which were almost entirely unperformed outside the family home. What a huge shame.
10. Maria Agata Szymanowska (1789-1831)
Maria Agata would have been a necessary part of history even if she'd never composed a note, because she was one of the first professional virtuoso pianists. She performed all over Europe, including for various royal families, and was the in-house pianist for the Russian tsarina. Somehow, she also found time to compose a bunch of beautiful works for piano, which people now think inspired Chopin (though he would never acknowledge that).
11. Teresa Carreno (1853-1917)
A Venezualan immigrant to the U.S. as a child, Carreno began her career as a child pianist, performing for audiences from the age of 8, including for Abraham Lincoln, Rossini and Liszt. She married five times, but made a huge cultural mark on the landscape: English conductor Henry Wood called her a "goddess," and she has a crater on Venus named after her. Unfortunately, her nearly 40 works for piano, including a Hymn to Bolivar, are largely now neglected.
12. Germaine Tailleferre (1892-1983)
The only female member of the French group of composers Les Six, Germaine was both deeply fashionable and thoroughly hard-headed. She changed her name to spite her father, who wouldn't help her in her goal to become a composer, and Erik Satie called her his "fille musicale." In America during the war years, Charlie Chaplin attempted to convince her to compose music in Hollywood.
Her work has been called "no less beautiful than Bach," but she was considerably more modest, noting, "It's not great music, I know, but it's gay, light-hearted music which is sometimes compared with that of the 'petits maitres' of the 18th century. And that makes me very proud."
Images: University of Arkansas Library, Wikimedia Commons