These 15-Year 'Sims' Stats Are Everything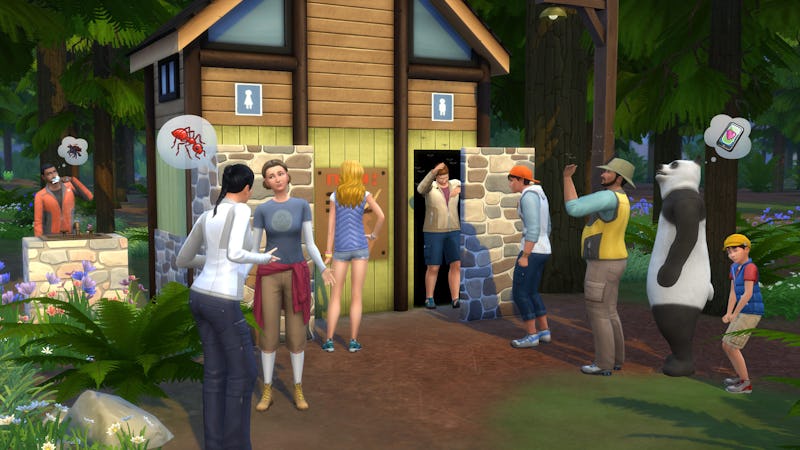 The ravenously popular The Sims has proven that, yeah, real life is overrated. The beauty of virtual reality is that you can live out the life of your dreams, and there's no better portal for that than Sim-land. On Tuesday, owner Maxis released an infographic on The Sims 4 illustrating just how obsessed Sims players have been since its September 2014 release (the long-running game series' first edition came out in 2000) — including figures on gameplay hours, how many Sims have been created in total (how did Maxis know that? Sims Big Brother?!) and other wonderfully indulgent Sims-related statistics.
If you're not familiar with The Sims, it's time to address that. Here's what you're missing out on: a life simulation video game series that lets you create a "Sim" — a tiny virtual person with dreams, needs, desires, and bizarre dance moves — and force he or she to live life to the fullest, including all the big milestones: birth, school, career, marriage, family, and drowning your Sims in ladderless pools.
Before we jump into the numbers on the infographic, here are some other figures that will help give you some context to the game's phenomenon status: Just four days after its launch, The Sims 4 — the fourth generation of the game — sold 408,150 copies worldwide. In two months, the game sold more than 1.10 million copies worldwide. And in just six months, the game's players have logged more hours than a decamillenium — that's 10,000 years.
Seriously. Here are all the crazy figures.
Players have played The Sims 4 for a length of time that totals more than 12,205 years since its launch in September 2014.
32 million Sims have been created in The Sims 4 (that's roughly four times the population of New York City).
5.7 million babies have been born since September.
The most popular aspiration for players is love, not wealth.
Only 2 percent of Sims are divorced vs. 40 percent of real-life adults.
There have been 105 million Woohoos (yup — sex) since the game's launch, which is four times more than the sexual intercourse rate of actual U.S. married couples.
More than 21 million careers have launched in The Sims 4.
The average Sim's net worth is $399,730 (not too shabby!).
The most common Sims deaths (in order from most to least common) are old age, hunger, and fire.
But, tragically, there have also been 3,000 deaths by laughter, which I didn't even know was a thing in real life.
And here's the entire infographic:
Images: Maxis/The Sims 4